Supervisor Elsbernd aide, Olivia Scanlon,
to be sworn in as US Citizen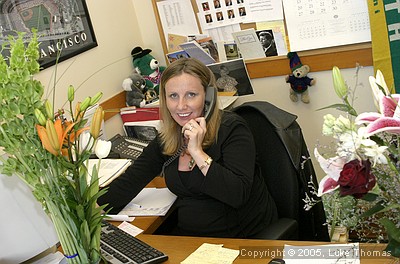 Photo(s) by Luke Thomas
PREFERS HER OWN PRINCE - Olivia Scanlon, proud daughter of the Irish Republic and fair blossom of legislative staff serving Supervisor Sean Elsbernd, will not rush for a glimpse of Royals Charles and Camilla this weekend. "I know…I know…it's a global village and we're a global economy, but the Royal family…," Scanlon cut herself short. "The queen just sat there in the 80's when Margaret Thatcher did what she did in Ireland. She could have stopped it…She could have stopped it," reflected Scanlon, preferring time with her husband who also hails from Ireland.
Scanlon will be sworn in as US Citizen after seven years Emerald Isle departed. "It took 5-years from application to approval," stated the fair maiden.
Elsbernd, who will be married next week wearing an Irish Kilt, is declining his invitation to join the Windsors for a performance of Beach Blanket Babylon. Wedding preparations preclude the District 7 supervisor from engaging visitors, Elsbernd grinned diplomatically.
####