Overheard in Fog City
By Luke Thomas
January 15, 2007
Mayor's version of Question Time a sham - The chickens have come home to roost
Mayor Gavin Newsom held his first District Town Hall meeting of 2007, Saturday, in the sleepy Richmond District. This was the first opportunity for the Mayor to demonstrate his appreciation for open and transparent government, his respect for the will of San Francisco voters, and his willingness to be held to account for his policies.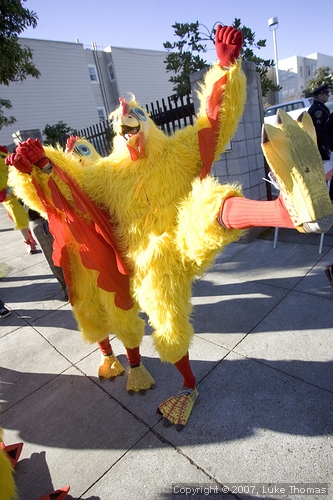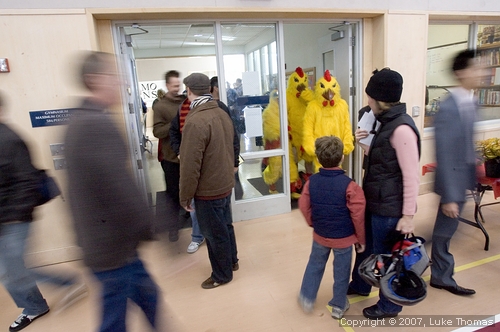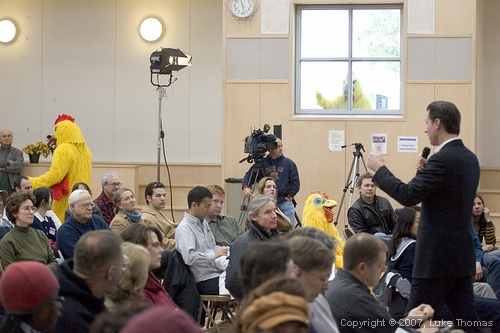 Instead, the Newsom administration chose to completely ignore the will of voters by engineering a carefully scripted question and answer session that required attendees to write down their questions on question cards, availing the opportunity for Newsom to select only those questions he wanted to answer.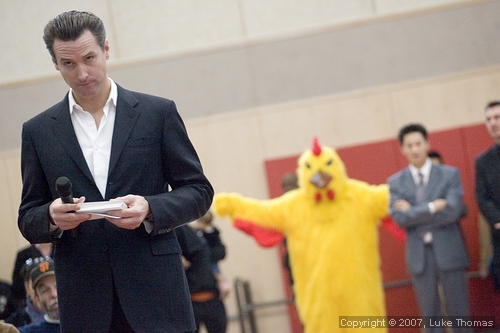 Newsom said, while attempting to escape through the back door of the Richmond Recreation Center, he was only interested in answering questions related to the topic of homelessness. This explained why he was observed shuffling questions to the bottom of a two-inch thick deck of question cards while chicken-suited protestors flapped their wings in disapproval.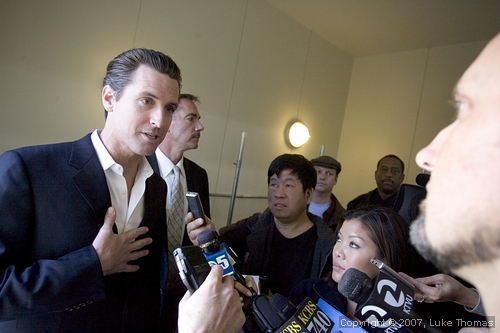 Meanwhile, Mayor's Office of Communications Director, Peter Ragone, spent the entire two-hour meeting defending the the Newsom administration Question Time format, blaming supervisors for not attending the orchestrated circus, calling dissenters "haters", insulting reporters, and taking photos of protesting chickens for his new upcoming blog, to be aired on www.sfgov.org.
Credibility at state - Sink or swim
The chickens have come home to roost on this issue and will be crowing at all eleven-district town hall meetings in this mayoral election year, bringing attention to this Newsom's fear of being held to account, and his tacit obfuscating of the tenets of true democracy.
Rather than look at Measure I as the glass half empty, Newsom has been gifted an opportunity to shore up his sky-high approval ratings. By actually showing up at board meetings, Newsom could use the rostrum to defend his record, challenge supervisors on theirs, and wax poetic on any number of inspirations for political advantage.
Instead, Newsom has put himself into a corner by snubbing voters. With everything to lose and nothing to gain, Newsom's only option is to defend his policies in open chambers, as San Francisco voters have asked, or be prepared to face his political Waterloo.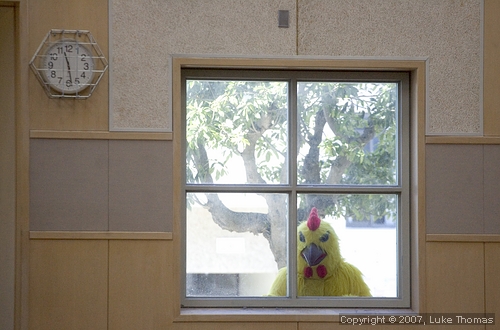 ####