Overheard in Fog City
By Luke Thomas
February 24, 2007, 3:00 p.m.
Gonzalez moves to secure campaign manager?
Although former Board President Matt Gonzalez has not officially declared his candidacy for mayor, he has been working behind the scenes to secure a campaign manager.
Fog City has confirmed today political campaign strategist, Nicole Derse, has been in discussions with Gonzalez over her availbility to be his campaign manager.
Reached by phone, Derse told Fog City she has discussed the position of campaign manager with Gonzalez but stressed: any offer is contingent on Gonzalez' decision to run, and her availability.
Derse's impressive résumé includes Campaign Manager to elect Supervisor Ross Mirkarimi in 2004, Senior Advisor to re-elect Supervisor Chris Daly in 2006, and Coalition Director for the Alliance for a better California in 2005.
Gonzalez has not returned calls for comment.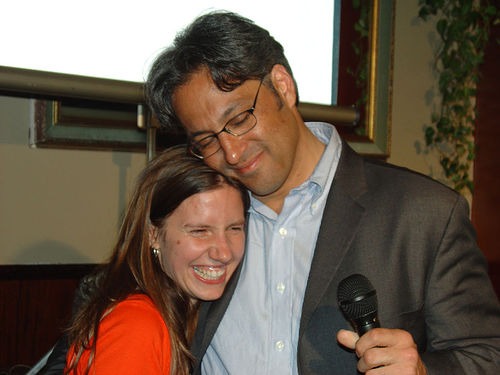 Nicole Derse with Supervisor Ross Mirkarimi,11/2/4.
Photo by Campaign to Elect Ross Mirkarimi.
####