Overheard in Fog City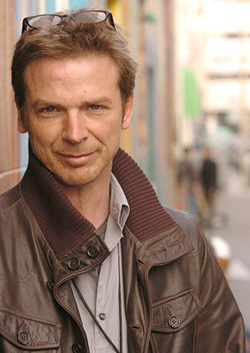 Luke Thomas
FCJ Publisher and Editor-in-Chief
Photo by Adam Aufdencamp
By Luke Thomas
May 22, 2007
Caveat Emptor
San Francisco Chronicle gossip spin doctors Phillip Matier and Andrew Ross (M&R) couldn't resist a jab at Supervisor Chris Daly after duping him into a coffee for a column they penned, entitled "'He's a fraud' -- supervisor knocks Newsom."
This time around, the less than dynamic duo have been caught out in what can only be described as, at the minimum... sloppy fact checking, much to the detriment of the Chronicle's credibility and diminishing readership.
And we have the exclusive photos to prove their misdeed.
In their Sunday column, M&R wrote, "In fact, Daly seems to be making a sport of getting under the mayor's skin. Like a couple of weeks back when Daly -- dressed in blue jeans and T-shirt -- walked in unannounced to a private meeting at City Hall between the mayor and the Venezuelan ambassador."
Really? Daly wore jeans and T-shirt to a meeting with a dignitary at the peoples place of business? That Daly must be some kind of stereotypical disrespectful yahoo, right?
Wrong.
Daly aide Anthony Chandler accompanied Daly to the meeting with the Venezuelan ambassador and took the following photos during the meeting. Chandler isn't going to win a Pulitzer for his soft-focus photos, but the images clearly show Daly wearing a respectable looking suit jacket and collared shirt.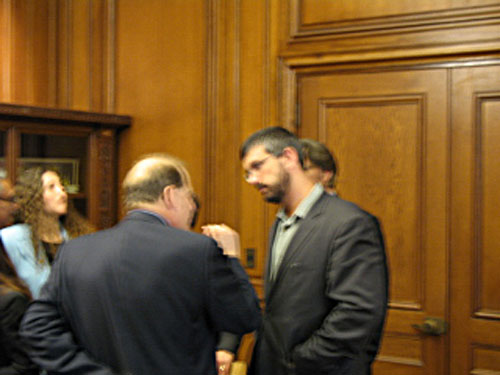 Photo by Anthony Chandler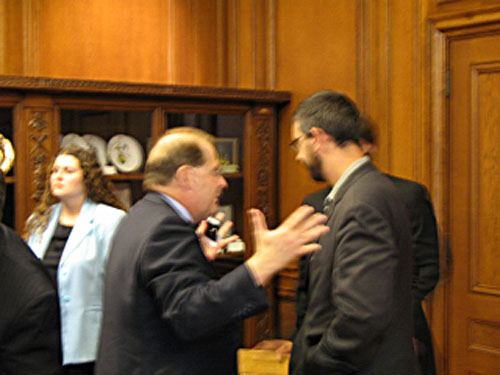 Photo by Anthony Chandler
One wonders what other falsehoods M&R and San Francisco's paper of record may be peddling as facts for political gain.
####