Overheard in Fog City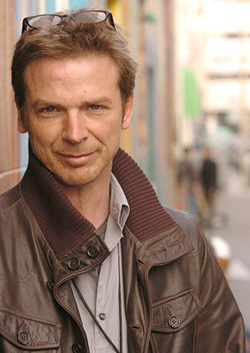 Luke Thomas
FCJ Publisher and Editor-in-Chief
Photo by Adam Aufdencamp
By Luke Thomas
October 5, 2007 2:00 p.m. (updated 1:35 p.m. 10/6/7)
Cynthia McKinney to announce bid for the White House
According to a reliable source, former U.S. Congresswoman Cynthia McKinney (D-Ga) will officially announce her candidacy for U.S. president as early as next week. According to the source, the Green Party has been actively courting McKinney to switch party affiliation and run as a Green. (*)
McKinney has been outspoken about the Iraq war, AIPAC's lobbying influence over U.S. foreign policy, the 9/11 Commission Report, and the partisan decision by a partial body of the Supreme Court to elect George W. Bush to the presidency in 2000.
She is also trumpeting the call of millions of Americans calling for the impeachment of Bush and Vice President Dick Cheney for perpetrating war crimes against humanity.
McKinney is in San Francisco this weekend. Her schedule includes an appearance at a CodePink party tonight at El Rio, and an appearance tomorrow at a campaign rally to elect mayoral candidate Ahimsa Sumchai.
(*) Update 3:10 p.m: According to a source, McKinney officially registered as a member of the Green Party yesterday.
Update 10/6/7 1:35 p.m: Fog City Journal spoke with McKinney at a CodePink fundraiser last night. She would neither confirm or deny rumors of her intent to run for president, or her change in party affiliation.
In response to questions about an official campaign announcement, she said: "I am waiting for a few things to be in place first."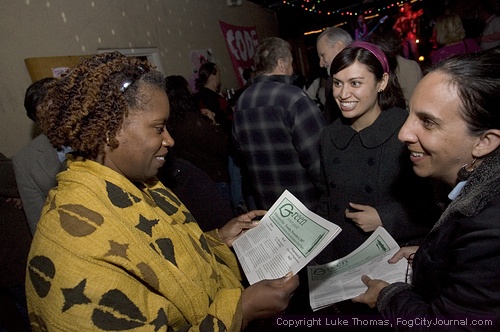 Cynthia McKinney at El Rio with Green Party members Elaine Santore and Susan Vaughan

####