Pelosi Statement on the 47th Anniversary
of Tibetan National Uprising Day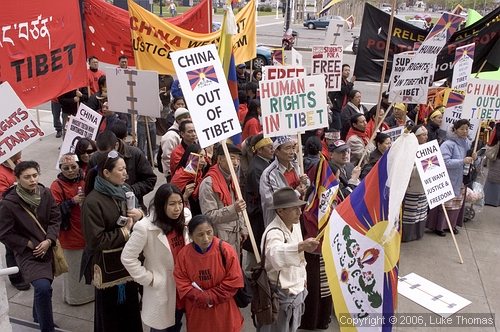 A rally was held at San Francisco City Hall yesterday
calling on the repressive Chinese Government
to get out of Tibet.
Photo(s) by Luke Thomas
From the Office of House Democratic Leader Nancy Pelosi
March 11, 2006
Washington, D.C. - House Democratic Leader Nancy Pelosi released the following statement today commemorating the 47th anniversary of Tibetan National Uprising Day and honoring the sacrifice of the many Tibetans who gave their life fighting for freedom:
"Thank you to the many organizers of this year's rally in Washington, including the International Campaign for Tibet, the Capital Area Tibetan Association and Students for a Free Tibet.
"Today is the 47th anniversary of Tibetan National Uprising Day, and we honor the many brave Tibetans who sacrificed their lives fighting for freedom.
"Forty-seven years after the People's Uprising, the Chinese government continues its harsh crackdown on freedom of expression and religion in Tibet. A recent report by the International Commission on Religious Freedom found that the Chinese government has intensified its campaign to harass and imprison Tibetans for peacefully expressing their religious views.
"Tibetan envoys have recently returned from the fifth round of meetings in China on a permanent negotiated settlement. While open dialogue is positive, it is clear that the Chinese government is stalling in the negotiation. It is time for Beijing to make progress on a solution that respects the human rights of every Tibetan.
"Once again, I ask the Bush Administration to call on Beijing to release all prisoners of conscience including the 11th Panchen Lama and Tenzin Delek Rinpoche.
"The situation in Tibet is a challenge to the conscience of the world that the United States must be committed to meeting. We cannot turn a blind eye to the struggles of the Tibetan people.
"His Holiness the Dalai Lama is the key to peace and stability in Tibet. This past November, I had the opportunity to introduce His Holiness at a public talk about 'Global Peace Through Compassion' in Washington, D.C.
"Since then, I have co-sponsored H.R. 4562, The Fourteenth Dalai Lama Congressional Gold Medal Act, to present a Congressional gold medal to the Dalai Lama in recognition of his contributions to peace, nonviolence, human rights and religious understanding. We must heed the guidance of the Dalai Lama as his transcendent message of peace is needed now more than ever. And we must never forget the people of Tibet in their ongoing struggle."
####