WORLD'S BEST GOLFERS LOVE
HARDING PARK
World Championships underway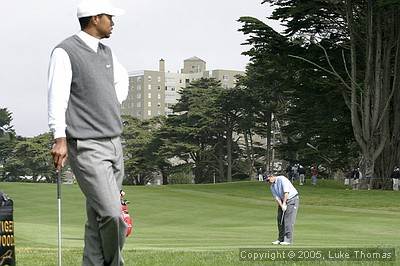 Tiger Woods soaks up Harding's lush greens as Australia's Euan Walters chips onto 7th.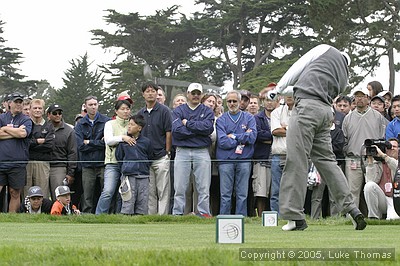 Tiger wallops the ball down Harding's 8th fairway.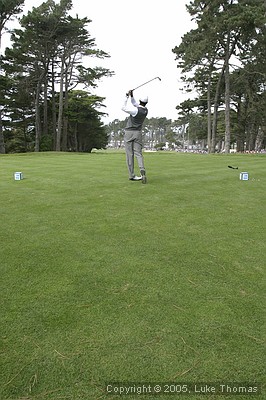 Tiger launches one off at the 9th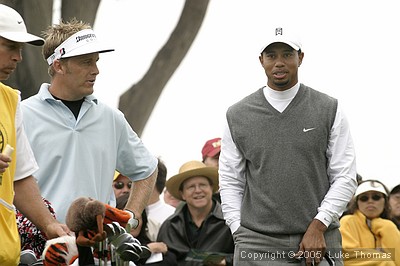 A rare smile from Tiger. He's in some kind of trance when he's not smiling.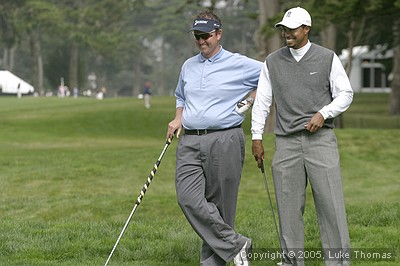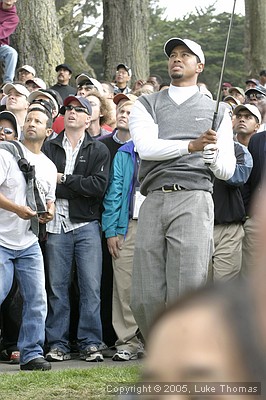 Tiger got himself into the rough on the 9th. Such is life. But like a true champion, Tiger recovers with a smart weapon that comes to rest inches from the flagpole.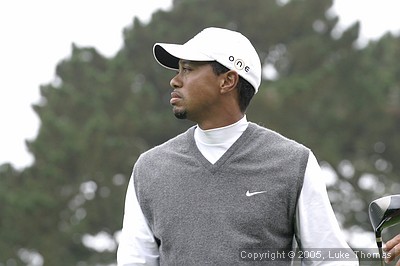 The eye of the Tiger.
Photo(s) by Luke Thomas

October 7, 2005
Although clockwork for turning San Francisco's Harding Park Golf Course into a world attraction seemed to grind slowly, it ground exceedingly fine.
Such was the toast yesterday for those who made it happen, as 50 of the world's 70 best golf players compete through October 9 in the American Express World Championships in Harding Park.
Normally, the world's best golfers are a tough house to play to for a new golf course review.
In San Francisco, the reviews came in a rave.
"I can only recall one other incidence in my years in this job, which is getting to be a good number of years, where we go and play a new golf course with virtually all of the (world) players and there's not a fair amount of disagreement whether the quality of the golf course is where we should be playing or the condition of the golf course is up to snuff," reported PGA Tour Commissioner Tim Finchem.
"This week I believe 100% of the players…are just delighted with what's happened at Harding Park, the quality of the golf course, and the quality of the condition of the golf course.
"We're just delighted. It just couldn't be better. It's an old style golf course that the players are enthusiastic about playing on, and it's going to be a good weekend," Finchem told those gathered for City Hall reception hosted by Mayor Newsom.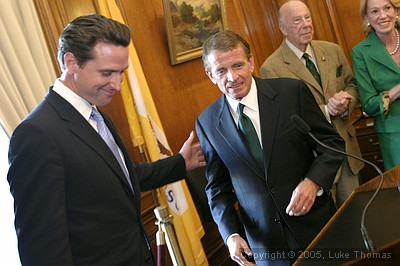 Mayor Newsom welcomes PGA Tour Commissioner
Timothy W. Finchem. Serving as deputy commissioner since 1989, Finchem took the lead post in 1994
Photo(s) by Luke Thomas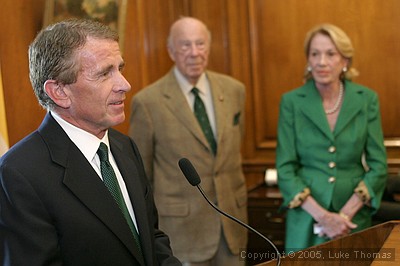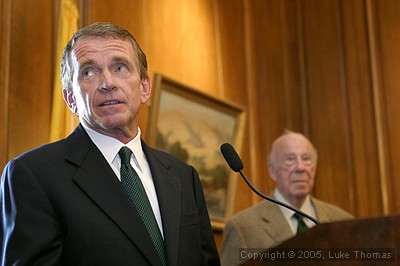 Built in 1925 as a public golf course, it originally matched grandeur of nearby prestigious Olympic Club and San Francisco Golf Club courses.
By the mid-1990s, neglect rendered Harding Park greens hard, diseased, and weeded.
Its Phoenix-like rebirth began in the twinkling of an idea from golfing icon Sandy Tatum.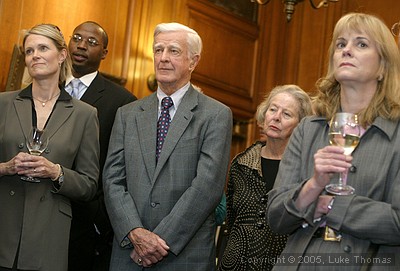 Sandy Tatum, center, went on from being a National Collegiate Athletic Association champion at Stanford University to become president of the United States Golf Association. In his off time, he became a Rhodes Scholar.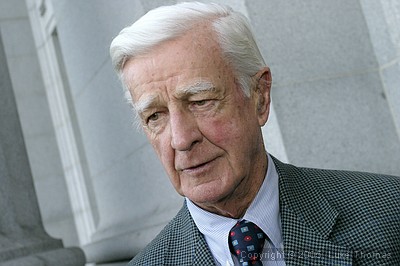 Tatum telephoned Finchem with the idea…in 1997.
"Like a lot of things, we thought it was a great idea. But then we discovered how complicated it was," recalled Finchem.
Together they enlisted the can-do quality of one Willie Brown, then the Honorable Mayor of the City and County of San Francisco, having just recently charted California governance for decades as Speaker of the Assembly.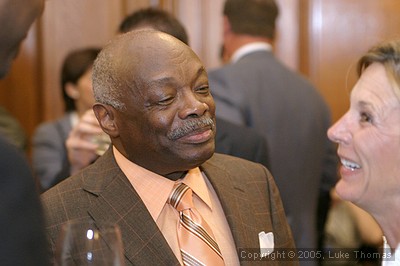 San Francisco's one and only, the Honorable Willie Brown
Combined passion of the three men, in the end, endured six-year triathlon of San Francisco Politics.
Baton passed from Mayor Brown to Mayor Newsom, from Harding Park District 7 Supervisor Tony Hall to Supervisor Sean Elsbernd, with journeymen staffs carrying the real water. The city approved $15 million for Harding Park resurrection.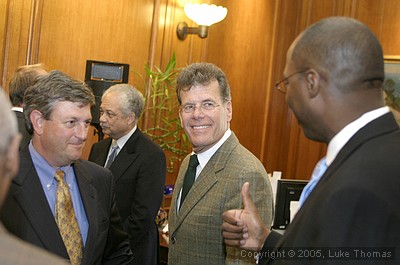 Former District 7 Supervisor Tony Hall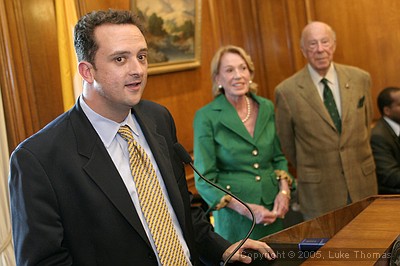 The Honorable Sean Elsbernd
"Sandy's been mentioned, but one of the great opportunities of this event right here is this is the first time so many people have been involved in one project have been in one room, and it gives me the opportunity on behalf of Sandy and so many else to say thank you," graced Elsbernd.
Charlotte Schultz, San Francisco Chief of Protocol and wife of golfing aficionado George Schultz, coordinated the event. As well as mastering golf, George Schultz served as Secretary of State for the United States.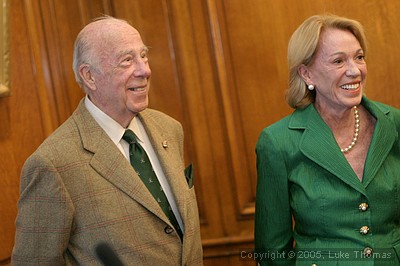 George and Charlotte Schultz
"It's a small ball, and a club you swing," George Schultz described the game to Gavin Newsom.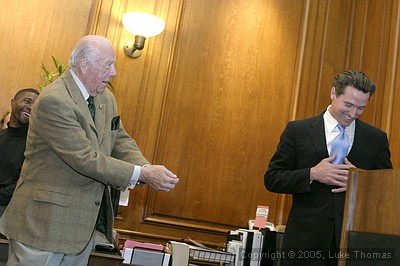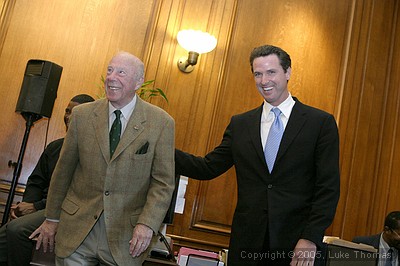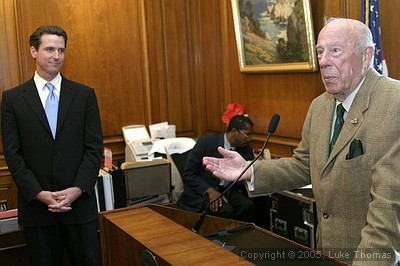 "We'll be back, Mr. Mayor," Finchem resonated promise to the very pleased.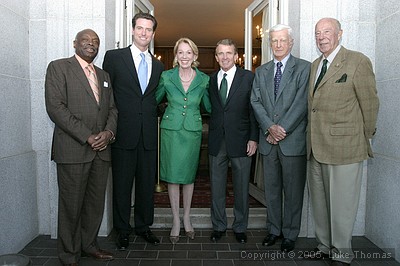 THEY MADE IT HAPPEN - From left, Willie Brown, Gavin Newsom, Charlotte Schultz, Tim Finchem, Sandy Tatum, and George Schultz.
####