10th Project Homeless Connect connects dignity
with our disadvantaged
Services include employment, housing, medical, counseling and lifetime voicemail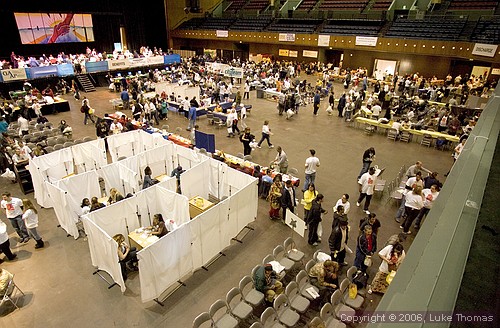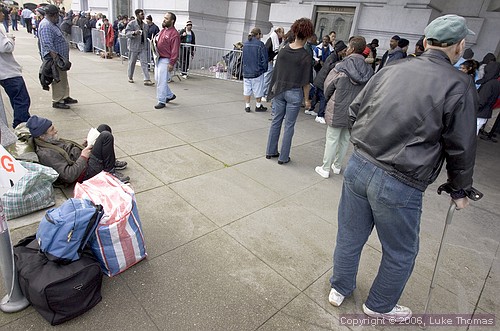 Project Homeless Connect 'clients' gather at the entrance to Bill Graham Civic Auditorium.
Photo(s) by Luke Thomas
April 14, 2006
Paul, 58, lost everything when Hurricane Katrina hit New Orleans, including his job, his home and his cell phone. He is one of the many evacuees who relocated to San Francisco.
Paul is getting a chance to start over thanks to the city's tenth Project Homeless Connect, a bi-monthly program to provide services to San Francisco's economically disadvantaged. Paul said he has new eyeglasses and his own personal phone number, which will serve handy for his new city cleanup job.
"It feels pretty good to have all these services available," Paul said. "I even have a phone number that I can use for the rest of my life."
Paul and 1,663 economically disadvantaged residents received care and services from over 1,478 volunteers at the tenth Project Homeless Connect program on Thursday at the Bill Graham Civic Auditorium, said Alex Tourk, deputy chief of staff for Mayor Gavin Newsom.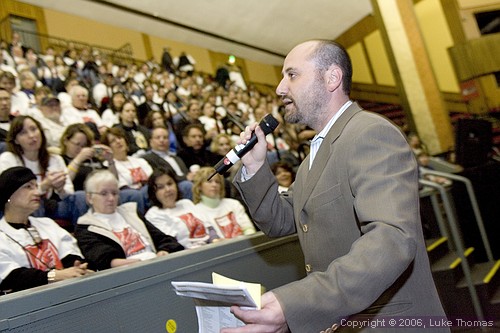 Project Homeless Connect champion and Pied Piper, Alex Tourk
Project Homeless Connect is a program that provides a variety of much-needed services to economically disadvantaged San Franciscans once every other month, Tourk said. Thursday's program provided 1,537 pieces of clothing, 28 HIV tests, 204 medical exams, and 168 dental exams. It also placed 119 people in shelters, stabilitation housing and residential detox programs.
"We're bringing all these services together under one roof at this one-stop shop," Tourk said.
Since its launch in Oct. 2004, Project Homeless Connect has enabled over 14,892 volunteers to help 10,067 homeless and economically disadvantaged clients with needed services, Tourk, said.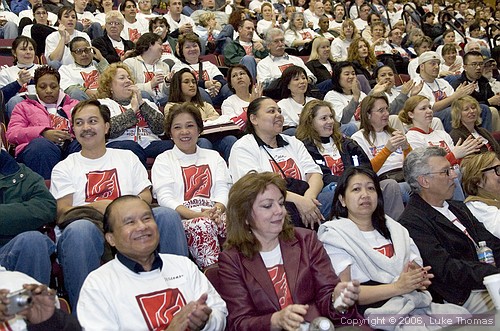 Project Homeless Connect volunteers
The lines started early in the morning outside of the auditorium. Jerome, who lives on Howard St. said he is one of 30 who people have been sleeping outside overnight. Jerome said he came to the program to get some new eyeglasses.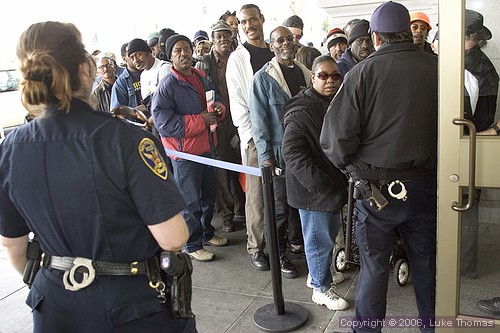 The doors opened at 10 a.m. Each client checks in with a trained social worker to assess the services that they need, said Scott Walton, supportive housing program manager for the city's Human Services Agency.
"The process also gives us an opportunity to get demographics and meet the people that we are serving," Walton said.
Trained volunteers then escort the clients into the service arena with a list of marked services that they requested for. Walton said. Services include free medical and dental checkups, free food, behavioral health counseling, wheelchair maintenance, and legal counseling.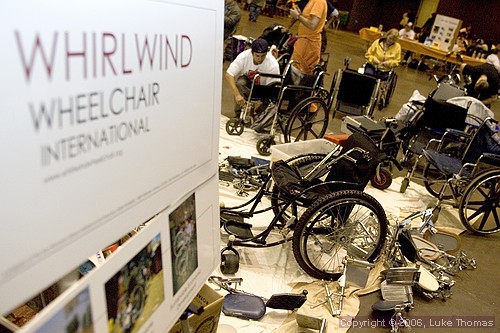 Whirlwind Wheelchair International, repeat contributors, work tirelessly
to maintain and repair clients' wheelchairs
Project Homeless Connect also provides employment services through the One Stop Career Center booth, said James Whelly, workforce development division deputy director of operations for the San Francisco's Dept. of Human Services. It provided ten computers for online job searches.
There are a growing number of jobs available for the clients, Whelly said. For example, the Port of San Francisco will be opening entry-level jobs, such as cashiers and stock clerks, for the tourist season.
One of the biggest challenges that clients experience is a lack of recent work experience to find and qualify for the jobs, Whelly said. The organization helps clients through transitional employment programs that give them the readiness for a full-time job. One Stop also provides career-building programs that help clients with resumes, interviews and other career development skills.
"Not everyone will get a job immediately but they will eventually," Whelly said.
A growing number of corporate organizations are joining Project Homeless Connect to offer services to the city's economically disadvantaged community, Tourk said.
"We did outreach with Safeway and Starbucks and gradually other companies wanted to get involved," Tourk said.
LensCrafters provided free eye exams and distributed free eyeglasses, said Elizabeth Wilcox, general manager of the Market St. store. It distributed 228 eyeglasses on Thursday.
"You can't fill out the forms to find assistance if you can't read," Wilcox said. "Many of the clients we saw today have not had eye exams for a long period of time."
The Department of Motor Vehicles offered free state ID cards to qualified clients, said Megan Low, volunteer service manager for the Volunteer Legal Service Program of the Bar Association of San Francisco.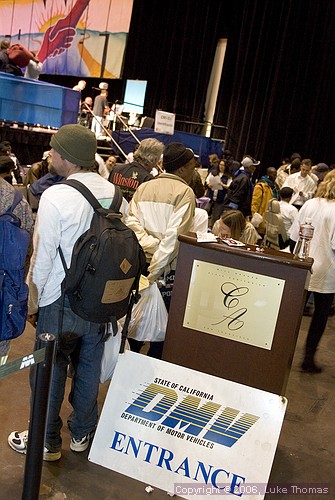 "You can't register for public assistance or get medical treatment without identification," Low said.
Clients must have a birth certificate or another form of identification to register for their new IDs, Low said. A separate station is available at the DMV booth to help clients register for their birth certificates.
Clients registered with volunteers at the DMV booth and received a voucher that reduces the identification card's fee from $21 to $6, Low said. Project Homeless Connect paid the $6 fee and the clients get their identification cards for free.
The DMV mails the free identification cards within two weeks, Low said. If a client does not have a permanent address, the DMV will mail the ID card to general delivery or a known caseworker in the area.
"We're going to do the best that we can to help as many people as possible," Low said.
Most clients at one time or another have had an identification card so they are already in the system, said Debby Green, DMV's Oakland office manager.
The DMV has been at four Project Homeless Connect programs, Green said. It distributed 103 identification cards at the last event. The DMV distributed 148 cards on Thursday.
FedEx, which has been part of the program for six months, provided clients with markers and paper to create greeting cards which the company mails for free, said Debi Carruba, Bay district administration manager.
"They'll spend time here creating a work of art," Carruba said.
Clients use the cards to keep in touch with family, friends and their own children to let them know they are all right, Carruba said. They often come to the booth knowing the addresses or sometimes a phone number.
"Sometimes, we'll use the internet to help clients find the addresses," Carruba said.
FedEx delivered 200 letters at the last event, Carruba said. 75 FedEx volunteers from all over FedEx stores all over the Bay Area volunteered Thursday.
"FedEx strives to be tied to the community all over the Bay Area and it is important for our employees to donate the time to help these people," Carruba said.
The latest addition to Project Homeless Connect is GrandCentral Communications, a San Francisco-based phone company established in January.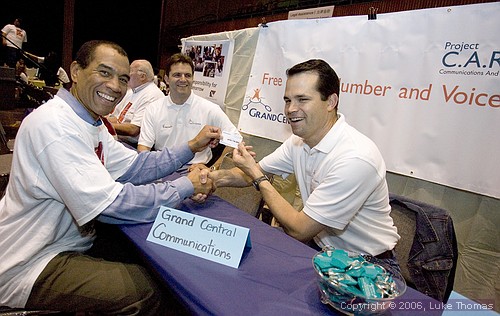 CEO Craig Walker of Grand Central Communications generously hands a client his new lifetime voicemail phone number.
GrandCentral provided Paul, who lost his cellphone during Hurricane Katrina, and other clients with their own phone numbers and voicemail through its Project Communications and Respect for Everybody program, CEO Craig Walker said.
After registering with GrandCentral, clients received a card with their own personal phone number which they can access through any phone, Walker said. Clients then contact that number and record their own personal voicemail greeting.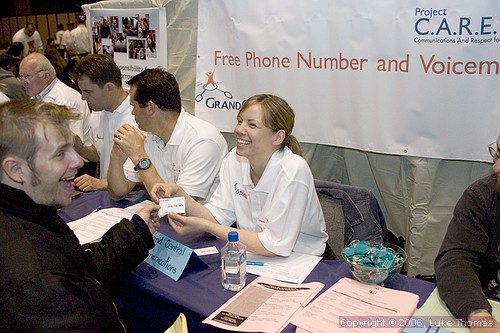 The company distributed 238 phone cards on Thursday, Walker said.
"It's awesome that we are able to help these people based on the stories that I hear from clients who have missed out on jobs because they didn't have a phone number for employers to contact," Walker said.
GrandCentral plans to expand Project CARE to include battered women's shelters and medical clinics that have a challenge getting hold of clients, Walker said.
After clients received their phone cards, many headed over to the Sprint booth to activate their phone numbers using the free phone service that the phone company is providing for Project Homeless Connect.
"They now have phone numbers where family members can keep track of them," said Ramsey Nasir, Sprint product marketing manager.
Sprint has participated in five Project Homeless Connect events so far, Nasir said. It has provided 15 phones on Thursday so clients can make free phone calls to anywhere in the US.
"We've had clients who haven't spoken to their family for more than 20 years and we give them the means to," Nasir said.
Before they left the arena, clients stopped at a discharge station to check in with volunteers that make sure the clients had a chance to receive all the services that they need, volunteer Malia Weinberg, 27, said.
Weinberg, a hospital administrator for St. Luke's Hospital, said it was her first time volunteering for the program but it will not be her last.
"I love what I'm doing," Weinberg said. "This is my way of giving back to the community."
Volunteer Sandra Langlotz, a student intern at the New Langton Arts, said she has volunteered four times for Project Homeless Connect. Her role at Thursday's event was to greet people at the front door.
"I know how to greet someone and make them feel welcome," Langlotz said. "This event gives me an opportunity to express my concern about homelessness in a protective environment."
The clients said they are grateful for the volunteers.
"The volunteers look at you as a person and not just a person who is in need," Anastasia Kern/Williams, 38, said. "They are very helpful and kind."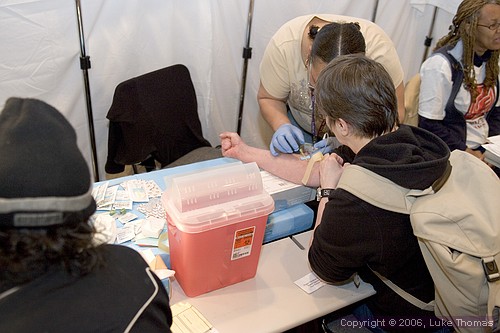 A Project Homeless Connect client's blood is extracted to test for HIV Aids.
Williams said this is her third time attending Project Homeless Connect. She got some free food, made a free phone call and received free Supplemental Security Income consulting.
Project Homeless Connect has also been beneficial for William Clark, 49, a street performer at the ACT Theatre on Mason St. Clark said he was able to get food, eyeglasses and a medical exam. He found out about the program last year at a substance abuse program.
"They need this program in every city in America," Clark said.
Las Vegas will be the 32nd city to launch the Project Homeless Connect program, Tourk said. A contingency from Las Vegas came to San Francisco through the national Interagency Council on Homelessness to observe Thursday's event.
The region provides a similar annual service but it is planning to expand its program quarterly, said Shannon West, regional homeless coordinator in Southern Nevada.
"What is most amazing about San Francisco's program is the outpouring of community spirit," West said. "We want to replicate that in our own Project Homeless Connect."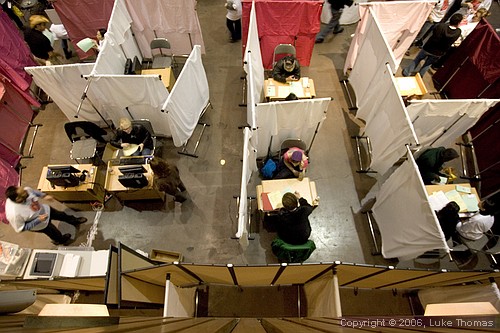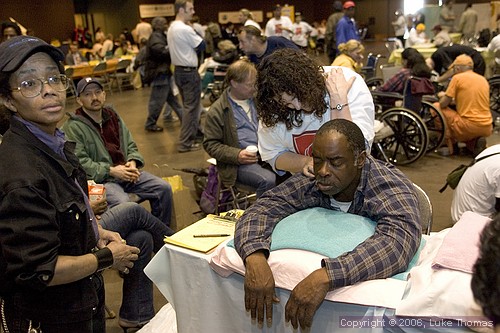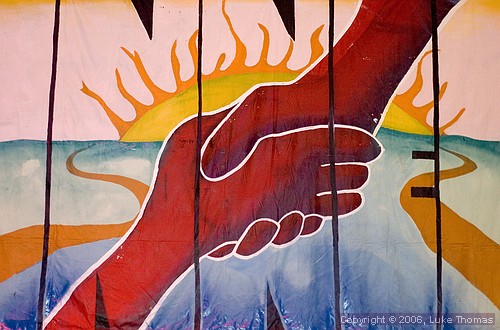 ####