National Poetry Month reading
Under the Dome
April 18, 2006
Come one, come all, to City Hall to hear lyrics so bright when the first annual "Poem Under the Dome" open-mic kicks off Thursday night.
"Poem Under the Dome" will be the city's first open-mic poetry event in City Hall in honor of National Poetry Month. It will take place between 5:30 to 8:30 p.m. next Thursday in North Light Court, City Hall.
"This event will stand as a model for all other cities," local poet and event host E.K. Keith said. "We hope that our words became a legacy to the city's future."
The event honors the city's growing poet community, local poet and event host Charlie Getter said. The hosts are holding lotteries at open-mic events throughout the city for reading spots at the event. The hosts plan to attend 12 open-mic events this week and the list of events they will attend is available on the event's Web site.
Drawings for most of the reading spots will also be at the event itself so come early, Getter said.
Poets can either read their own poems or poems that inspire them. Legendary local poet Diamond Dave Whitaker strongly encourages participants to read their own work.
"Don't panic," Whitaker said. "Make it organic"
Whitaker first initiated the "Poem Under the Dome" event in January at the mayor's office during a celebration to honor the city's new poet laureate Jack Hirschman.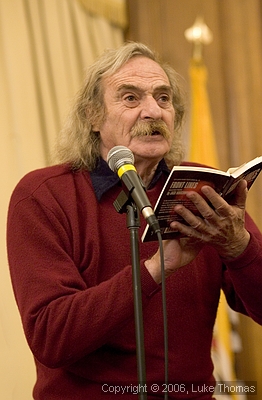 Jack Hirschman, Poet Laureate
Photo(s) by Luke Thomas
Whitaker said he cast a wide net at City Hall and found a common thread amongst the Board of Supervisors, the Mayor's Office and the San Francisco Public Library who are all sponsoring the event.
Supervisor Ross Mirkarimi demonstrated his poetry skills as he introduced the resolution at Tuesday's Board of Supervisors meeting:
Today I am introducing a resolution in support of the first annual Poem Under the Dome
Because poetry leads to San Francisco, like all roads lead to Rome.
This event is cosponsored by the library, the Board of Supervisors and the Mayor's office,
So I urge and encourage my colleagues to join in making this dome a poetry hospice.
Because we can do more together than we can on our own,
Under the dome, under the dome.
Bring your favorite poem or read one of your own,
Under the dome, under the dome.
On April 27, please come greet our poets with an hola, hello, ni hao, or shalom,
As we celebrate the first annual Poem Under the Dome.
For more information, visit http://www.poemdome.com.

####