Tomes under the dome
First annual poetry open-mic in City Hall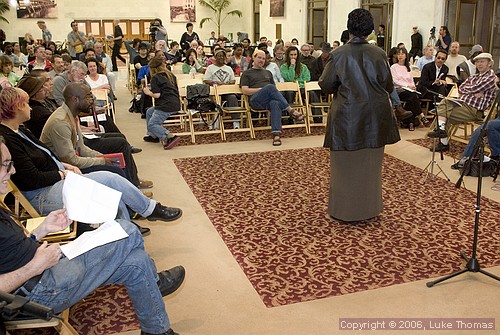 Photo(s) by Luke Thomas
April 28, 2006
Local journeyman Jorge Molina gave strength to their words in the face of authority.
Molina blessed 40 poets gathered in a perfect semi-circle directly under the City Hall's rotunda for the first annual "Poem Under the Dome," the first open-mic poetry event held in the building. Born in Lima, Peru, Molina said he used a traditional chant from the Quechua tribe to bless the poets on Thursday afternoon
A police officer tried to stop Molina from lighting a piece of sage, a symbol of purification in the ritual, but Molina lit it anyways. At the police officer's request concerning the building's smoke detectors, Molina quickly blew away the bright orange flame and continued the chant.
"We face north towards Alaska where indigenous people to struggle for the rights to protect their sacred land," Molina said as the poets faced the North Light Court, where the event would take place, during the chant. He fanned the smoke with an eagle's feather letting the wispy smoke fade into the air.
At the end of the prayer, Molina blew a conch. The sound loudly echoed throughout the rotunda. Heads turned throughout the building to see what was going on. And the first annual "Poem on the Dome" began.
Principal host Diamond Dave Whitaker had some pointers for the poets before the event.
"Don't panic," Whitaker said. "Just keep it organic."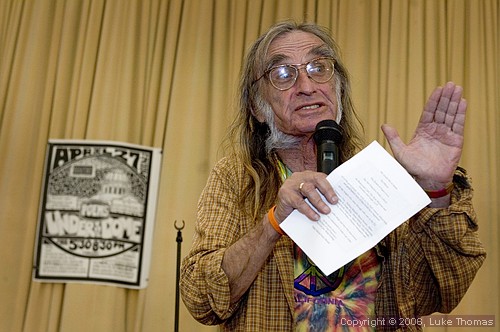 Diamond Dave Whitaker emceed the event
The first performer was Supervisor Aaron Peskin, who welcomed everyone to the event.
"Poets and artists are the unacknowledged legislators of our planet," Peskin said.
Peskin read the poems Bob Kaufman and Jack Micheline, two famous San Francisco poets from the Beat generation.
On
by Bob Kaufman

On yardbird corners of embryonic hopes, drowned in a heroin tear.
On yardbird corners of parkerflights to sound filled pockets in space.
On neuro-corners of striped brains & desperate eletro-surgeons.
On alcohol corners of pointless discussion & historical hangovers.
On television corners of cornflakes & rockwells impotent America.
On university corners of tailored intellect & greek letter openers.
On military corners of megathon deaths & universal anesthesia.
On religious corners of theologial limerics and
On radio corners of century-long records & static events.
On advertising corners of filter-tipped ice cream & instant instants
On teen-age corners of comic book seduction and corrupted guitars,
On political corners of wamted candidates and ritual lies.
On motion picture corners of lassie & other symbols.
On intellectual corners of controversial therapy and analyzed fear.
On newspaper corners of sexy headlines & scholarly comics.
On love divided corners of die now pay later mortuaries.
On philosophical corners of semantic desperadoes & idea-mongers.
On ultra-real corners of love on abandoned roller-coasters.
On lonely poet corners of low lying leaves & moist prophet eyes.
Sad for an unbrave world
by Jack Micheline
I never wanted to be a poet.
I just wanted to be a human being.
Anyone who wants to be a poet is out of his mind.
Either you are one or you're not.
Most poets are not poets.
To be a real artist is a unique and valuable asset to this planet.
Greg "Horehound" Taylor was the first local poet to present his work at the event. Taylor, a local waiter, has been writing poems for 15 years.
Taylor, 54, won the lottery at the Queer Open Mic in the Three Dollar Bill Café. The hosts held holding lotteries at open mic events throughout the city for reading spots at the event, local poet and event host Charlie Getter said.
Taylor said he finished his poem, which he started two days ago, an hour before the event.
It's too late in the day for poetry
and too early in the night to know where we're going
By Greg Taylor
The point of life is to have a spiritual experience
Everything else is monkeys masturbating
Monkeys screeching/Monkeys flinging shit
All of which is preferable to the jackass I most recently dated
The idea of life is to be the eyes, ears, fingers, and mouth of Earth
To love Her, take care of Her, represent Her
We humans have shamed and abused Mother Earth so violently
We're turning her into a Mad Bitch
Hurricanes like never before, tornadoes like never before,
Tsunamis, deluges; it's just starting
And no one is talking about getting out of the car
We have to stop driving right now
For Mother Earth, for our future, four our kids: Forget it
Never gonna happen
The saving grace of this existence is that Heaven & Hell do exist and we're all
Going, we will all remember and be remembered, the Whole Universe will end in a
singularity of Love, but for here and now
Sometimes, the #1 thing in life is to get even with an ex
I could be reading a poem about you (you know who you are)…called:
'American Hore Sucks Terrorist Dick.' In which I am the American hore, and I
Remember what you said about white guys, Rev. Boyd, the mayor
What you want to do [and might do] to America. Yes I remember you -
Black, Jewish and Muslim - walking around like you got the only noble 10" On
top of the heaviest pair of balls west of the Mississippi
Here's some unsolicited advice, boyfriend: you wanna keep your next lover
Don't stand him up night after night, don't stand & deliver from up on your
Soapbox hour after hour, and how about this: don't steal his life savings
You want me to shut up? You wanna look better on paper?
Then be a better person in life
I am an American hore and I write poetry
I got my eye on you / I got my eyes on all of you's ///
And if you can't get quiet enough, broke enough, soft loose and free enough
To have a spiritual experience, at least fuck each other blind and silly
Pay attention to that moment, after lovingmaking, when the world seems safe, sane, and sacred, and in that moment for that moment, be saved.
"My inspiration was what I felt is needed to be heard in City Hall: spirituality, queerness and environmental awareness," Taylor said.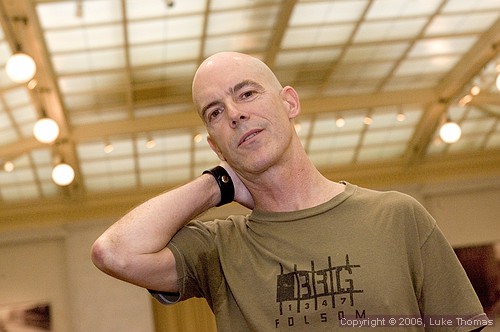 Greg Taylor
Taylor said he was extremely nervous and his hands were shaking as he read his poem, knowing that he would be the first poet ever to perform at this event.
"I wanted to say my truth and that kept me going," Taylor said.
Some poets didn't use words to tell their poetry. Guest host Amu Aki, 56, wore a long headdress with a peacock feather. He wears the headdresses and flowing clothing because so he can harness the wind's strength.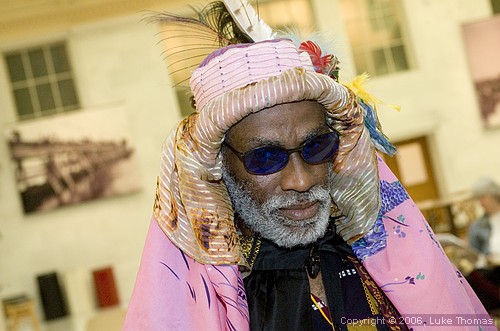 Amu Aki
When he was younger, Aki said he wanted to learn how to have a relationship with the elements but found himself closest with the air element.
"I'm collaborating with the wind to create art," Aki said.
Over 100 locals attended the event, said E.K. Keith, local poet and event host.
Keith said the organization will be applying for a grant so they can increase the publicity and bring more poets to next year's event.
"San Francisco is finally embracing its poets," Keith said.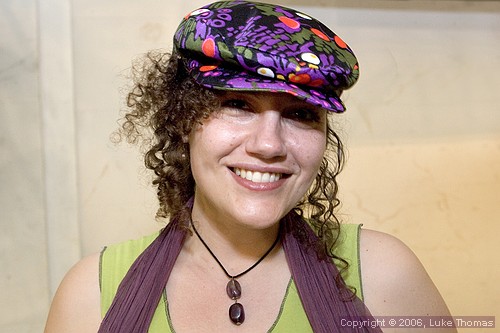 Event organizer E.K Keith
Diamond Dave Whitaker first initiated the "Poem Under the Dome" event in January at the mayor's office during a celebration to honor the city's new poet laureate Jack Hirschman. The Board of Supervisors, the Mayor's Office and the San Francisco Public Library sponsored the event in honor of National Poetry Month.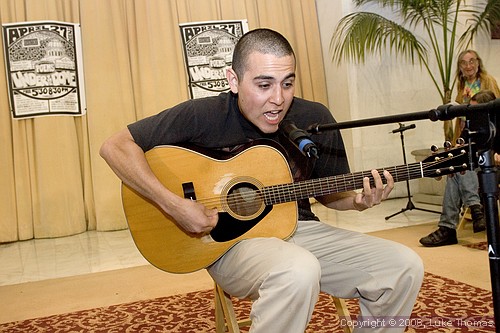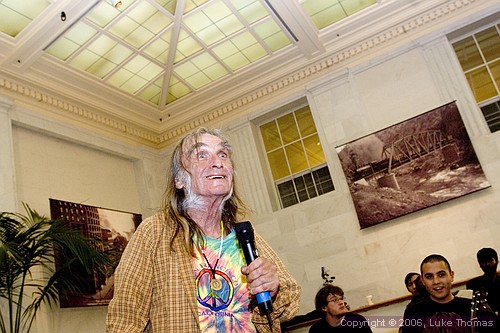 ####