Officer-involved shooting family asks San Francisco Police Commission for answers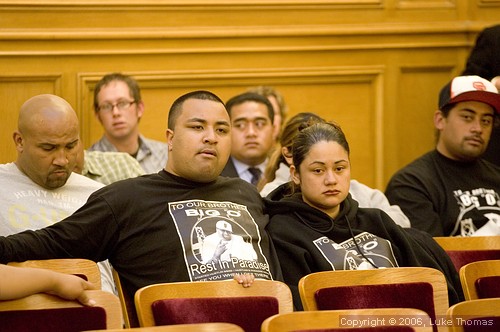 Lefiti family members attended the San Francisco Police Commission meeting yesterday seeking answers as to why police officers shot and killed Oliver Lefiti on June 25.
Photo(s) by Luke Thomas
By Brent Begin, Bay City News Service
July 6, 2006
SAN FRANCISCO (BCN) - For the second consecutive meeting of the San Francisco Police Commission, family members asked for answers in a fatal officer-involved shooting.
This time, it was the brother and widow of Oliver Lefiti, 36, who cried, yelled and pleaded for the police department to release information in connection with his death on June 25, a day after police shot him for allegedly driving a car at them.
According to police Sgt. Neville Gittens, officers were trying to get Lefiti to come out of his car and surrender when he stepped on the gas and drove straight at them.
But while Gittens said the officers were forced to shoot at the oncoming vehicle, at least ten people came up in front of the commission and said it was unnecessary and that Lefiti was a good man and a father, not a drug dealer.
"You took him from me," said Wendy Lefiti, Oliver's wife. "You took him from his 14-year-old son and his 7-year old daughter."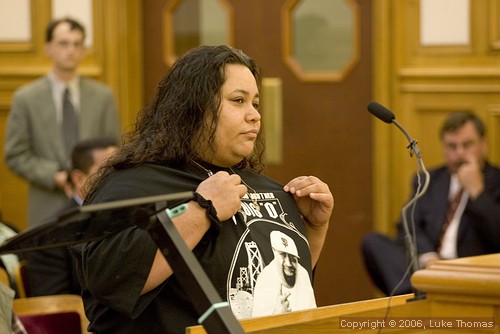 Wendy Lefiti
Lefiti's younger brother Mike also spoke in front of the commission wearing a black T-shirt with "To our big brother, Big 'O'" written on the front.
The officers involved, four-year veteran Jamie Hyun and six-year veteran Gerard Arquero, were immediately placed on administrative leave after the incident.
In tonight's meeting, the commission met with Police Chief Heather Fong in closed session for about thirty minutes as they decided whether to reinstate the officers. The results of that meeting were not released and the commission did not say why the information would not become public.
The commission -- after watching a similar scene unfold two weeks ago when relatives of Asa Sullivan, another man who died at the hands of San Francisco police, pleaded for the same information -- told Fong to provide the family with some basic facts regarding Lefiti's death.
The commission has been pushing the police department to finally adopt a set of recommendations approved in 2004. The recommendations call on the department to provide information to an officer-involved shooting victim's family. Police are also supposed to provide the family with an incident report and a victim and family assistance brochure.
"An unarmed man is still dead," said Dawn Edwards of Bay Area Police Watch. "There's another family behind me and they just lost a family member for what? The bottom line is we have a police department who is supposed to serve and protect."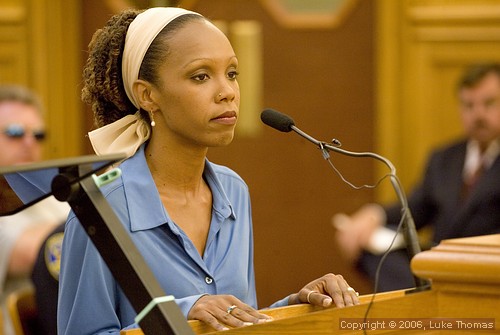 Dawn Edwards
Police have not released new information in the case since the incident. The original report states police received a call that Lefiti, a South San Francisco resident, was selling drugs out of his blue Honda in the Mission District.
Officers found Lefiti in his car around 5:55 p.m. on Capp Street between 15th and 16th streets. The officers then parked in front of Lefiti's car and told him to step out with his hands up. Instead of complying, however, Lefiti drove at the two officers, forcing them to shoot, according to Gittens. Lefiti died the next day.
Commissioners Joe Veronese and David Campos were not at tonight's meeting.
Copyright © 2006 by Bay City News, Inc. -- Republication, Rebroadcast or any other Reuse without the express written consent of Bay City News, Inc. is prohibited.
####