Victory smiles came early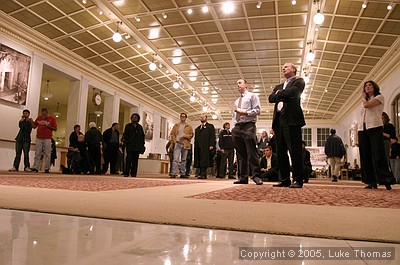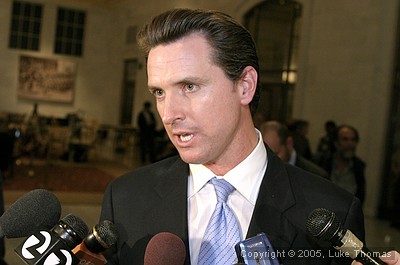 Mayor Gavin Newsom
November 10, 2005
Victory smiles lit up Election Night early in the North Light Court of City Hall, where latest city results flashed instantly.
"It looks good from the perspective of professionals winning over politicians in San Francisco," Mayor Gavin Newsom said shortly after 10:00 p.m. to those gathered for official results.
"I think that any time we can lay that claim it's a good day for San Franciscans."
Before leaving for the Cisneros victory party, Newsom expressed pleasure at seeing his three election goals prevail: defeat of Prop D that would have shared mayoral MUNI appointment power with the Board of Supervisors, election of Assessor Phil Ting and Treasurer Jose Cisneros, and defeat of Schwarzenegger ballot measures.
Defeat of Prop D "was a big victory for those who want to remove politics as much as possible from public transportation, for those who don't want to roll back our advances on MUNI - I think that was a big victory," stated Newsom.
"That initiative was about how you want to govern a city.
"Do you want to bifurcate it…where the legislative branch is playing politics are do you want someone who is actually accountable for running the city?
"I think people saw through the politics of it.
"After years and years of the politics of this town being one of ideology over good government we seem to be able to have pulled back from that and to have prevailed, and I'm very happy about that."
Newsom continued that theme as he joined the Cisneros celebration.
"I'm so proud to say that good politics oftentimes means making the right choices in supporting people with qualifications, supporting people who have integrity, supporting people that understand their job, and their role and responsibility in the community.
"In this case, we were vindicated - every single one of us!"
At the Ting victory gathering, Assessor Phil Ting gave special thanks to Newsom, Assemblyman Mark Leno, and District Attorney Kamala Harris.
Harris likewise cited qualification over ideology as determining factor in her endorsement of Ting.
"This race, in my mind, was always about who was the best candidate, and there was never any question that Phil Ting was the best candidate.
"And he will be the best as our assessor because he is qualified, because he is principled, because he is brilliant, because he cares about this city, because he knows what it means to hold these positions in the public trust."
Ting's wife works as an aide to Leno.
"Yes, it is true. Phil Ting met his wife, Susan Sun, on my campaign trail.
"Yes, it is true Phil Ting and Susan Sun asked me to marry them which I did.
"And when Mayor Newsom called me to tell me he was thinking of appointing Phil Ting as Assessor I had a slightly biased opinion!
"But I can honestly say there is no better choice. This is a brilliant appointment, and Phil within a few short months has proven to this city that he has the experience and the integrity and the wherewithal to repair a very damaged and extraordinarily important department."
Newsom said he was glad he didn't take what some described as a "golden opportunity" to play politics with the Assessor appointment.
"Few people had heard of Phil Ting three months ago, and when Gerardo Sandoval jumped into this race people told me I was crazy not to appoint him to the Assessor's Office because not only would I have built some relationship and a bridge with him but I would have had an opportunity to appoint someone on the Board of Supervisors.
"And I remember even some folks very close to me said this is a golden opportunity.
"But I said that was not a golden opportunity to do the right thing. It would have been the wrong thing to do.
"We did the right thing, and we were vindicated in this race!"

####