Newsom's Project Connect launched nationwide as best practice program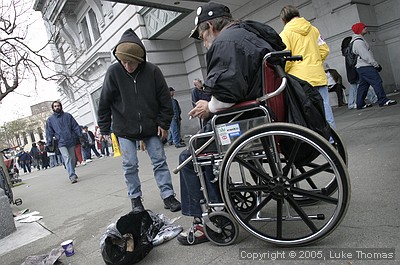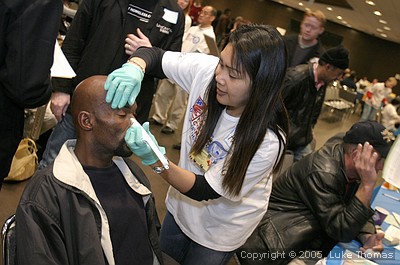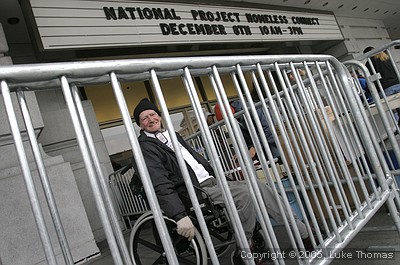 Wayne Smith, 67, outside Bill Graham Civic Auditorium, is a Project Homeless Connect volunteer.
Photo(s) by Luke Thomas
From the Mayor's Office of Communications
December 9, 2005
More than 1,500 volunteers gathered again yesterday at Bill Graham Civic Auditorium providing extensive services and kicking-off the first ever national Project Homeless Connect.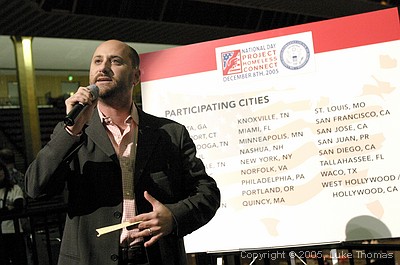 Deputy Chief of Staff, Alex Tourk.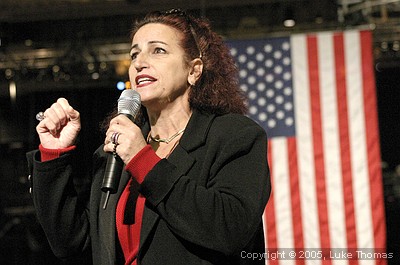 San Francisco homelessness matriarch, Angela Alioto.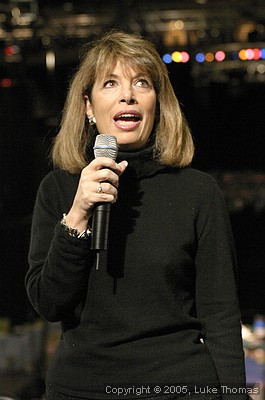 California Senator, Jackie Speier.
Among the twenty-six cities that are participated in the nation-wide homeless outreach include: Miami, Chicago, Knoxville, Denver, St Louis, Atlanta, San Diego, Portland, San Jose, West Hollywood, Philadelphia, San Juan, San Francisco, Indianapolis, Quincy, Pasadena and Chattanooga. Additionally, leading corporations like Fed Ex and US Bank made significant contributions of resources and volunteers.
"San Francisco is leading the nation in bringing real, working solutions to ending chronic homelessness in our own city and other urban cities across the country," said Mayor Gavin Newsom yesterday.
"San Franciscans are finally engaging in this problem as part of the solution. So are our private partners. Clearly - when you look around here today, you see a solution in action. That's why 26 cities across the country are emulating our efforts - we're helping people in need and we're making a difference."
Philip Mangano, the Executive Director of the United States Interagency Council on Homelessness, coordinated nationwide outreach.
Mangano said of the day, "National Project Homeless Connect Day is an innovative opportunity to fuse political and social will to generate visible and quantifiable change on your streets and in your neighborhoods."
At each successive mobilization, Project Homeless Connect has increased its available services and the number of clients served.
Among the new services at Project Homeless Connect VIII were vaccinations for influenza, provided by Blue Shield of California; an opportunity to have California State identification cards made by the Department of Motor Vehicles; and a station to make and send greeting cards to relatives, provided by FedEx.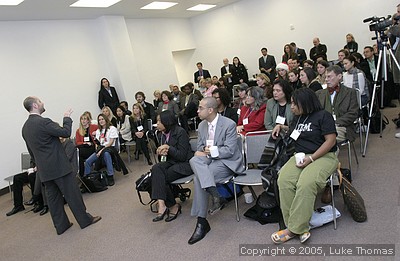 Alex Tourk explains Newsom administration vision of public/private enterprise solutions to sponsors of Project Homeless Connect.
The remarkable strength of the public-private partnerships was illustrated in the FedEx $25,000 donation, in part to fund 20 stabilization units for homeless clients. U.S. Bank also made a multi-year financial commitment, and a pledge to share their financial expertise to meet the project's objective of acquiring more properties to provide stabilization housing.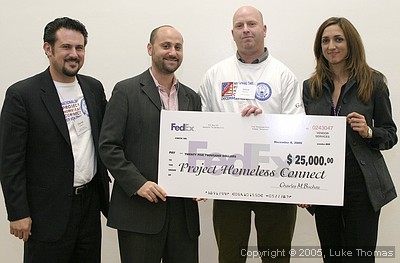 Deputy Cheif of Staff Alex Tourk receives $25,000 check from FedEx Managing Director of Bay Area Ground Operations, Steve Seymour, with Director of Mayor's Office of Neighborhood Services, Daniel Homsey (left) and FedEx District Manager Debi Carrudda (right).
Other participating corporations included Lenscrafters, Nextel, Safeway Stores, Webcor Builders, SBC, Starbucks, Kinko's, AAA, Luxor Cab
Company and Walgreens to name a few.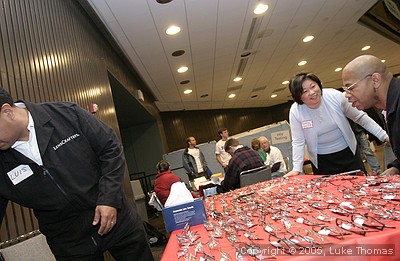 Lenscrafters provided free prescription glasses for homeless clients.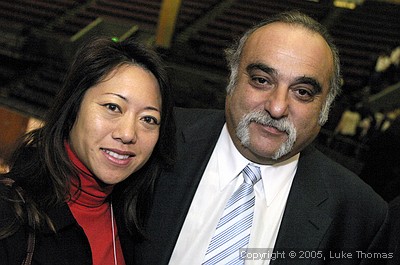 Supervisor Fiona Ma and Luxor Cab chieftain John Lazar.
Project Homeless Connect is Newsom's bi-monthly event that allows outreach workers and volunteers to connect homeless individuals to essential and support services that include enlisting in the County Adult Assistance Program (CAAP) and Social Security Income (SSI) Advocacy. Homeless individuals are provided stations for employment counseling, veterans' services, foot care, methadone treatment, food stamps and domestic violence counseling.
Other services available included Clinical Centers, with doctors, nurses and mental health workers, and Legal Counseling Centers with legal professionals - all providing pro-bono supportive services.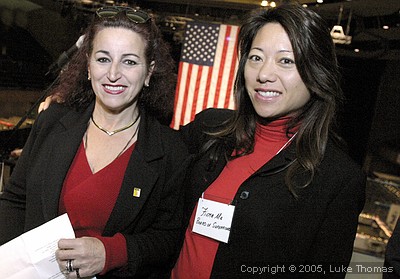 Angela Alioto and Fiona Ma sporting sisterly 'tis the season coloring.

####