Chris Daly and Tom Radulovich
endorse Quintin Mecke for Mayor of San Francisco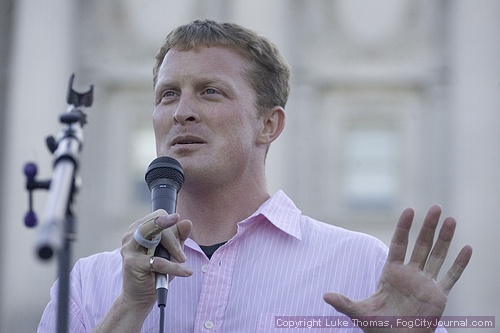 Mayoral candidate Quintin Mecke
Photo(s) by Luke Thomas
From the campaign to elect Quintin Mecke
August 24, 2007
San Francisco Supervisor Chris Daly and BART Board member Tom Radulovich have announced endorsements of Quintin Mecke for Mayor.
According to Chris Daly, "Quintin Mecke is not just talk. He's been working on the important issues facing San Francisco for years. For those concerned about public safety, neighborhood protections, and affordable housing, Quintin Mecke is our best choice for Mayor."
Tom Radulovich said of Mecke "In the past four years, we have seen housing become less affordable. Muni has hiked fares and cut service while on-time performance and ridership are in decline. Our streets are unsafe and ill maintained. We need a change of direction in city hall. Quintin has a good grasp on the issues facing the city and a great track record for getting things done. I want somebody in the Mayor's Office who shares my values and is focused on the issues that affect everyday San Franciscans."
Daly and Radulovich join a growing list of San Franciscans endorsing Mecke for Mayor. Julian Davis, a member of the San Francisco People's Organization, who also has endorsed Mecke, said "Of all the candidates who have entered the Mayor's race to challenge Newsom, Quintin has the best understanding of the issues facing San Franciscans."
Mecke, a recent entry into the Mayor's race, hailed Supervisor Daly's endorsement as a major step in his campaign. "I am proud to have the endorsement of Chris Daly. His early endorsement sends a strong message to San Franciscans who are hungry for change. San Francisco can do better, and it is time to hold Gavin Newsom accountable for his failures in governing this city."
Mecke is deeply involved in issues facing San Francisco neighborhoods and has a broad range of experience in both public policy and community-based work. He is currently the Program Director for the Safety Network Partnership, a citywide public safety program promoting community-driven responses to crime and violence in San Francisco's neighborhoods. He is also a member of the Shelter Monitoring Committee, which is charged with inspecting the city's homeless shelters to ensure that individuals and families experiencing homelessness are treated with dignity and respect.
Quintin has a Masters Degree in Public Administration and as a member of the Elections Task Force on Redistricting, he helped redraw the city's supervisorial districts. In 2001, he was selected to serve on San Francisco's Civil Grand Jury and authored their report on homelessness. He was the President of the Mental Health Association of San Francisco for several years and currently serves on the Board of Directors for the arts organization CounterPULSE. A former community fellow with the Coro Foundation, he is also a graduate of Leadership San Francisco, a program of the San Francisco Chamber of Commerce.
For more information, visit www.qformayor.org or call 415.505.2417
####