WITH CATHERINE RAUSCHUBER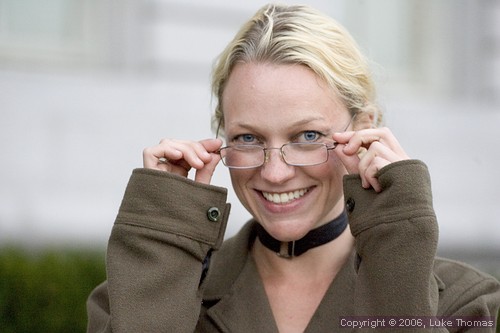 Photo(s) by Luke Thomas
LoveFest 2006
September 24, 2006
Thousands of people danced from the Embarcadero to the Civic Center to music booming from 22 floats, courtesy of some of San Francisco's, and the world's, finest dj's and dj collectives on Saturday. I showed up in time to catch the end of the LoveFest's parade on Market Street, before the floats parked themselves around the perimeter of the Civic Center plaza, providing a giant outdoor dance club from mid-day until past sunset.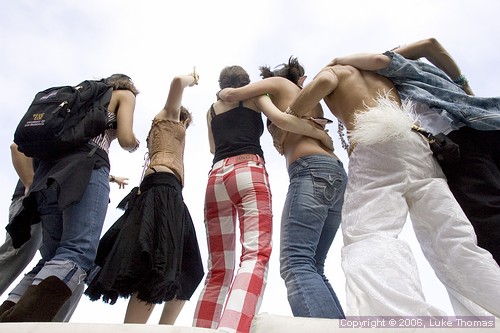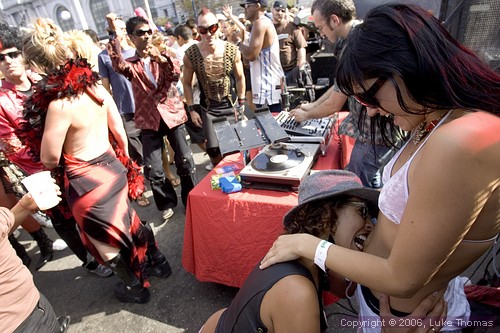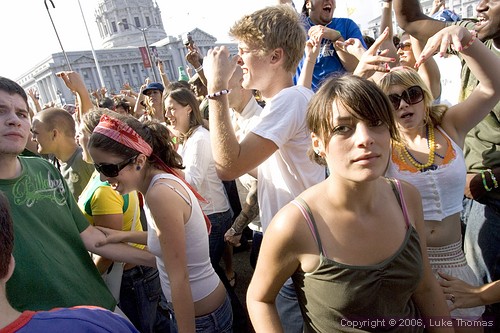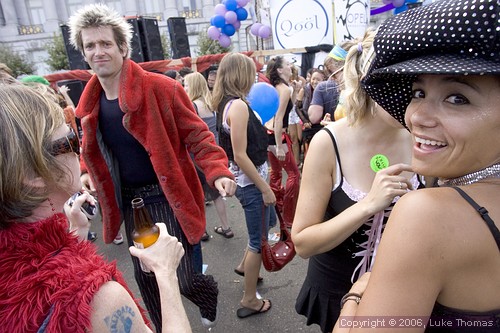 Just as the floats were taking their positions around the plaza, a wedding party from inside City Hall emerged onto the Polk Street steps overlooking the festivities. The crowd of finely dressed guests stood in amazement, smiling hugely at the bouncing, cacophonous scene before them. I, smiling hugely at my friend Steve, said, "Well, I don't know about them, but this would be my dream wedding reception."
Now I'm biased about dancing. I grew up embedded in the ballet world, and it is just hardwired into me as one of my favorite ways to express myself. I also believe that events like the LoveFest, now in its third year in San Francisco, are important for the cultural and political vibrancy and sense of community in our City. Of course no one single dance event provides community, and some people might even believe that the LoveFest is nothing much more than hedonism and frivolity. But those who easily dismiss events like LoveFest as being silly obviously weren't there on Saturday taking a good look around.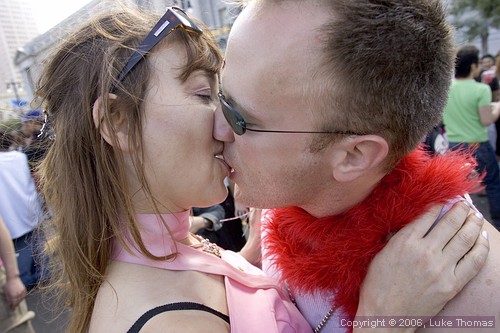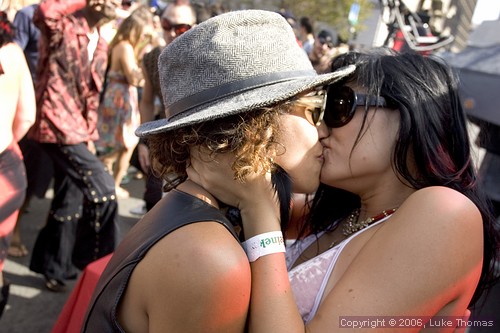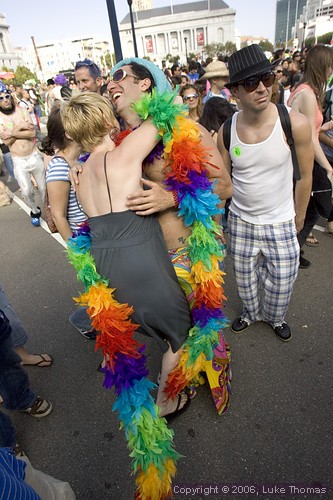 Although there were plenty of raver and burner-types in attendance, I saw families, the elderly, tourists with fanny packs, and packs of kids from outside the city. There were also, of course, the usual festival-attending folks with political literature to hand out or signs to hold up. (Unfortunately, I didn't spot Frank Chu, but I am guessing he was there somewhere...)
One thing I find both interesting and refreshing about events like Burning Man and LoveFest (both of which represent subcultures that draw a lot of criticism for being shallow and frivolous) is that they are, in some ways, intentionally apolitical in their activities and presentations. The events are primarily about expression, participation, creativity, and community. However, I think it possible that their devotees may be more likely to engage politically, and with greater force, because of the sense of community and participation that these subcultures foster - especially if provided with issues and candidates that speak to them. San Francisco saw a glimpse of such a mobilization of young and countercultural citizens in the last Mayor's race, and the nation experienced a similar phenomenon with Howard Dean's candidacy for the Democratic Party's Presidential nomination.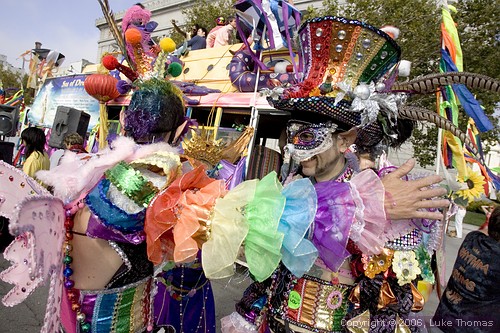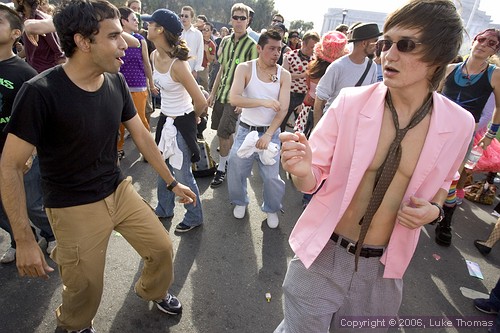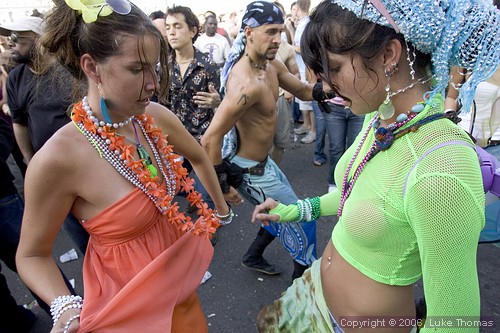 I love living in a place with events like LoveFest, as well as unconventional civic art installations like Michael Christian's beautiful and otherworldly sculpture Flock (which overlooked the Civic Center earlier this year and was made possible through the work of the current mayoral administration and the Black Rock Arts Foundation). I am proud to live in a community that celebrates art, politics, lifestyles, and activities deemed fringe by the mainstream.
While for another fringe subculture at the Folsom Street Fair, this weekend's fashion was more about black leather chaps, LoveFest revelers celebrated whimsy, donning things like faux fur, colorful wigs, crazy-patterned pants, and shimmery halter tops. In a fashion show during the VIP party in City Hall, I modeled a design by Tamo, a dj and designer I met recently. We "models" had to walk down the huge staircase inside City Hall. For me, it was amusing to descend the same stairs - wearing a brown corseted dress and black boots with teased hair - that I sometimes walk up for my work wearing a suit and heels. I realized later that it was also symbolic.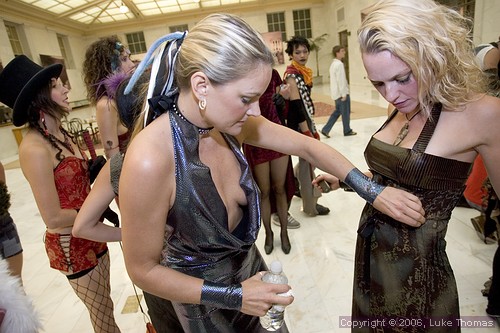 Fashion Designer Tamo (left).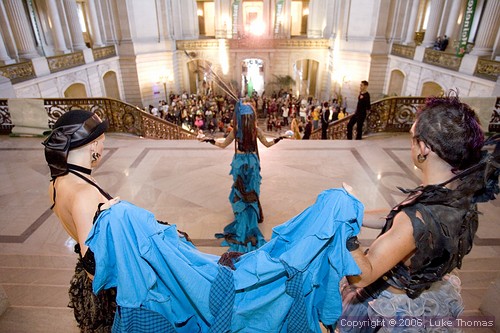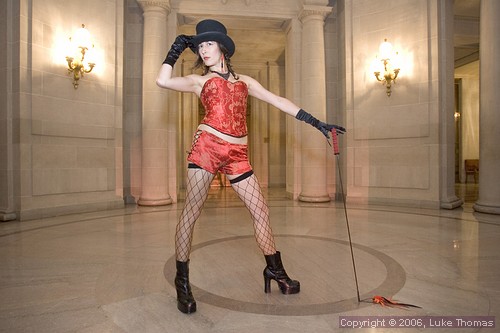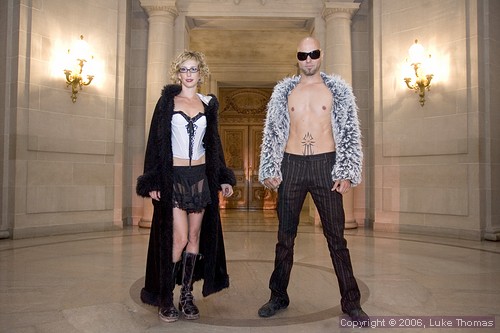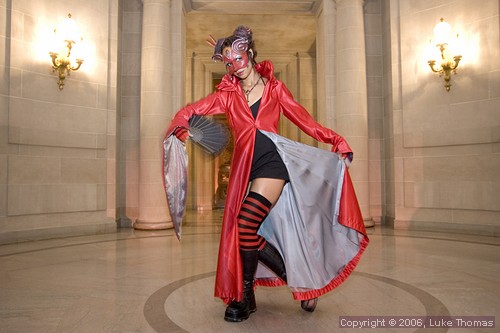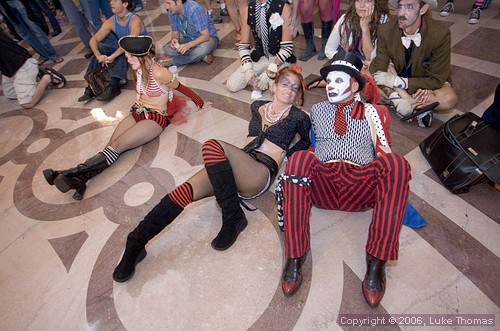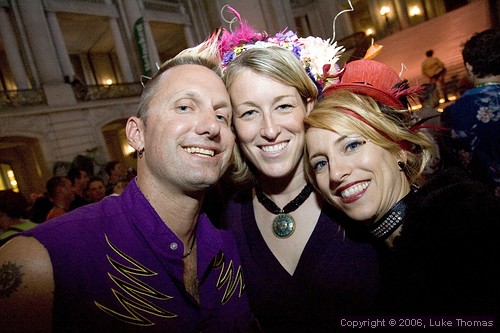 San Francisco Bay Guardian's Steve Jones, District 8 candidate Alix Rosenthal (center),
and Kat Steinmetz from Kepi and Kat
Saturday symbolized some of the things I love most about San Francisco - the opportunity for social circles to intersect with political ones, the celebration of our creativity and diversity, and the unique expressions of civic participation, like giant dance parties in front of City Hall!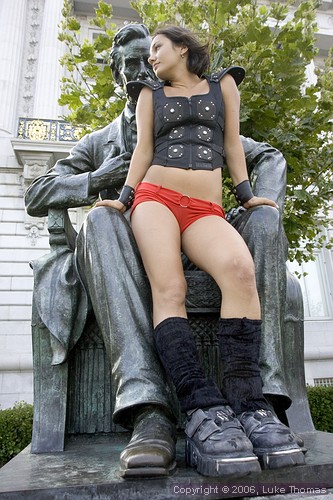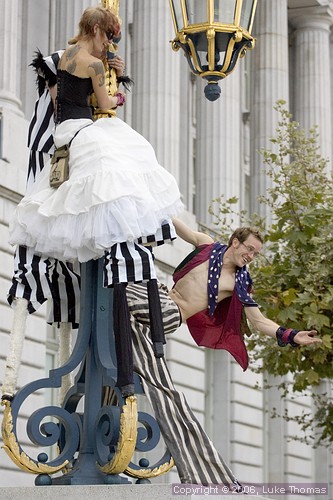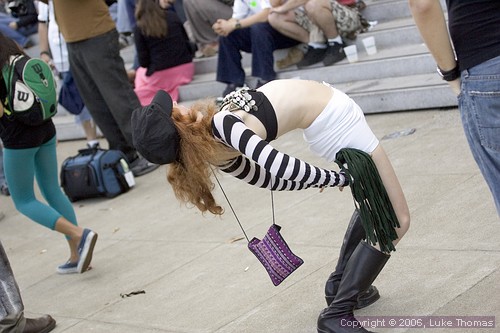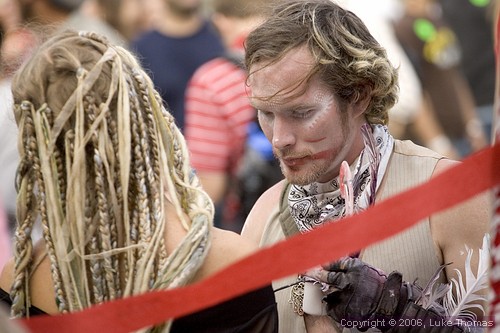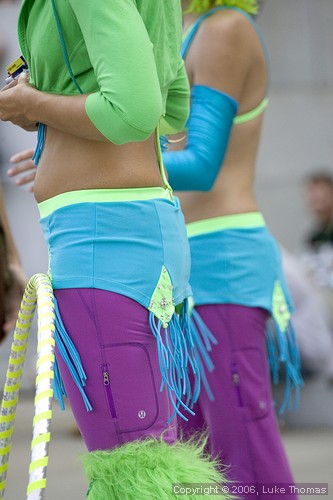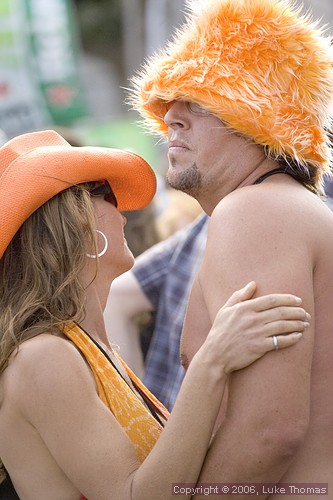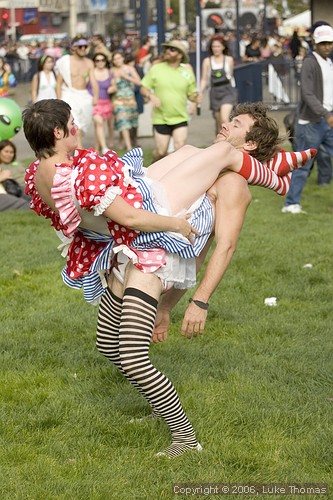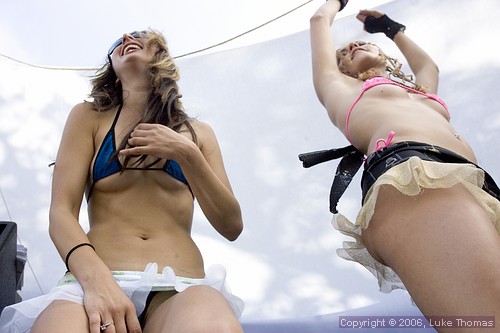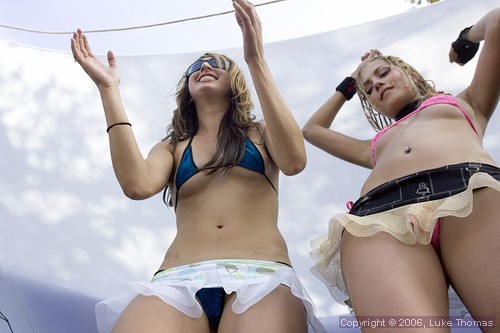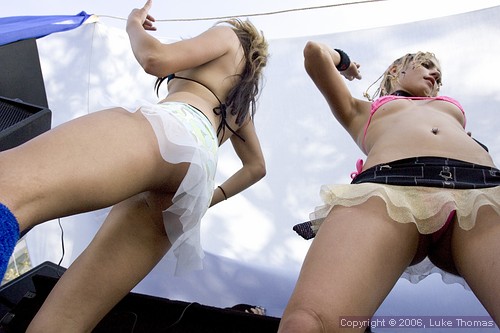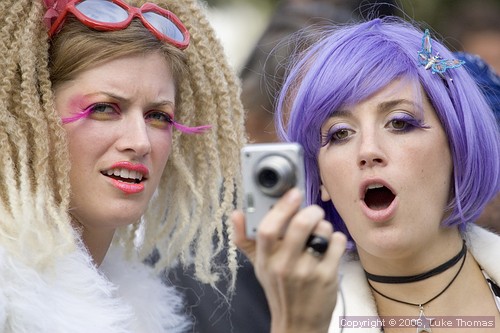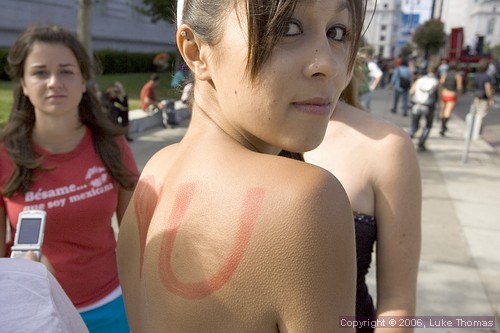 Catherine Rauschuber received her public policy degree from the Kennedy School of Government. She is active in local artistic and progressive activities and resides in the Misssion neighborhood. Email Catherine at cat_rauschuber@yahoo.com
####
Editor's Note: Views expressed by columnists published on FogCityJournal.com are not necessarily the views or beliefs of Fog City Journal. Fog City Journal supports free speech in all its varied forms and provides a forum for a complete spectrum of viewpoints.