Watch those ring-a-ding hands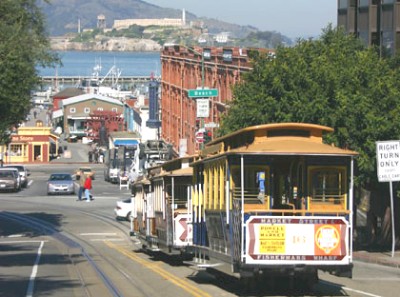 National Historic Landmarks Photo

By Luke Thomas and Pat Murphy
January 19, 2006
As coin of the MUNI realm, trust may have turned out to be counterfeit - on both sides of the collection box.

With most city departments facing static or decreased budgets, look for "a substantial increase in personnel that would enforce (MUNI fare collection) and we expect a very significant return on the investment, Mayor Gavin Newsom predicted yesterday.

Riders slipping unpaid through bus back doors and big hearted or indifferent drivers who acquiesce to non-payment already is in the public consciousness.

Newsom upped the ante yesterday by suggesting some Cable Car ring-a-dingers may be pocketing $5 cash fares.

"Three specific occasions - three - different times it's happened to me, they were pocketing and not giving me a receipt on the Cable Car.

"Five dollars per trip one-way is not an insignificant amount of money that I am convinced, based on my own personal experience, is not going to MUNI but is going into the pockets of some of our well meaning operators."

Newsom travels disguised when sleuthing MUNI service.

"I do have my strategeries, to use Bush's phrases, a New York Yankee hat, so that's how I get incognito."
####