Provisional ballot counts advance Rizzo to likely College Board election victory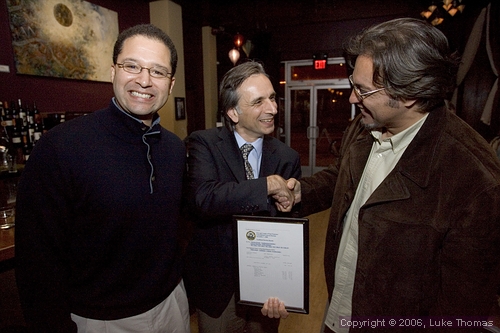 College Board Trustee-elect John Rizzo holds a framed copy of today's election results presented to him by Supervisor Ross Mirkarimi (right) and College Board Trustee Julio Ramos.
Photo(s) by Luke Thomas
By Luke Thomas
November 27, 2006
San Francisco Department of Elections reported Monday candidate John Rizzo has surpassed fellow contender Johnnie Carter for the remaining open third seat on the Community College Board.
Rizzo now leads Carter with 292 votes separating the two candidates.
With only 1700 ballots left to be verified from the remaining provisional ballot pool and the 'auxiliary bin', a term used to describe errant ballots, it is statistically unlikely Carter will overcome Rizzo's lead.
On Thanksgiving Day Carter was ahead of Rizzo by a mere 25 votes in a very tight race.
Commenting on the victory Rizzo told Fog City, "I am incredibly relieved. These past three weeks have been stressful not knowing the outcome.
"I am grateful to everyone who worked on my campaign and for our elections department for working so hard."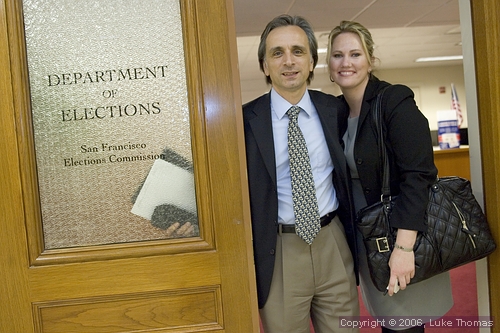 John Rizzo and Campaign Manager Aimee Harcos
As of time of publishing, Carter has not conceded defeat.
Rizzo credits his victory by canvassing voters face to face.
"I went to community meetings and walked the streets. I saw Ed Jew more times than anyone else," Rizzo reported.
District 4 Supervisor-elect Jew is largely credited with his unexpected victory by connecting directly with voters that ride public transportation.
Supervisor Ross Mirkarimi joined Rizzo for a victory party at So Luna café. Mirkarimi said of Rizzo's victory, "No one saw it coming."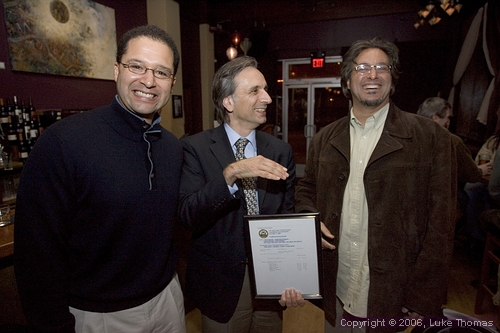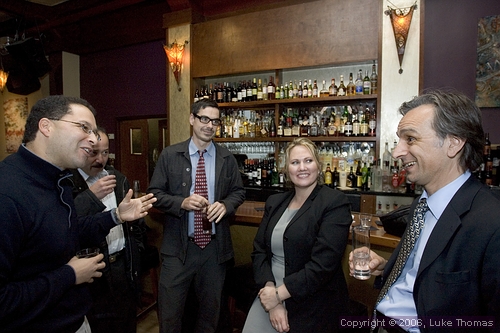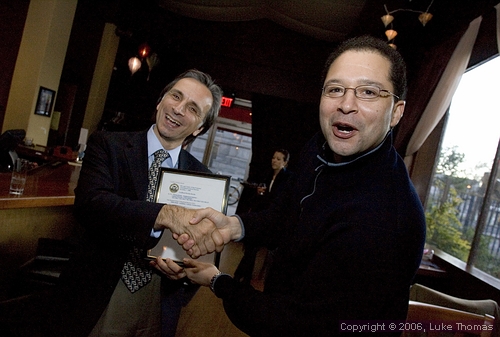 ####