Whirlwind royal tour touches
on global warming, homelessness,
and local joy of being Number One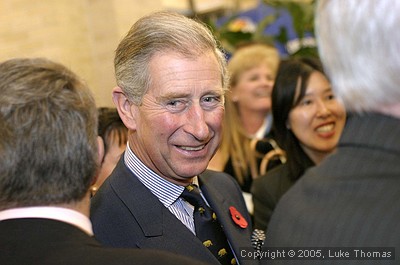 Photo(s) by Luke Thomas
November 8, 2005
Orchestral strains of "California, Here We Come" greeted the Prince of Wales and the Duchess of Cornwall yesterday morning, as they sailed courtesy U.S. Coast Guard into San Francisco's dock by the bay.

On a beautiful San Francisco gray morning, with Royal pennant nearing, it was too much to resist.

In San Francisco style, the city's leading protocol official, Charlotte Schultz, broke protocol by bolting the stoic greeting line to dance by herself center stage.

In blink of an eye, the lady was joined by Mayor Gavin Newsom, with both sets of hips in fullest sway, as each reveled in full-throttle acceptance that it's greatly grand this day to be Number One in America's most joyous city.

The sounds crescendoed silent, as the royals debarked for a more formal greeting.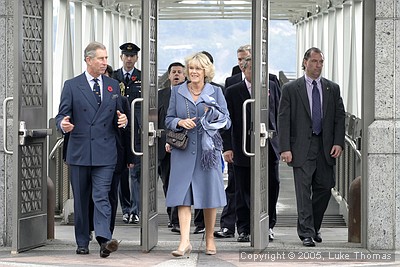 TRH Charles and Camilla arrive in San Francisco from a Berkeley visit to the organic Edible Schoolyard. Shown below,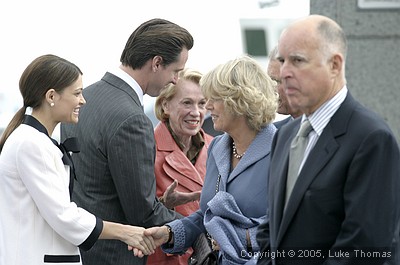 Kimberly Guilfoyle-Newsom extends hand to Camilla,
Duchess of Cornwall. Oakland Mayor Jerry Brown (foregound), travelled across the bay with the royals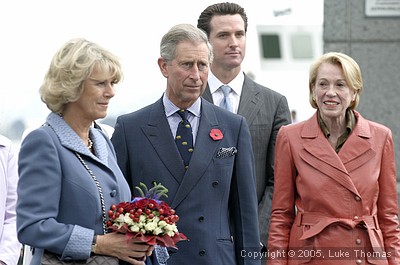 San Francisco Mayor Gavin Newsom and Chief of Protocol Charlotte Schultz with the royal couple prior to national anthem 'God Save The Queen.' Both royals visited the orchestra complementing performers.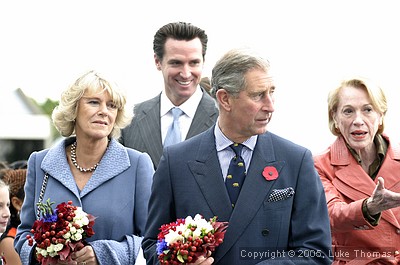 A variety of security agencies at first seemed startled by breadth of throngs straining for a glimpse and a smile, as the entourage visited shops within the Ferry Building.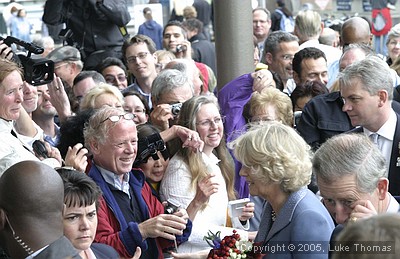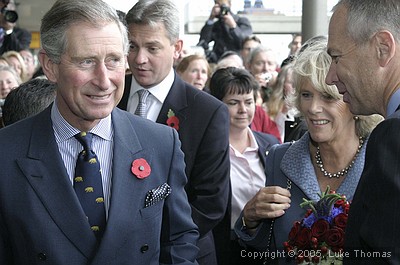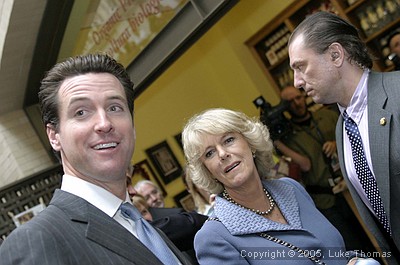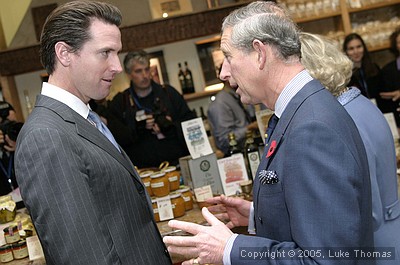 In the only speech of his four-day San Francisco visit, Charles joined environmentally friendly business leaders.
The prince called for an end to debate on whether global warming exists, and for quick action to stop it. (See related Al Gore presentation on global warming, click here)

The event marked launch of Charles' Business & Environment Programme, first established in Britain in 1994.

After a few hours rest, the couple dined on an organic meal hosted at the de Young Museum.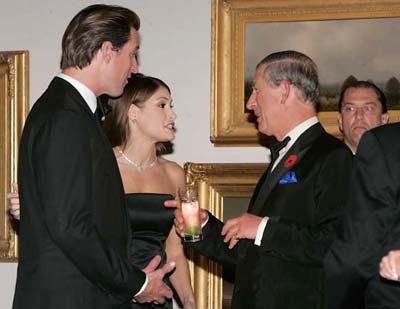 Kimerbly Guilfoyle-Newsom enjoys lighter moment
at black-tie de Young Museum gathering.
Chronicle POOL PHOTO by Mark Costantini
Formerly homeless residents of the Empress Hotel are scheduled this morning to enlighten the royal couple on the desolation of homelessness.
####