Family neighborhood frees
sexually exploited children
October 6, 2005
Young women lifted up from commercial sexual exploitation now breathe fresh air in an undisclosed family neighborhood environment.
Supportive housing, for two years the dream of Norma Hotaling and Kamala Harris, became sunlit reality this through backing of Supervisor Tom Ammiano, Mayor Gavin Newsom, and community support.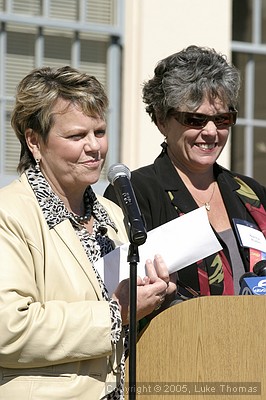 SAGE director Norma Hotaling, left, pledges never again will an exploited child suffer unnoticed. Woman at right not identified to shield location.
Photo(s) by Luke Thomas
Hotaling, a survivor of prostitution and heroin addiction, leads the sponsoring organization Standing Against Global Exploitation (SAGE). Harris serves as San Francisco District Attorney.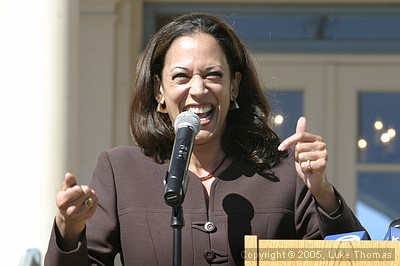 'We did it!' proclaims thrilled District Attorney Kamala Harris.
Six bed capacity of the Safe Home and School double in the coming year, Newsom promised the young women, staff, and well wishers.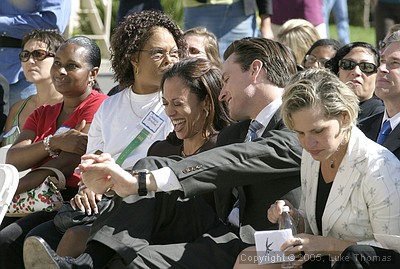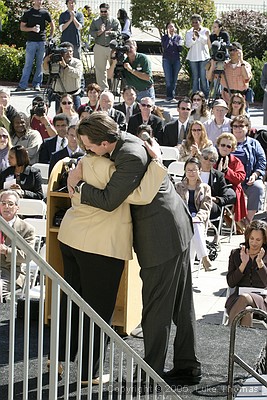 Hotaling, getting a hug from Mayor Newsom, won his support when Newsom served as District 2 supervisor.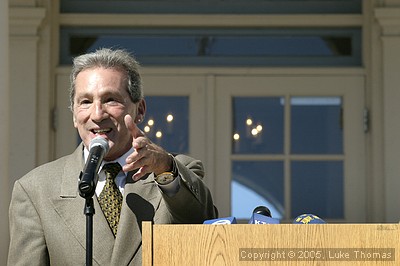 Supervisor Tom Ammiano, who began his career as a San Francisco teacher, brought special affinity for child welfare to the event.
The nurturing oasis serves "young women who have been exploited and abused through commercial sexual exploitation, systems of prostitution, and through sex trafficking with comprehensive mental health and trauma recovery services," Hotaling reported.
####