Court appears skeptical of State's objections
to Same-Sex marriage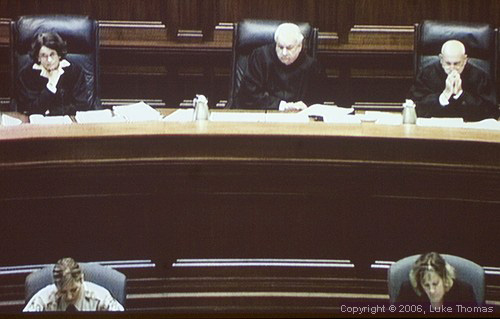 Justices Joanne Parilly, William McGuinness and J. Anthony Kline
preside over the State of California's bid to overturn a lower court ruling
that found a constitutional right to same-sex marriage.
Photo(s) by Luke Thomas
By Jeff Shuttleworth, Bay City News Service
July 10, 2006
SAN FRANCISCO (BCN) - A three-judge panel of the state Court of Appeal expressed skepticism today over the state's bid to overturn a lower court ruling that found a constitutional right to same-sex marriage in California.
At the beginning of a packed and closely watched hearing that could take as long as six hours, the three judges subjected California Supervising Deputy Attorney General Christopher Krueger to a series of harsh questions.
Krueger and the state are appealing a decision in which San Francisco Superior Court Judge Richard Kramer last year struck down California laws requiring marriage to be between a man and a woman. Kramer said the laws violated the state Constitution's guarantee of equal protection.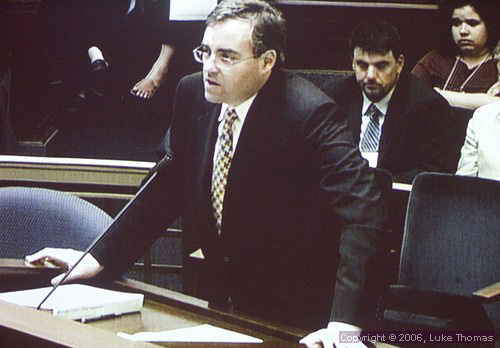 Deputy Attorney General Christopher Krueger

Justice J. Anthony Kline told Krueger that the state seems to be arguing that there should be "two kinds of marriage in California" and there should be "a second-class marriage" for gays and lesbians.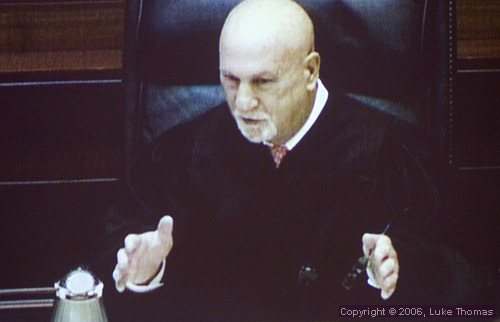 Justice J. Anthony Kline
Justice Joanne Parilly suggested, "Perhaps it's time for the state to get out of the marriage business altogether."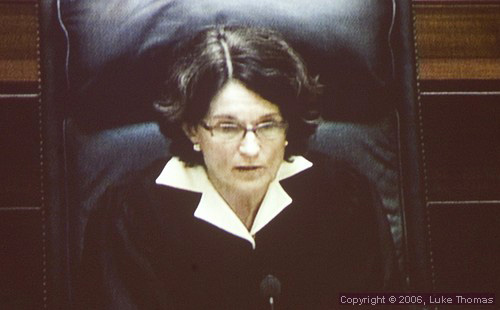 Justice Joanne Parilly
And Justice William McGuinness asked Krueger if there is rational basis for not extending the right to marry to gay and lesbian couples.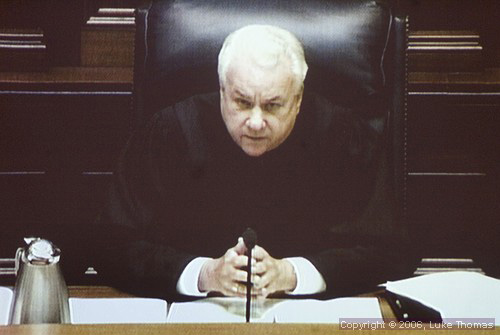 Justice William McGuinness
Therese Stewart, representing the city and county of San Francisco, which wants the state's marriage laws to be changed, told the court that barring same-sex couples from marrying "demeans gay men and lesbians."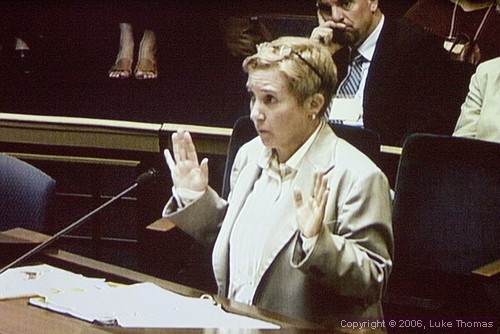 Attorney Therese Stewart
The appellate court is expected to issue a ruling in October on the six cases it is hearing arguments on today.
Copyright © 2006 by Bay City News, Inc. -- Republication, Rebroadcast or any other Reuse without the express written consent of Bay City News, Inc. is prohibited.
####