Editor spends weekend
in penthouse suite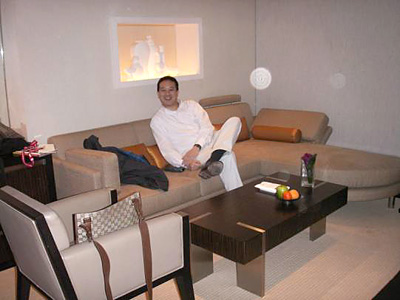 fogcityjournal.com provided by C.W. Zhao
By C.W. Zhao
December 21, 2005
Who else but Samson Wong, Editor-in-chief of AsianWeek decides to fly to Hong Kong for the weekend?
Invited by Cathay Pacific, Wong took advantage of an offer to participate in the Annual International Horse Races at Hong Kong's Sha-tin Race Course on Sunday, December 11.
Following a long pampering flight, on which Samson's reservation was upgraded from business to first class, Samson checked into the brand spanking new Mandarin Oriental Hotel in the Central district and into his penthouse suite, armed with a hot off the press passport in one hand, and his laptop in the other. The suite smarted of a glass walled bathroom matching the size of his sleeping quarters, a round Jacuzzi tub that could host a party, electronically retractable blinds that exposed the modly furnished room to the sun (or moonlight), three flat panel TVs and a mini-fully stocked bar that contained bottles of Heineken that were actually tins (imagine that), energy bars, and chicly packed teas (of course, there were bottles of hard liquor to boot).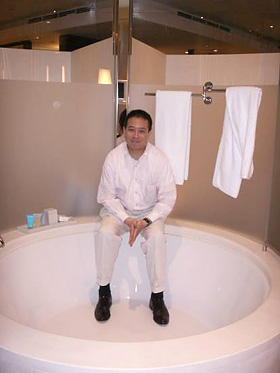 Asked about the trip? "Only the best that Hong Kong could offer, " was all that Wong could muster.
Wong didn't gamble at the races, however, having preferred walking tours of the stables where groomers tended to the horses Wearing his press credentials around his neck and decked out in a light wool blazer and khaki pants, he strolled through the kitchen areas of the newest race track in the New Territories district of Hong Kong as the chefs madly worked around him to prepare meals for spectators and lucky betters that day.

####