Sandoval Resolution denounces proposed Bush militarization
of US-Mexico border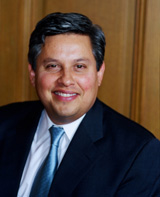 Gerardo Sandoval
May 17, 2006
Supervisor Gerardo Sandoval introduced a resolution at Tuesday's Board of Supervisors' meeting denouncing President George W. Bush's deployment of the National Guard to the United States-Mexico border.
On May 15, Bush announced the deployment of up to 6,000 troops along the United States-Mexico border. Deploying troops to the borders decreases the National Guard's ability to deal with national emergencies within the country.
"I think Bush's tactics are wasteful," Sandoval said.
Sandoval referred to the peaceful immigrant rights demonstrations on May 1 and compared them to the Bush orders to militarize the border.
"I think placing military troops on the border denigrates the contributions of the Hispanic community," Sandoval said. "There is a reason why conservative television pundits refer to this issue as the 'immigration wars' and the 'war on terrorism.' War is a significant choice of word."
Sandoval requested the Clerk of the Board of Supervisors to send copies of the
Resolution to the Congressional delegation representing San Francisco, including House of Representatives Minority Leader Nancy Pelosi, Senator Barbara Boxer, and Senator Dianne Feinstein.
"The president has not only bowed to the baser elements of society," Sandoval said, "he has also fanned the flames of ignorance."
Supervisors Ross Mirkarimi and Tom Ammiano are listed as co-sponsors of the resolution.

####