San Francisco officials may have to reveal more details of trip funding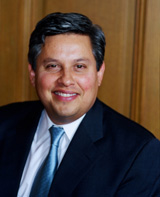 Supervisor Gerardo Sandoval
By Tamara Barak, Bay City News Service
February 14, 2006
SAN FRANCISCO (BCN) - San Francisco Supervisor Gerardo Sandoval today introduced a measure that would require elected officials to reveal the details of their travel funds --before they leave town.
"Secret trips are a recipe for corruption," said Sandoval, who represents San Francisco's District 11.
Presently, representatives must report travel gifts on a yearly basis, but must disclose only the name of the funding organization.
"Under current law, an elected official could take a trip to Paris, paid for by a non-profit called 'Citizens of San Francisco.' But voters would remain in the dark about who or what kind of an organization was actually paying for the trip," Sandoval said.
The proposed ordinance would also require disclosure of the trip's itinerary and the names of people who accompany the elected official.
The city's Ethics Commission will review the proposed legislation before it comes before a committee of the Board of Supervisors.
Copyright © 2006 by Bay City News, Inc. -- Republication, Rebroadcast or any other Reuse without the express written consent of Bay City News, Inc. is prohibited.
####