San Francisco Symphony quartet plays
for higher wages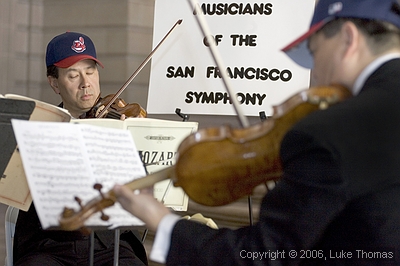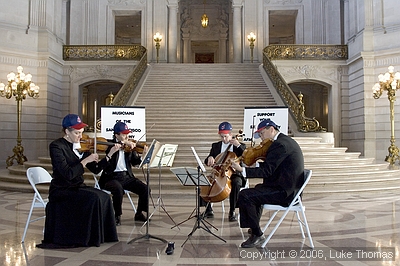 Photo(s) by Luke Thomas
By Brent Begin
January 23, 2006
SAN FRANCISCO (BCN) -- A quartet of San Francisco Symphony musicians played under the San Francisco City Hall rotunda today at noon to protest stalled contract negotiations.
Dozens of passers by paused to listen to a rendition of Mozart's "The Dissonant Quartet" as negotiators and musicians made a case for higher wages and compensation packages.
The San Francisco Symphony musicians, part of Local Six of the Musicians Union, have worked without a contract since Nov. 26, 2005, when the last one expired.
David Gaudry, a member of the negotiations committee, said salary, seniority pay, and pension packages were at the bottom compared with competing markets around the country like Los Angeles and New York.
The three violinists and one cellist comprising the quartet wore Cleveland Indians baseball hats along with formal attire to symbolize the similarity between their wages and those of the Cleveland Orchestra musicians.
San Francisco symphony musicians make $2,195 a week in base salary and seniority wages while Cleveland's musicians make $2,230.
The San Francisco Symphony currently works with a $175 million endowment funded by private donors and public funds such as the San Francisco hotel tax.
The symphony had planned for a tour through China in early February, but musicians said they would skip the tour if they did not reach an agreement with symphony management.
"We are doing our best to find a solution that gives our talented musicians a contract deserving of our stature as one of the top orchestras in the country and also sets a prudent financial course for the future of the orchestra," wrote Brent Assink, the symphony's executive director, in an official statement.
But according to Gaudry, management had not committed to meeting with negotiators. "We are making ourselves available, and we're ready to work and do whatever we have to do to close the deal," said Gaudry.
Among the crowd were several veteran San Francisco Symphony musicians.
"I was thrilled to join this world class orchestra," said Steven Dibner, a bassoonist who joined the San Francisco Symphony 22 years ago.
"It's just a matter of fairness that they treat us as world class musicians."
Dibner said the symphony currently has several open positions including lead seats for clarinet, flute, viola, and horn, and without competitive pay, the chances of landing the worlds top talent decreases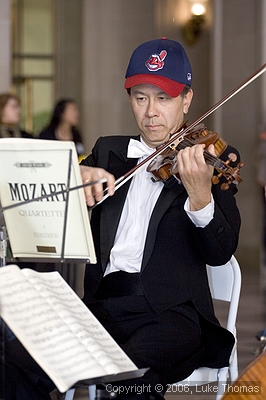 ####

Copyright © 2006 by Bay City News, Inc. -- Republication, Rebroadcast or any other Reuse without the express written consent of Bay City News, Inc. is prohibited.