San Francisco tourism on the rise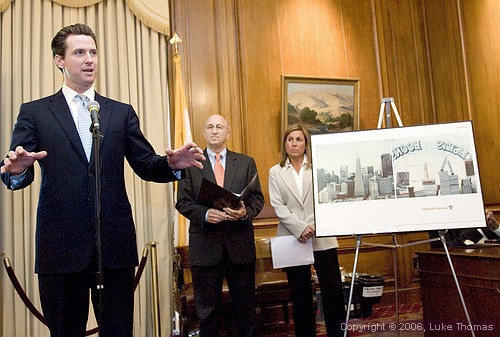 Mayor Gavin Newsom announces improved tourism statistcs.
Photo(s) by Luke Thomas
Bay City News Service
May 13, 2006


SAN FRANCISCO (BCN) - New tourism statistics released by the San Francisco Convention & Visitors Bureau reveal the number of tourists visiting San Francisco has risen by 4.1 percent compared to 2004.
"As the city's largest industry, (tourism) creates jobs and raises revenue for programs that benefit all of the city's residents," said Mayor Gavin Newsom in a statement. "Tourism allows us to share the natural beauty and cultural diversity of San Francisco with the rest of the world."
The SFCVB reports that 15.74 million visitors came to San Francisco in 2005, and spent $7.37 billion dollars, which is an increase of 9.5 percent from 2004.
The SFCVB also debuted its new and expanded Web site and domain name today. Web site visitors can book travel arrangements through the site, take a virtual tour of the city, make restaurant reservations, and book tickets to local cultural and sporting events. The Web site has specific San Francisco guides and itineraries such as the "Queer Culture Tour," the "African American Excursion," and places to go if you only have a few hours to spend in the city.
The new Web site can be viewed at http://www.OnlyInSanFrancisco.com
Copyright © 2006 by Bay City News, Inc. -- Republication, Rebroadcast or any other Reuse without the express written consent of Bay City News, Inc. is prohibited.
####