Mayor still considering business license fee hikes
to help fund universal health care access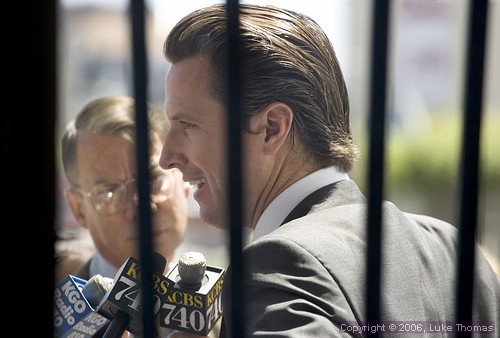 Mayor Newsom explains his opposition to increased sales tax for universal health care access funding, his ongoing consideration of raising license fees for all San Francisco businesses to mitigate impact on businesses targeted for mandated contribution, and his insistence that a mandate on employers is necessary.
Photo(s) by Luke Thomas
July 7, 2006
Mayor Newsom today did not rule out an increase in City business license fees to help pay for universal health care access in San Francisco.
However, any funding mechanism must include a mandate on employers to increase the number of workers covered, the mayor told the Sentinel.
Newsom ruled out an increase in local sales tax to generate health care access funding as voter approval is implausible, he added.
Business leaders continue to lobby for broad based funding, such as a hike on licenses for all businesses in San Francisco or sales tax increase, to mitigate impact on small to mid-size businesses targeted by a current funding mandate proposal.
Newsom made the remarks following an 11:45 a.m. City Hall press conference with State Senator Carole Migden encouraging adoption of older children.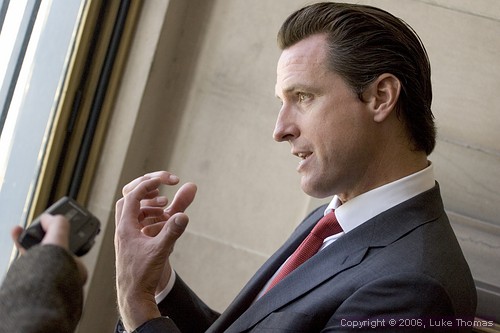 Asked specifically if he had ruled out business license hikes, Newsom responded, "I'm open to all suggestions. A mandate is fundamental, however."
He described proposed sales tax increase as unrealistic.
"The sales tax is unrealistic based on the rejection of the voters just a couple of years ago on a sales tax measure which had support from the business community and labor," stated Newsom.
"I think we just need to temper our enthusiasm for taxes in this City based upon reality that people of this City tend not to be pro-tax.
"That's why we barely got 45% of the vote for a sales tax increase a couple of years ago in a progressive, liberal town where we were facing the prospects of closing down rec centers on Mondays which we ultimately had to do because that tax measure did not pass."
Newsom explained his commitment to a mandate on targeted business as essential to create a floor for minimum employer contribution.
"If businesses don't have a floor of commitment then they drop their more costly health insurance and they then dump or crowd out (employees with expensive health care needs) which ultimately increases the number of uninsured San Franciscans... and then the economics of the health access plan completely fall apart.
"This cannot ultimately succeed the way we want it to succeed without a mandate," Newsom told the Sentinel.
The mayor praised Supervisor Tom Ammiano for willingness to negotiate.
Ammiano authored mandated funding legislation which will be heard before the Board of Supervisors Tuesday at 2:00 p.m. Prior to that meeting, the Budget and Finance Committee will meet at 10:00 a.m. to merge the Ammiano plan and Newsom's universal health access program into single legislation.
"No one has been more amenable than the sponsor of the legislation, Supervisor Tom Ammiano, to his credit," Newsom reported.
"The question is does it hit 20 employees or more or 50 employees or more? Does it hit part-time employees after just 90 days? Does it hit people with just a 20-hour work week? Does it have a cap in terms of the inflationary costs? Does it have considerations as relates to union negotiated benefits? Does it deal with the spouse that is providing the health insurance for someone already within the system - do you have to in essence provide double coverage?"
Ammiano is out of town this week and returns Monday for continued talks with Newsom.
####