San Francisco passes groundbreaking
City Health Care plan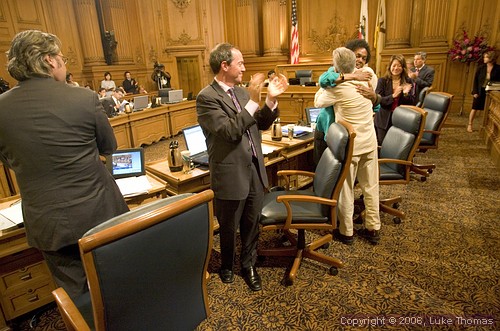 Supervisor Ammiano walked around the legislative chamber, hugging each board member in turn, to thank them for their support after the Board unanimously voted to approve legislation he spearheaded, creating the San Francisco Health Access Program.
Photo(s) by Luke Thomas
By Angela Hokanson, Bay City News Service
July 18, 2006, 5:00 p.m.
SAN FRANCISCO (BCN) - The San Francisco Board of Supervisors voted unanimously today to approve legislation that creates the Health Access Program, which will provide health care services for all of the uninsured residents -- estimated to be 82,000 people -- of the city.
The legislation, which is known as the San Francisco Health Care Security ordinance, is the result of the merging of two pieces of legislation: an ordinance sponsored by Supervisor Tom Ammiano called the Worker Health Care Security ordinance, and San Francisco Mayor Gavin Newsom's proposed Health Access Program.
Ammiano's version of the legislation was first introduced in November of 2005. The legislation has been heard in the Budget and Finance Committee 17 times since then, according to board of supervisors president Aaron Peskin.
Last week, the decision was made to merge the two pieces of legislation. On Monday, the Budget and Finance Committee voted unanimously in favor of the legislation.
"There's only been a rare moment...where we stand on the verge of something as significant...as this merged piece of legislation," Ammiano said before the vote was cast. San Franciscans are saying " we want to put health care on the front burner" with this initiative, Ammiano said.
After the unanimous vote, Ammiano, brushing away tears, walked around the legislative chamber, hugging each board member in turn to thank them for their support.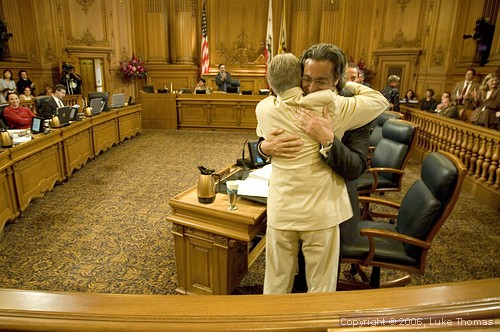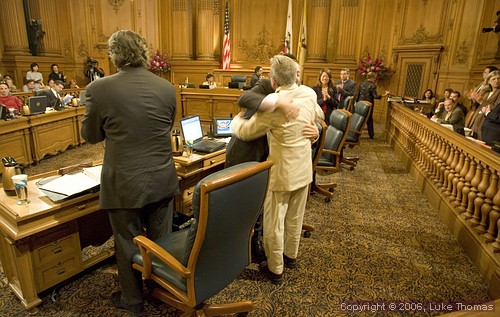 Ammiano described health care as "an issue worthy of the highest bar.''
All uninsured San Franciscans will be eligible to enroll in the Health Access Program, regardless of their employment status or any pre-existing conditions they may have. The program emphasizes preventive services, according to the legislation. Covered services include primary care, laboratory services, prescription drugs, and emergency care, among other types of medical services. The program is not technically health insurance.
The program will be funded with a combination of monies from the city, contributions from San Francisco businesses, payments from individuals enrolled in the program, and federal and state funding.
The legislation also mandates that large and medium-sized San Francisco businesses contribute money to help cover the health care expenses of their employees.
Initially, medium-sized San Francisco businesses will pay $1.06 per hour for each of their employees every quarter. Large businesses will pay $1.60 per hour per employee each quarter. Medium businesses are classified as those that have, on average, between 20 and 99 employees, and large businesses are those that have on average 100 or more employees Employers could make the required payments in a variety of ways, from contributing to employees' health savings accounts, reimbursing their employees directly for health care services, paying a third party for delivering health care services or contributing to the Health Access Program.
The legislation will go into effect in three phases. The first phase begins on July 1, 2007. At that time, the Health Access Program will be up and running, and businesses that have more than an average of 50 employees per week will start making health care payments.
The board of supervisors will vote a second time on the legislation before it is passed on to the mayor's office.
"All of us should be proud of this attempt...and we should be humbled by it," Ammiano said of the legislation.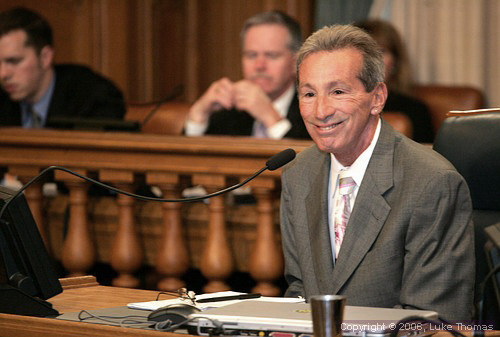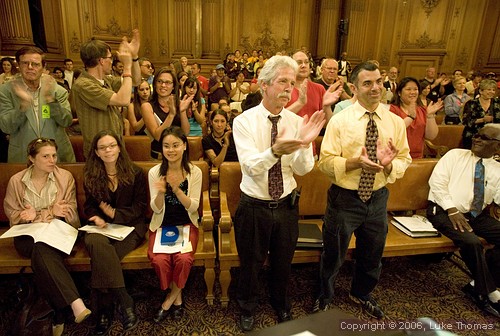 Copyright © 2006 by Bay City News, Inc. -- Republication, Rebroadcast or any other Reuse without the express written consent of Bay City News, Inc. is prohibited.
####