National Guard to patrol SFO fuel perimeters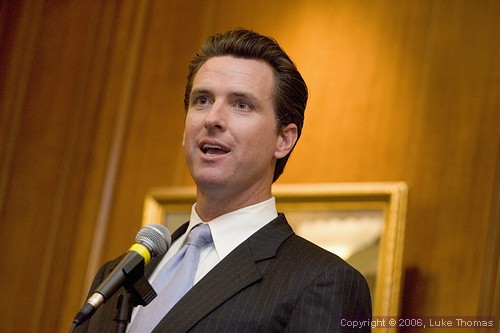 Mayor Gavin Newsom at a noon press conference, confirmed increased security will be deployed at San Francisco International airport fuel facilities.
Photo(s) by Luke Thomas
August 10, 2006, 1:30 p.m.
San Francisco Mayor Gavin Newsom today confirmed National Guard troops will begin patrolling fuel perimeters at San Francisco International Airport (SFO).
The National Guard will be patrolling both San Francisco and Oakland airports "by close of business today," explained California National Guard Major General William Wade.
The Guard now is mustering at armories throughout the state and should be fully deployed by 10:00 p.m., Wade stated.
"The focus at this point is on the larger commercial airports in California, especially those that have direct flights to and from Europe," added Wade.
No specific threat to SFO has been received, Newsom said at noon.
"Based on the information we have received to date there has not been any communication yet to suggest a that there was a specific threat to San Francisco Airport today," stated Newsom
However, security was heightened nationwide yesterday with London arrests of 24 people suspected in a plot to destroy 10 airliners with liquid explosives en route to the U.S. from various countries.
At this point, there are no plans to deploy troops to airline terminals.
"I am very, very satisfied with the airport and with the operation that is taking place there today," the mayor continued.
The City's Emergency Operations Center dispatched managers to SFO yesterday following the London arrests.
Newsom accepted California Governor Arnold Schwarzenegger's offer of SFO deployed National Guard troops this morning.
California Office of Homeland Security Director Matt Bettenhausen said security officials have "banned all liquids and gels on all domestic flights in carry-on luggage'' in response to an alleged plot to destroy aircraft with liquid explosives.
He warned travelers to arrive at airports at least two hours before their scheduled departures because of the heightened security measures.
Bettenhausen and Wade spoke as part of a conference call to brief
reporters on the state's response to the plot, which reportedly sought to
blow up U.S.-bound commercial flights originating in the United Kingdom.
Newsom commented at San Francisco City Hall.
Bay City News contributed to this report.
####