Shaklee appoints 2004 Nobel Peace Prize Laureate Global Ambassador of tree-planting campaign
Supports Laureate's Goal to Plant One Billion Trees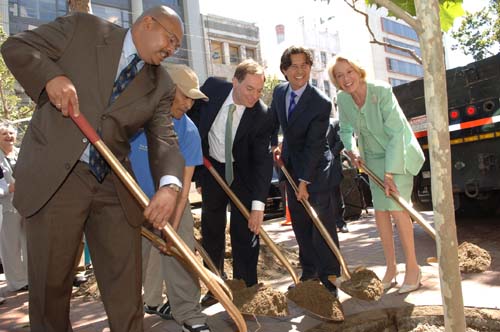 Mohammed Nuru, Deputy Director of Operations – Dept. of Public Works
Theo Ikummaq – Inuit Native – Global Warming 101
Dariush Kayhan – Ex Director of San Francisco Connect
Roger Barnett - Chairman and CEO of Shaklee Corporation
Charlotte Shultz – Chief of Protocol of the State of California and the City
and County of San Francisco.
Photo courtesy Shaklee Corporation
August 16, 2006
SAN FRANCISCO --Shaklee Corporation, the number one natural nutrition company in the U.S., announced its commitment to a greener planet by naming 2004 Nobel Peace Prize Laureate Wangari Muta Maathai, founder of the grassroots environmental organization Green Belt Movement, Global Ambassador of the company's "A Million Trees. A Million Dreams™" tree-planting campaign. The company also agreed to support the Green Belt Movement goal to plant one billion trees. The announcement was made here at Shaklee's 50th Anniversary celebration.
"The Shaklee brand is available in five countries, yet our concern for the environment spans the globe," said Roger Barnett, Shaklee Chairman and CEO. "As our business expands to 50 countries in the next decade, so too must our steps to protect the planet."
Barnett said Shaklee's direct selling distribution channel offers a natural way to promote tree planting at the grassroots level. "Our distributors talk to people face-to-face, often one-on-one. If we inspire them to plant trees, they in turn can inspire others."
In her new role as Global Ambassador, Dr. Maathai will help Shaklee promote environmental conservation and educate Shaklee members and distributors on the importance of tree planting.

"The legacy of environmental stewardship is quite strong at Shaklee," said Barnett. "Our founder, Dr. Forrest C. Shaklee, felt it was our duty to protect nature, since nature takes care of us. Our products promote the health of people and the planet, so helping Dr. Maathai spread Green Belt Movement's message just makes sense."

Shaklee has its own long association with the environment. In 1960, the company introduced one of the first biodegradable cleaners and in 2000, Shaklee became the first Climate Neutral™ certified organization in the world - it completely offset all greenhouse gases associated with its operations. Most recently, Shaklee's 50th Anniversary Convention was the first carbon neutral convention in San Francisco history.
About Green Belt Movement (GBM)

Green Belt Movement (GBM) was founded by 2004 Nobel Peace Prize Laureate Wangari Muta Maathai, the only person to win a Nobel Prize for the environment. GBM's philosophy and approach is based on the premise that truly sustainable development can only take place through recognizing the intimate and fundamental link between the environment, democracy, and peace. The planting of trees is the planting of ideas. By starting with the simple step of digging a hole and planting a tree, we plant hope for ourselves and for future generations. Through the process of mobilizing people to action, GBM addresses a wide range of issues that directly affect the lives of individuals, particularly women, and their families, including education, access to water and equity. People then begin to stand up for their rights and those of their communities. It is their empowerment that truly leads them to decide to prioritize the environment, good governance, and cultures of peace.

About Shaklee

For 50 years, Pleasanton, California-based Shaklee Corporation has been a leading provider of premium quality, natural nutrition and personal care products, environmentally-friendly household products, and state-of-the-art air and water treatment systems. The number one natural nutrition company in the U.S., Shaklee's brand is synonymous with high quality and efficacy, representing one of the most well-established names in the nutritional supplement and direct selling industries. With a robust product portfolio, including over 48 patents and patents pending worldwide, Shaklee operates in Canada, Japan, Malaysia, Mexico and the U.S., and has over 750,000 members worldwide. For more information, visit www.shaklee.com.

####