BUSINESS LEADERS TO INTERN
IN SHANGHAI UNDER NEW AGREEMENT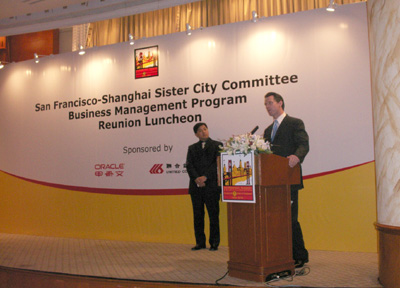 Photos by Deputy Director, Darlene Chiu, Mayor's Office
of Communications

From the Mayor's Office of Communications
November 29, 2005 1:00 p.m.
SHANGHAI, China - On Tuesday, Mayor Newsom joined Senator Dianne Feinstein, James Fang and other members of the San Francisco Shanghai Sister City Committee to announce an expansion of the Business Management Practices (BMP) program at a reunion luncheon in Shanghai.
Started in the 1980's by then-Mayor Feinstein and then-Mayor of Shanghai, Wang Dao Han, the program was designed to expose up-and-coming government and business professionals from Shanghai to best management practices in the U.S. through education and internships at Bay Area companies.
The program has been very successful, graduating nearly one hundred students, many of whom have gone on to high level corporate and government positions in Shanghai and throughout China.
Today's announcement builds upon the success of the BMP program by bringing a new twist to the program: For the first time, the 2006 BMP program will place San Francisco professionals in internships in Shanghai-based companies.
This "reverse exchange" is a testament to the emergence of innovative practices at Chinese companies and a recognition that the U.S. can learn from Chinese companies as well as the reverse.
Mayor Newsom said, "This is a true collaboration between two cities on the forefront of innovation, where business people can learn from each other in new ways. I am proud that San Francisco will now be sending our best and brightest in the business community to Shanghai in order to build new relationships, exchange best practices, and improve our competitiveness in this global business environment."
The BMP program is privately funded through donations to the San Francisco Shanghai Sister City Committee.
Today's lunch was the reunion of 39 alumni from the program, who are currently working in diverse fields all over Shanghai.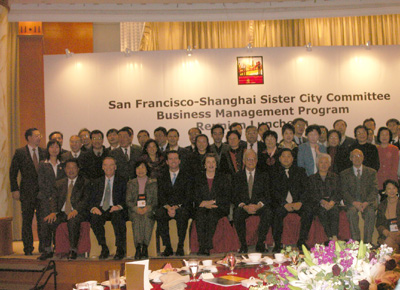 ####