CINDY SHEEHAN MAY CHALLENGE FEINSTEIN FOR U.S. SENATE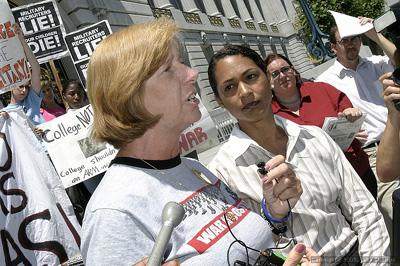 Cindy Sheehan. File photo.
Photo(s) by Luke Thomas
By Brigid Gaffikin, Bay City News Service
January 30, 2006
U.S. Sen. Dianne Feinstein refuses to comment on reports that anti-war activist Cindy Sheehan plans to make a run for her senate seat in 2006, Feinstein's campaign manager Kam Kuwata said today.
Kuwata said Feinstein will make a statement once Sheehan officially files as a candidate.
Sheehan, who made headlines last year when she camped out at President Bush's Texas ranch to protest the war in Iraq, said she plans to throw her name on the ballot if Feinstein fails to participate in a filibuster against supreme court nominee Judge Samuel Alito.
Feinstein today voted no on the cloture, the procedure to end voting on Alito's nomination, according to her spokesman Howard Gantman.
Shay Lohman, a spokesman for Cindy Sheehan and Gold Star Families for Peace, said that even with Feinstein's support of a filibuster, Sheehan is still considering whether to run for office.
"She still hasn't made a final decision," Lohman said.
Kuwata said that Feinstein and Sheehan "have disagreements on some of the issues." But "we obviously have nothing to with her presumed campaign," he said.
Kuwata added that he disagrees strongly with media reports that Sen. Feinstein supports George Bush. "I think that's 100 percent inaccurate," he said.
Kuwata said he has been told that "Ms. Sheehan does not want to arm our troops in Iraq" because she wants to bring them back to the U.S.
But Feinstein argues that as the military is already present in Iraq, "we have to be responsible and we have to make sure we take care of our troops," Kuwata said.
Additionally, Kuwata said, Feinstein has articulated on a number of occasions "that she feels she was misled" by the president on his reasons for going to war in Iraq.
By contrast, the Green Party candidate for U.S. Senate, Todd Chretien, said he welcomes Sheehan as a candidate and that a Sheehan candidacy shows "how unpopular" Feinstein has become.
"I welcome Cindy, but Sen. Feinstein brought this on herself," Chretien said. "If Cindy were to challenge Sen. Feinstein in the Democratic primary, the senator would discover how unpopular she has become with rank and file Democrats," he added.
Chretien announced his candidacy against Feinstein in December.
Sheehan has until March 10 to decide whether or not to run, according to the Secretary of State's office.
Copyright © 2006 by Bay City News, Inc. -- Republication, Rebroadcast or any other Reuse without the express written consent of Bay City News, Inc. is prohibited.
####