Bayview housing project receives internet
wireless connection

California First Lady attends launch to gather ideas
for statewide use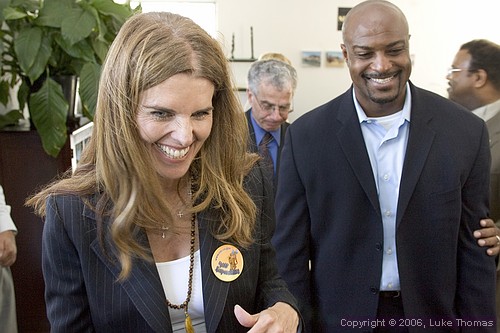 California First Lady Maria Shriver attended the inaugral launch of Bayview's Griffith community WI/FI yesterday, with Director of the Mayor's Office of Community Development, Dwayne Jones, at her side.
Photo(s) by Luke Thomas
May 16, 2006
The Alice Griffith Housing Project yesterday became the first low-income housing site in the nation to receive internet wireless connection.
California First Lady Maria Shriver attended the launch to gather ideas for state efforts to close the digital divide, known as California Connect.
California Connect aims to enroll working families across the state in affordable internet use.
"I look forward to working with you and your team as you connect San Francisco," Shriver told Mayor Newsom.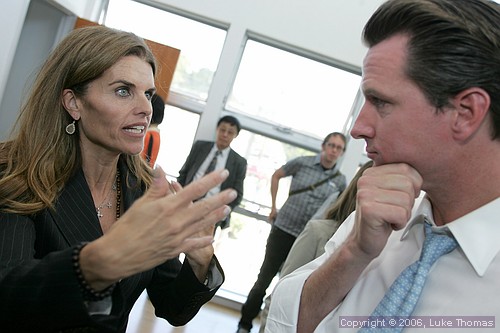 "Everything is ahead of its time in San Francisco but we're all one state - we're all one community," stated Shriver.
Launched as the second phase of the City's Communities of Opportunity program, wireless internet connection is delivered to Griffith residents at a rate 58 times faster than DSL, reported technician Tim Pozar.
Installation of 17 connection points within the Bayview neighborhood overcomes broadband redlining by major service providers, Pozar said.
"There is a big problem in this area because there essentially is a redline from getting broadband access," stated Pozar.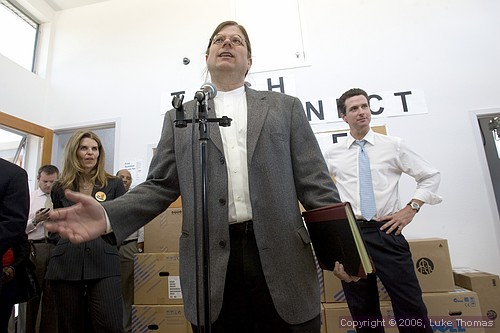 WI/FI expert Tim Pozar
"If you try to go to any of the incumbents like Comcast, or SBC, ATT, they're going to say no.
"They're not going to provide access out here."
Access the City now provides to Griffith tenants "is 58 to 100 times more powerful than DSL connection," Pozar added.
The program enables residents to acquire computers.
In April, more than 250 low cost laptop and desktop computers were purchased or earned by residents in and around Alice Griffith via sweat equity, Newsom's staff reported. by. The mayor distributed additional new computers to residents yesterday.
Training in computer and internet use is an essential element of the project, one resident pointed out.
"They're constantly working with us to make sure that they set up classes so people not only have computers but that they have the education and the training behind it to be able to access it," reported Alice Griffith Tenants Association president LaVelle Shaw.
Dwayne Jones, director of the Communities of Opportunity (COO) program, reflected on COO progress since it opened in 2005.
"All of the things we say should happen in neighborhoods was actually beginning to happen" following launch on October 6 2005, Jones told the Sentinel.
It aims to deliver onsite City and community service enrollment at centers slated to open throughout San Francisco.
Selection of those services are determined by neighborhood residents themselves, said Jones.
For implementation faster than government could provide, Jones turned to private sector assistance.
"Many of systems government operate almost disincentivize success.
"Take public housing for example. If the government aids public housing residents in accessing good jobs, then the second they hit a particular income threshold they are evicted out of public housing."
Creating trust funds to protect that income - while remaining in public housing -- for future homeownership is only one example of philanthropy prowess.
"Philanthropy helps us helps build that resource much quicker.
"To talk about homeownership to low-wealth communities without having those resources is in many ways disingenuous.
"We believe that moving families that are in crisis, families that are fragile, and families that are working poor, up a continuum really addresses the concentration of poverty in many of these neighborhoods.
"We're really looking for philanthropy to step up and help us close that gap to provide the glue of resources necessary to institutionalize the transformation."
The Evelyn and Walter Hass, Jr. Foundation, with help of the San Francisco Foundation, facilitated early foundation forum discussions on the proposal.
Those talks drew support from thirteen additional regional and national foundations.
Bayview was chosen as the initial site. It was a mammoth undertaking in a neighborhood where unfolding development capital burgeons to $1 billion.
"You have major projects like the redevelopment of Hunters Point Shipyard, the Stadium Mall, Third Street light rail, the continuation of development at Mission Bay, the UCSF campus, and Home Depot coming on board.
"We estimate on the low end about $1 billion worth of economic catalyst to occur within the next ten to 15 years in this low-income community.
"How do you really harness all of those opportunities for contracting, job creation to really leverage in-hand service provision?
"So the big flip for the effort is really about not thinking about our social justice and social services programs, but really looking at it from a hardcore place-based strategy that focuses on people and places.
"And so we have four nodes throughout the Southeast sector that disproportionately have folks engaged in the juvenile justice system, the foster care system, and the family and child welfare system.
"With that data we found what we really needed to do in those particular areas to turn the tide in those particular neighborhoods.
"The effort really takes best practices from across the country. We've looked at the Children's Zone in New York, the Jacobs Foundation in San Diego, the Center for Working Families in Seattle, the Youth for Jobs in Boston.
"We've looked at these efforts and really tweaked them for San Francisco appropriateness to really bring about the level of change that needs to actually happen in this community."
Armed with that data, Jones delivered it to Baview residents - and it was the Baview residents themselves who called the shots.
"It is governed by the residents themselves.
"They actually go through the process themselves of identifying the community organizations they want to run the services there for them.
"All of the flyering and the outreach was done exclusively by the residents themselves.
"They took a tremendous among of ownership to the point they have actually produced a DVD of their entire experience - from the identification of the building they wanted all the way to it being relocated by barge.
"They formed a Tenants Association which determined which strategies are going to be utilized for each of those respective quarters.
"They inform government in terms of the services they want for the quarter and we then go and identify organizations which can deliver those services.
"We then bring the potential services providers in front of them and they make the selection based on the presentations of those prospective community based organizations.
"These folks have been here for quite some time and lack of successes were fresh in their minds. There was a greater government accountability system that exists because there was more of a peer-to-peer selection system.
"Within the first six months we saw crime drop by 25% in the neighborhood and employment increase by about 25%. "We saw a significant decrease in truancy."
The Alice Griffith Opportunity Center differs from past community service attempts by delivering onsite entre into services deemed best by residents.
"The Opportunity Center changes services every quarter. One quarter may be opportunities for seniors, another quarter may be youth services and connecting youth to opportunities throughout the City. Another quarter is adult focus on education in employment and training. Another quarter is what we call Benefits which is making sure that all of the residents in the area are connected to all of the things that stabilize the community - whether it be public safety, transportation to better food and groceries.
"We began by dropping the Green Building on one of the empty lots that were on this particular development and having that become the Opportunity Center there."
The Green Building was originally known as the "Nowhouse" green building demonstration project. It was built on SBC Parking Lot A to showcase energy efficient and environmentally friendly features to homeowners, architects, developers, engineers, and to the public.
The 2,700 square foot, fifty-nine ton, two-story building included features maximizing the use of daylight (reducing energy consumption and potential for mold and mildew), utilizing an insulation system that reduces noise, and a ventilation system that brings in cool air when indoor temperatures rise. In addition, the home consisted of less toxic products and renewable materials including bamboo and cork- applied to create a healthier indoor environment.
"We have an unprecedented number of city departments involved in this effort.
"The city departments, much like many of the community organizations that we fund, have been operating in silos - not really talking to each other.
"So for once we actually have a business plan that we're all operating from to coordinate all of those particular activities.
"In concert with that we also have philanthropy doing the same thing.
"Many of the foundations granted seed money to begin to rebuild the trust that this particular community has not had in government because of its outcomes and because of its overall performance.
"We were able to do things immediately like build opportunity centers, make sure that at least 80% of the workforce that build these opportunity centers came from the Bayview.
"All of the things we say should happen in neighborhoods is actually beginning to happen."
####