Robert Kennedy's assasin
denied parole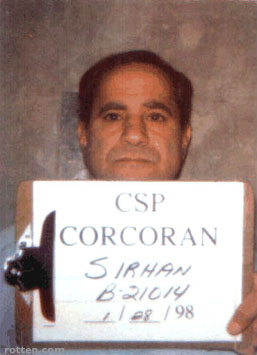 Sirhan Sirhan photo dated 1/28/98
California State Prison photo
By Angela Hokanson, Bay City News Service
March 16, 2006
Sirhan Bishara Sirhan, who was convicted of the 1968 assassination of Robert Kennedy, was denied parole today by a Board of Parole Hearings panel, according to Tip Kindel, a spokesperson for the California Department of Corrections and Rehabilitation.
The panel found that Sirhan, who chose not to attend today's hearing, continues to be a risk to public safety, Kindel said. Sirhan was also convicted of assault with attempt to murder four other people in the June 5, 1968 attack at the Los Angeles Ambassador Hotel in which the New York Senator was shot to death.
Kindel said that the "cold, calculated, and callous" nature of Sirhan's crime was a factor in the panel's decision. According to Kindel, Sirhan had kept a journal about the planned assassination, and had practiced firing a gun leading up to the attack.
Also, two psychological evaluations performed on Sirhan since his last parole hearing in March 2003 indicated "negative" results, Kindel said.
Sirhan is a "hostile individual" who hates Americans.
Sirhan, who was born in Jerusalem, would be interested in becoming involved in politics in the Middle East if he were released from prison, according to Kindel.
Sirhan also has not participated in any self-help programs since the early 1990s.
There was "no justification for him to be considered anything but a risk to public safety," Kindel said.
Today's hearing was Sirhan's 18th parole hearing, and the 13th time he has been denied parole. In 1975 Sirhan was granted parole, but that parole was later rescinded, Kindel said.
Sirhan was sentenced to death in 1969 but that sentence was commuted to life in prison with the possibility of parole in 1972 when the U.S. Supreme Court outlawed the death penalty. Sirhan, who is incarcerated at the California State Prison at Corcoran, will be eligible for parole again in 2011, Kindel said.
Copyright © 2006 by Bay City News, Inc. -- Republication, Rebroadcast or any other Reuse without the express written consent of Bay City News, Inc. is prohibited.
####