2006 Small Business Week launched at City Hall
Kick-off event honors local San Francisco flavors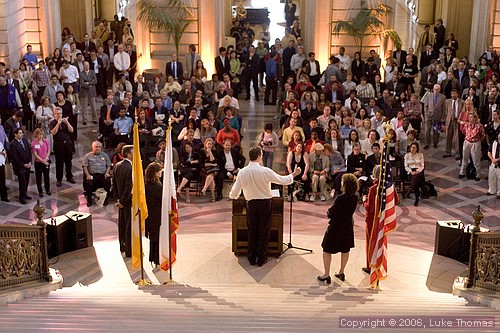 Mayor Gavin Newsom welcomes attendees to CIty Hall
for the 2006 Small Business Week event.
Photo(s) by Luke Thomas
May 16, 2006
What are the flavors of San Francisco?
It's the tangy seared ahi tuna with mango aoli of The Chieftain, accompanied by the savory merguez lamb sausage with black figs of TripTych, tossed with Medjool's nutty lamb ketta and the flaky and spicy South African coconut-vegetable curry pie of Mystipies.
Finish that off with a crispy churro from Cafe Lo Cubano, a decadent and rich chocolate pudding from Chez Spencer and wash it all down with a tart and intoxicating coconut mojito from Kelly's Mission Rock.
These restaurants are a small sample of the small local businesses that showcased their diverse dishes at "Flavors of San Francisco" Monday evening at City Hall. Over 1,500 people attended the launch event for Small Business Week in San Francisco.
"It is so amazing to see so many of the diverse small business owners celebrating tonight on the behalf of the community," said Jordanna Thigpen, event chair and president of the San Francisco Small Business Commission.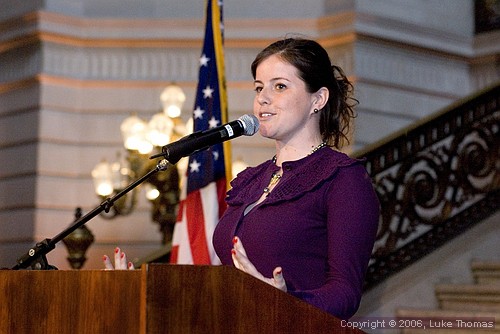 Small Business Commission President Jordanna Thigpen
Small businesses represent 85 percent of the city's businesses, said Agnes Briones Ubalde, executive director of the San Francisco Small Business Commission. Over 70,000 non-employer businesses and 25,000 firms with 50 or fewer employees generate $4 billion for the city.
Mayor Gavin Newsom said the small business sector is San Francisco's backbone.
"The days when large corporations dominated the city are over," Newsom said. "Small businesses are creating new jobs in every conceivable industry and helping the city out-compete other cities on the national level."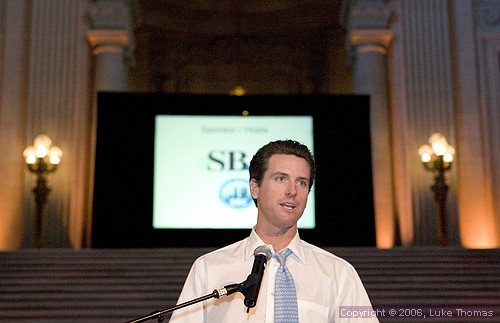 Mayor Gavin Newsom
Last Thursday, Newsom signed the Small Business Enterprise Ordinance, which gives the Human Rights Commission the power to centralize public contracting and make sure small local businesses are part of public contracting process.
"I'm glad to know that the city is seeking to employ the local businesses that make our city great," Ubalde said.
Maggie Mui, senior vice president of the regional Wells Fargo branches and director of small business banking, said her company is proud of being one of the top lenders to small businesses.
"More than half of these entrepreneurs are doing their business in San Francisco because this city knows how to create opportunity," Mui said.
The Small Business Administration honored three women for their tireless efforts to establish the small business community at the event, Ubalde said.
Linda Parks, president and CEO of Lixit Corporation, is this year's Small Business Person of the Year. Her organization, which manufactures animal watering devices, is one of the largest employers of disabled people in the Napa County.
"We've always tried to be a socially responsible company and I'm proud to be recognized," Parks said.
Pat Christensen is the event's Media Advocate of the Year. Christensen was publisher of the Small Business Journal and co-host of San Francisco Business, a television talk show that focused on city businesses.
This year's Women in Business Advocate of the Year is Valeria Perez Ferreiro, executive director of La Cocina. La Cocina is a local community kitchen enterprise that aids economically disadvantaged Latina, minority and immigrant women in San Francisco to formalize and expand their food businesses.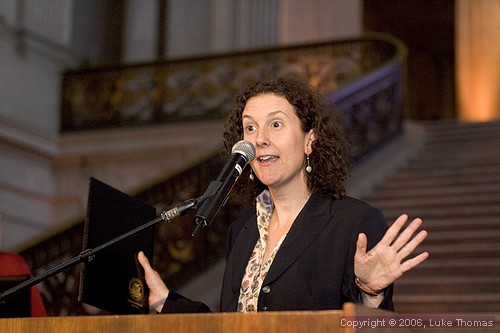 Valeria Perez Ferreiro, Executive Director of La Cocina
"We are providing the tools to help these entrepreneurs become economically independent through their food," Ferreiro said.
La Cocina employs 16 bilingual consultants that help the businesses with whatever they need, Ferreiro said. La Cocina currently aids 13 local food-related businesses, including nine Latino businesses. The agency will be adding two to four new businesses this year.
Veronica Salazar, 33, is one of the nine Latinos who has benefited from La Cocina. Through her company El Huarache Loco, Salazar specializes in making native Mexican food every weekend at the Alemany Farmers' Market.
Salazar said she used to produce her delicacies as a street vendor in the Mission District. She immigrated from Mexico 12 years ago and experienced many challenges starting her own business, specifically financial hardship and difficulty speaking English.
Then, Salazar heard about La Cocina while watching a feature about the agency on Univision. The agency taught Salazar how to mass produce her products and helped her buy needed kitchen equipment. The agency also helped Salazar improve her English so she can work with her growing number of catering clients.
Salazar said is getting close to achieving her dream of owning her own restaurant.
"I'm working on marketing my salsas and moles," Salazar said. "That money will go towards opening my own restaurant,"
Bernardo Mendez, Consul for Trade and Business Promotion for the Consulate General of Mexico, said Salazar is one of many immigrants who have succeeded in opening their own small businesses in San Francisco.
"Immigrants are not just the stereotypical farmworkers," Mendez said. "At least 20 percent of them are small business owners."
Mendez provides monthly workshops in Spanish discussing immigration visas, which also include discussions about how to start small businesses.
"Many Mexicans will eventually develop their own small businesses, specifically in the food sector," Mendez said. "They are using the city's resources, programs, and services to start their own businesses and become economically self-sufficient."
Mendez applauds San Francisco's efforts to maintain its small businesses.
"The city of San Francisco is doing an outstanding national effort to maintain its diversity," Mendez said.
"Flavors of San Francisco" provided opportunities for established small businesses to network with each other and potential clients. Paul McVeigh, manager of The Chieftain and procurer of tangy seared ahi tuna with mango aoli, said his restaurant sales have increased by 38 percent since last year's event.
"These events help introduce businesses to the city," McVeigh said.
The event provided opportunities for potential local entrepreneurs to find resources. Tessa Tan plans to attend one of the "Starting Your Own Business" workshops during Small Business Week.
Tan said she used to work for the Digital Equipment Corporation and the Compaq Corporation. She is planning to launch an online forum about values in one's life. A test version of the forum is located at http://www.getphpbb.com/phpbb/values.html.
"I think it is fantastic that there are events like this helping people like me get ready to start our own business," Tan said.
One available resource Tan can turn to is the ASIAN, Inc. which is holding monthly workshops on how to start one's own business.
ASIAN, Inc., which has been around since 1971, provides resources for the growing Asian American community in Northern America, director of executive business development David Moulton said. The agency helps with business plans and marketing in Cantonese, Mandarin, Japanese, Tagalog and Cambodian.
Based on the growing successes of diverse small local businesses, Moulton said the flavor of San Francisco is tutti fruity.
"It's a little bit of everything and reflects the diversity of our city," Moulton said.
Visit http://www.sfgov.org/site/sbc_page.asp?id=31278 for a list of Small Business Week events.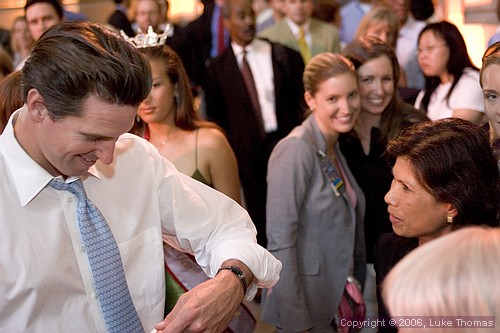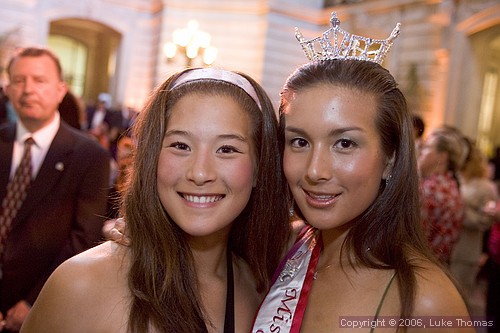 Jasmine Nachtigall (right), Miss San Francisco's Outstanding Teen 2006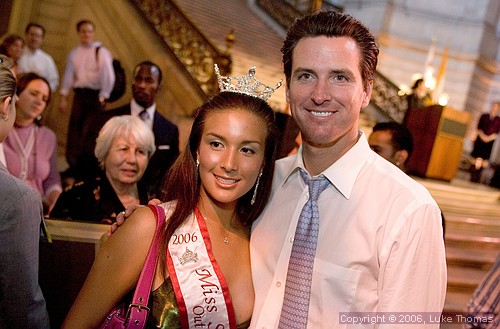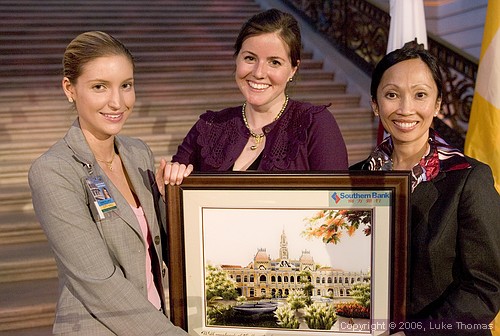 Leah Harmuth, Jordanna Thigpen and Small Business Director, Agnes Brione
####