NEWSOM WANTS TO STAY IN OFFICE
To guide city homelessness program
December 21, 2005
Mayor Gavin Newsom hopes to remain in office beyond the next mayoral election to guide a city homelessness program he described Tuesday as succeeding beyond expectations.
Known as Care Not Cash, the program aims at providing housing instead of cash grants to the homeless. It became the touchstone issue in Newsom's first campaign for the office of mayor.

The program succeeded by housing 1,101 homeless persons who were receiving welfare grants, Newsom reported in his second annual State of the Homeless address.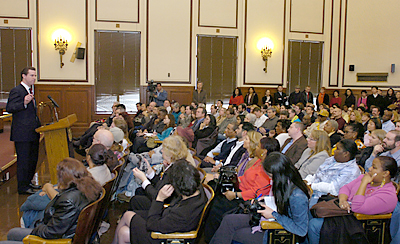 Photo(s) by Stephen Dorian Miner
"This is a full fledged commitment to end homelessness in the City and County of San Francisco," Newsom stated.

"Let me assure you of my resolve because I know it can be done.

"We can solve homelessness. We must solve homelessness, and this city is committed to being the first city in the United States of America to lead by that example.

"I want you to know that's the spirit to which I will be back, subject to, well, the usual travails of political life, next year and hopefully the year after and then, God willing, you'll be burdened with me for another few years until Angela (Alioto) has decided she wants me out of office," said Newsom.

Former Supervisor Angela Alioto initially ran against Newsom in the last mayoral election but joined the Newsom campaign to lead development of city homelessness efforts. Following Newsom's election victory, Alioto coordinated the San Francisco Ten Year Plan to Abolish Homelessness.

Alioto recalled the issue during that campaign and progress made.

"I think that the concept that led two years ago in the mayor's race, San Francisco was the crisis city throughout the nation," Alioto told the Sentinel.

"We are now the example city throughout the nation.

"I'm very, very proud of it and I'm very proud of my partnership with Gavin.

"He has been right there for everything I requested, and we've really worked together as a team.

"Hopefully we can stand here in another two years and say, 'it's almost ended,'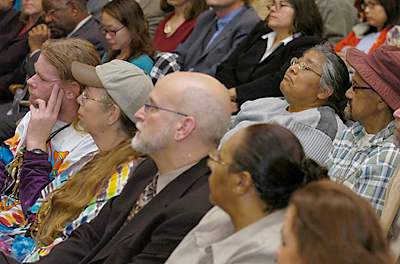 Welfare rolls dropped by 84% since the program began, Newsom disclosed, with focus on housing women and senior citizens homeless persons.

He announced 2006 plans for a 75-100 bed Medical Respite Center as interim care for those too sick to be housed independently until their health improves.

The center will provide medical, mental health, and substance abuse recovery care, the mayor reported.

In a time of Bush Administration social program cutbacks, San Francisco will receive additional $18,243,169 for local homeless programs, local HUD spokesman Larry Bush told the Sentinel.

"Every San Francisco program submitted in the competitive process received funding to provide critically needed assistance to persons and families living without a home of their," HUD also announced Tuesday from Washington, D.C.

####