Senators and scientists to speak in Washington, D.C. on stem cell bill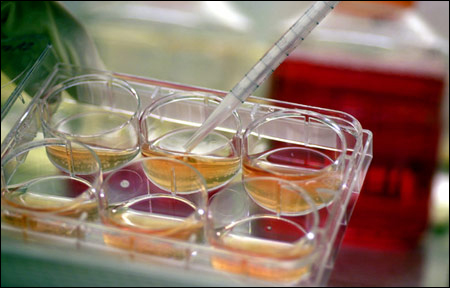 Photo courtesy Harvard University Gazette
By Ari Burack, Bay City News Service
July 17, 2006
The Coalition for the Advancement of Medical Research will hold a news conference today in the nation's capitol to discuss the upcoming debate and vote in the U.S. Senate on the Stem Cell Research Enhancement Act.
CAMR supports the passage of this bill to fund embryonic stem cell research, which it reports would override President Bush's 2001 executive order limiting federal funding of research on stem cells.
Scheduled to participate are: Sen. Dianne Feinstein, D-CA; Sen. Arlen Specter, R-PA; Sen. Tom Harkin, D-IA; Sean Tipton, president of CAMR; Frank Carlucci on behalf of the Parkinson's Action Network; Cody Unser on behalf of the Christopher Reeve Foundation; and Toni Bethea on behalf of the Juvenile Diabetes Research Foundation; as well as scientists Dr. Robert Goldstein and Dr. Andrew LaBarbera.
In 2004, California voters approved Proposition 71, which calls for the allocation of $3 billion for stem cell research in the state.
The news conference takes place at 1:30 p.m. Eastern time (10:30 a.m. Pacific) in Room 138 of the Senate Dirksen Office Building in Washington, D.C.
Copyright © 2006 by Bay City News, Inc. -- Republication, Rebroadcast or any other Reuse without the express written consent of Bay City News, Inc. is prohibited.
####