The Modern Neighborhood Movement
and
SUSIE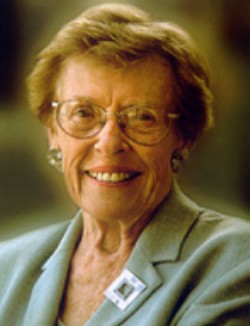 Susan J. Bierman
San Francisco Port Commission Photo
September 5, 2006
In the house that redemption built, constructed to house 600, at least 800 packed into it Sunday all for the life of Susie.
They came to celebrate the life of Susan J. Bierman, known to the public simply as Sue Bierman, surrendering to a tear from those who worked with her, and loved her, as Susie.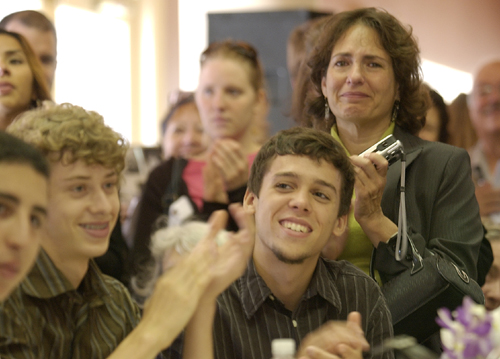 Sue Bierman's grandsons, Ben Bierman, Manny Bierman, and Eli Bierman.
Photo(s) by Stephen Dorian Miner
She is remembered as creator of the modern community neighborhood movement, as loyal to the point of audacity, and for silencing the powerful by force of vibrato simple speaking.
Her voice shook, like the people who had underestimated it.
That voice heard from the neighborhoods since the 1950s was stilled August 7, 2006, from an apparent heart attack while driving through one of her protectorates, Cole Valley.
At age 82, Bierman still was a sitting San Francisco Port Commissioner
The Bierman family chose Delancey Street as site of Sunday remembrance.
In 1971, at a time when Susie Bierman's movement rooted its place in San Francisco history, the Delancey Street Foundation opened and now has "successfully graduated over 14,000 people from America's underclass into society as successful taxpaying citizens leading decent legitimate and productive lives."
It was the right place to honor a life spent listening to the unheard.
Bierman meant to protect her neighbors from being unheard, from over-development, from ugliness.
She arrived in San Francisco from small town Nebraska, a tiny and quiet woman who didn't cotton to a 1950s vision of two highways converging near Golden Gate Park.
Susie would have no truck with absurdity just down the block.
Despite best and sustained effort of those used to getting their way in San Francisco development, quiet little Susie won.
In doing so she developed a newly empowered following, remembered by Calvin Welch, a veteran development guru of the political left.
Welch shared his memory of those days, as youngster Gavin Newsom sat at the band drums, and reminded those gathered why Sue Bierman is remembered.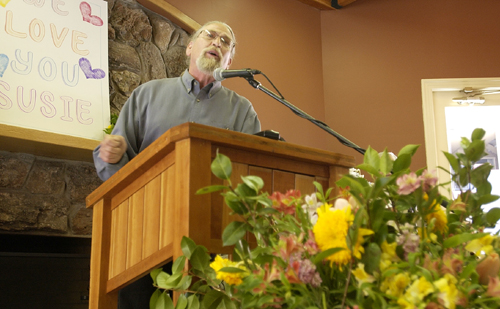 Calvin Welch, co-leader of the Council of Community Housing Organization.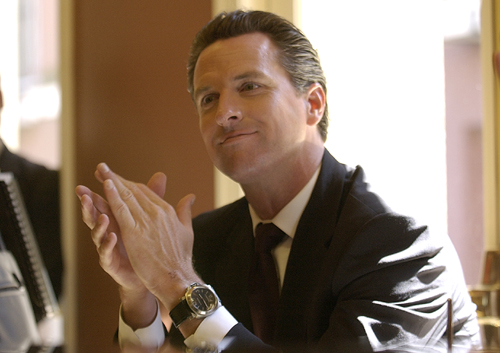 Youngster Gavin Newsom
"We are here today to celebrate Sue for principally three reasons," began Welch.
"First, Sue Bierman created the modern community neighborhood movement in San Francisco.
"Sue created a citywide coalition made up of people who didn't look like each other, who didn't talk like each other, who didn't even think like each other until they came together under Sue's leadership.
"And they stayed together for six years, and fought and stopped a freeway, not only in the Panhandle but through the Marina.
"A coalition that included the Haight Ashbury and the Marina - anybody who knows this City's politics knows that is an extraordinary feat."
Neighborhoods began to be heard, and began to win, recalled Welch.
"Before Sue put together that coalition developers won every battle in San Francisco.
"After the freeway fight, neighborhood and community people won a few every now and then.
"They passed legislation stopping unbridled hospital expansion, created Yerba Buena Center Gardens, created district elections of supervisors, passed (slow growth) Proposition M, and created the first in the nation's affordable housing mitigation fee - oh that's what you call it where developers do highrise office development in San Francisco.
"Before Sue Bierman the communities did not win. After Sue Bierman we won one every now and then. Thank you Sue."
Welch termed Bierman's service on the San Francisco Board of Supervisors a progressive landmark.
Bierman was elected to the Board of Supervisors in November, 1992, immediately following her removal from the Planning Commission by Mayor Frank Jordan who replaced all planning commissioners. Bierman served for 16 years on the Planning Commission, first appointed by Mayor George Moscone.
"The second reason we are here today is to commemorate one of the most extraordinary progressive political records at the Board of Supervisors this City has ever seen," Welch asserted.
"Sue was the go-to person on the Board of Supervisors for eight years on the following legislation - any ordinance, any measure introduced to the Board of Supervisors from 1992 to 2000 that dealt with the environment, rights of workers, human and civil rights, tenants protections, land use policies protecting neighborhoods, affordable housing policy, open space and park preservation, children's issues, severance issues, senior issues, matters of war and peace, protection for the arts and artists, and historic preservation.
"Every one of those constituency groups went to one supervisor first, and were never turned down, and that was Sue Bierman - a progressive achievement not to be equaled in our time, in previous times, and quite possibly to the end of times in San Francisco."
And she led the way in love of fun, Welch remarked.
"The final reason that we are here, perhaps the reason there are so many of us and so many have smiles on our face, is her joy, her grace, and her love of fun," continued Welch.
"For Sue Bierman fun was important and she would tell you how important.
"Sue Bierman, in her official capacity, never met a piano bar she didn't approve.
"Sue Bierman, the tree hugging environmentalist, voted for Sutro Towers because people had to have their daytime television because fun is important.
"God bless you Sue. We're having fun too."
Mayor Willie Brown, who knew Bierman's loyalty throughout his political career, said Bierman loved piano bars so much that Brown took her on a grandest of piano bars tour in China.
"Susie never stopped asking when we were going to take another trip," Brown smiled.
Secret gesturing went on at Board of Supervisors meetings too, Assemblyman Mark Leno revealed - quick open and close lip blotting between Supervisors Carole Migden and Sue Bierman.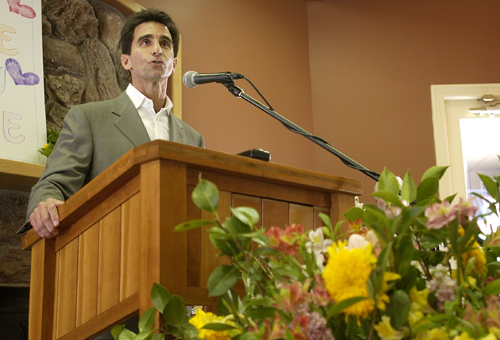 Mark Leno and Susie also shared the lip-smacking pact.
It signaled time for both to put on new lipstick, at the same time, with none within male dominance knowing it was staged.
When Leno joined the Board of Supervisors, he mastered the moves.
"During some low moments at the Board's proceedings, the two of them would catch each other's eyes, smack their lips, and open their purses and put on lipstick together," Leno related.
"And she said she missed that so much.
"So, believe it or not, one day there was a lull in the debate, and I turned to Sue and I smacked my lips and I pulled out my chap stick that I had brought with me and it became a running joke anywhere.
"We could be at the Third Baptist listening to Amos preach and we'd smack our lips and she'd have a huge smile on her face."
Together, Bierman and Leno also relished the last stanza of the Farm Worker's Prayer by Cesar Chavez.
"Help us to remember those who have died for justice, for they have given us light.
"And help us to love those who hate us, so we can change the world."
The prayer is Sue Bierman's accomplishment completed, Leno reflected.
"Susie that's what you have done in your love and your presence continues to do that.
"Rest peacefully Susie."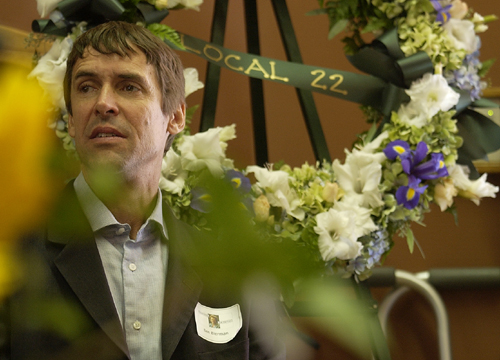 Ben Bierman, son of Susan J. Bierman
####