Thigpen announces candidacy
for San Francisco DCCC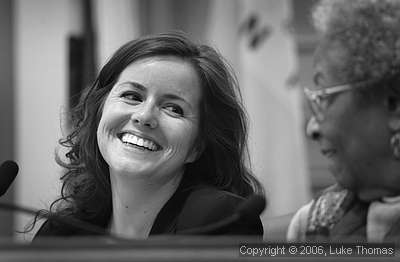 Jordanna Thigpen. File photo.
Photo(s) by Luke Thomas
By Luke Thomas
February 3, 2006, 11:15 a.m.
Ending months of speculation, Jordanna Thigpen will file to run as a candidate for the San Francisco Democratic County Central Committee.
It was widely rumored Thigpen would run in District 6 against Supervisor Chris Daly.

Speculation abound, Thigpen, in a telephone interview with the Sentinel today, extinguished those rumors for good and explained her intentions.

"I want to focus my energy this year on taking back our country from the bloodied hands of the Bush theocratic regime, and mobilizing that effort through the local efforts of the DCCC. It's too frustrating to watch a morally bankrupt party control the national dialogue."
####