The Thomas-Murphy Report
| | |
| --- | --- |
| | |
| Luke Thomas | Pat Murphy |
Treasure Island
Temptation's folly overcome

October 14, 2005
Temptation is tempting.
That's why they call it temptation.
An easy three-way-win in politics is an attractive and tempting proposition to most in elected politics. Even more tempting when everyone pledges to work well, serve well, and to do their honorable best.
Such desired eventuality for Treasure Island didn't pan out as hoped, and Mayor Newsom yesterday acknowledged his mistake.
Early on, we came to the conclusion Newsom's quickness to own his mistakes plays a large role in his broad popularity.
Most people, we think, can accept disappointment, and still move on together, when leaders are straight with them and are seen to work hard at improvement.
Newsom yesterday noted he would be judged as a failure if focus remained only on his appointment of Tony Hall as Treasure Island executive director.
That singular focus neglects recognition of other mayoral appointments and accomplishments broadly applauded as clearly good for the city.
"I have always prided myself on learning from my mistakes. And I have always acknowledged them," Newsom told reporters.
Was it politics as usual in City Hall?
"I think, if the idea is that you're just going to focus on this mistake, then of course you're going to conclude that," said Newsom.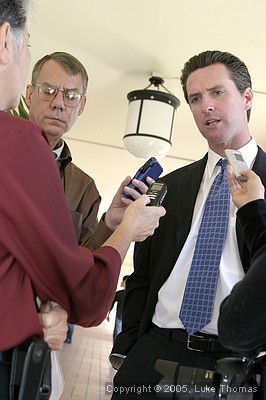 Photo(s) by Luke Thomas
"If you're unwilling to focus on Bill Sifferman...

"If you're unwilling to focus on the great work that Dwayne Jones is doing...
"If you're unwilling to focus on the Phil Ting decision, as opposed to making a political decision, or the Jose Cisneros decision...
"If you're unwilling to focus on Monique Moyers' work at the Port...
If you're not willing to focus on Matt Franklin who comes from the Clinton Administration and the Davis Administration on housing...
If you're unwilling to focus on - whether you love her or hate her - the best in the country on children's issues, Margaret Brodkin...
If you're not willing to focus on the head of policy from the Gore administration on…
If you're unwilling to focus on Anne Hinton in Adult and Aging Services, and if you're unwilling to focus on the good work Dean Macris is doing, then you'll make that conclusion.
"But that would be a subjective conclusion, and in the final analysis utterly unfair. I have made hundreds of appointments, and this one I acknowledge was a mistake," Newsom reflected.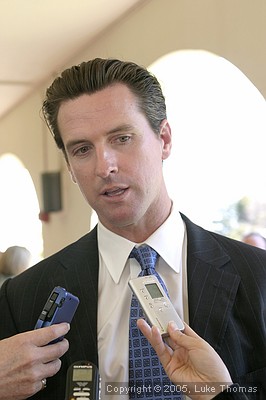 Compare Newsom's approach to the current situation, with that of Tony Hall who yesterday demanded to be reappointed as District 7 supervisor.
Hall's emotive demand to be returned to the Board of Supervisors -- a legal impossibility -- compares foolishly with Newsom's exacting self-analysis and subsequent improvement benchmarks for Treasure Island and San Francisco's future.

####
Previous Thomas-Murphy Reports