Homeland Security lowers threat level
for international flights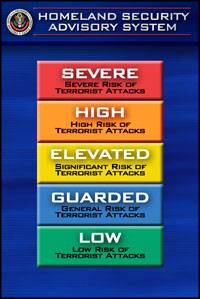 Illustration courtesy
U.S. Department Homeland Security
By Ari Burack, Bay City News Service
August 14, 2006
The U.S. Department of Homeland Security on Sunday announced that the national aviation threat level has been downgraded from red to orange for inbound flights from the United Kingdom to the United States, while the ban on liquids and gels in carry-on baggage will remain in place for all flights.
The threat level for domestic flights will remain at orange, or "high,'' according to the Department of Homeland Security.
"The security measures already taken have allowed us to address an imminent threat of attack for flights between the United Kingdom and the United States,'' Homeland Security Secretary Michael Chertoff said.
Chertoff continued, "We are maintaining a heightened level of security for United Kingdom flights bound for the United States and have put in place added measures for these flights even beyond the normal orange procedures.''
"Additionally, we are maintaining our heightened level of security for all flights both domestically and internationally,'' he said.
Homeland Security officials advise airline passengers flying between the United Kingdom and the United States that they can expect enhanced security to remain in place for these flights, including added restrictions on hand luggage and gate check inspections.
In addition, domestic airline travelers are advised that they will see more canine detection teams and continued random inspections of bags at departure gates.
New modifications to the Transportation Security Administration's security guidelines can be found at www.tsa.gov.
The Department of Homeland Security reported it would continue to evaluate the security measures and would make further changes "as necessary to ensure the aviation system remains secure.''
Copyright © 2006 by Bay City News, Inc. -- Republication, Rebroadcast or any other Reuse without the express written consent of Bay City News, Inc. is prohibited.
####