Supervisor Ammiano to be inducted into San Francisco State University Alumni Hall of Fame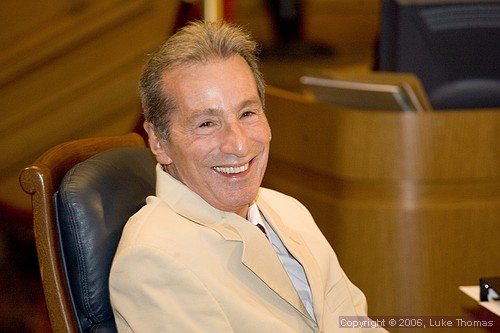 Supervisor Tom Ammiano
Photo(s) by Luke Thomas
From the Office of Supervisor Tom Ammiano
May 23, 2006
SAN FRANCISCO, The Mission District. On May 26, 2006, the Board of Supervisors' senior statesman, Tom Ammiano, will become only the second openly gay man ever to be inducted into San Francisco State University's Alumni Hall of Fame.
After arriving in San Francisco in 1963, Supervisor Ammiano taught special education in the Mission District and remained active in the area of education reform and LGBT rights. Elected to the School Board and named its President in 1990, and then to the Board of Supervisors in 1994, Ammiano has remained a staunch advocate for schools and children both in his capacity as an elected official and as a father and grandfather. Ammiano continues to participate regularly in educational forums such as speaking to an assembled crowd of hundreds at a recent Gay-Straight Alliance event at Lowell High School.
After years of striving to improve education in San Francisco, it is fitting that Supervisor Ammiano be honored be his own alma mater as the community leader that he is. Ammiano will be honored alongside other distinguished inductees such as SF Superior Court Judge Ron Quidachay, and Dr. Ken Fong of Clontech Laboratories.
The event will be held between 5:00 pm to 7:30 pm on May 26, at the Seven Hills Conference Center located on the SFSU campus.
####