TOM BATES TO PARTICIPATE
IN PROGRESSIVE MAYORS MEETING IN WASHINGTON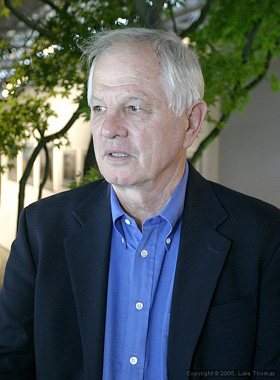 Berkeley Mayor Tom Bates
Photo(s) by Luke Thomas
By Jeff Shuttleworth, Bay City News
January 26, 2006, 5:30 a.m.
BERKELEY (BCN) - Berkeley Mayor Tom Bates will join more than 30 other mayors from around the country at the Brookings Institution in Washington, D.C., this week for the third meeting of the New Cities Project.
The New Cities Project brings together researchers, policy innovators, and mayors to share best practices and develop innovative policies for American cities, Bates' office said, describing the group as "progressive mayors.''
Bates participated in the group's previous two meetings and was selected to serve on the national steering committee along with the mayors of Madison, Wis.; Salt Lake City, Utah; Burlington, Vt.; and Camden, N.J. In a statement, Bates said, "These meetings are an important opportunity to share innovative ideas and experiences with other mayors who share the goal of building progressive city leadership. After each meeting, I come back to Berkeley with a wealth of new ideas to put to use in our community.''
Each New Cities Project meeting tackles policy areas determined by participating mayors, Bates said. The topics to be covered at the meeting Friday and Saturday include: municipal finance, government efficiency, economic development and crime and drug policy.
New Cities participants received detailed policy briefings from nationally-known experts and work with other mayors to brainstorm new city strategies in these areas, according to Bates' office.
The New Cities Project was launched in February 2005 by Madison Mayor Dave Cieslewicz and the Madison-based Center of Wisconsin Strategy. More information about the project is available at http://www.newcities.us.
Bates is in Washington, D.C. all this week for the meeting of the U.S. Conference of Mayors. The New Cities Project meeting takes place following the Conference of Mayors.
Copyright © 2006 by Bay City News, Inc. -- Republication, Rebroadcast or any other Reuse without the express written consent of Bay City News, Inc. is prohibited.
####