THROUGH SLEET AND STORM, VOLUNTEER TOM CRITES GETS CITY HALL MAIL THROUGH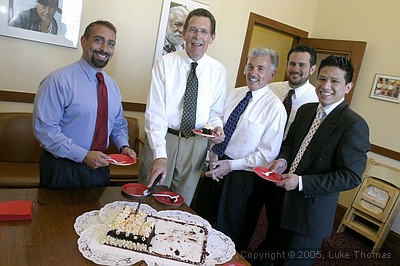 Jimmy Cassiol, left, awaits his administration piece of pie, er cake, as Tom Crites wields the knife. Sean Martinfield, with Dan Homsey and Robert Ortega of the Mayor's Office of Neighborhood services approving policy.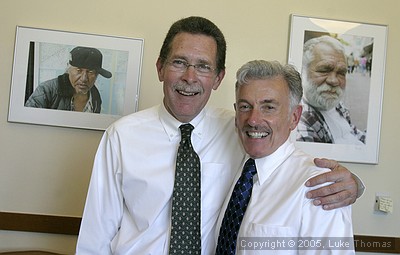 NINETEEN YEARS vital, Crites and Martinfield recall partnership.
Photo(s) by Luke Thomas
Tuesday, September 13, 2005
Sean Martinfield, 19-year partner of City Hall volunteer Tom Crites, yesterday passed out sumptuous chocolate cake celebrating Crites birthday, with dome staffers knowing Crites as the man who knows them all by name.
For three years, Crites has volunteered - to stay close to Gavin Newsom - his mail sorting skills, sorting an estimated 57,000 missives to correct destination over that period.
"I met Gavin Newsom curing the mayor's campaign, and I wanted to stay close to him, Crites stated.
One particularly poignant letter came in this week, he added.
"It's an eighteen page, hand-written letter in small printing to the mayor, which took her two months to write, she said."
Crites work supervisor looks on Crites with the same warmth.
"He knows everyone in the administration," said Scott Oswald, deputy director of the Mayor's Office of Neighborhood Services. Crites volunteers some seven hours a day, Oswald explained.
"He's a fantastic person, a genuine person. I want to help him in anyway I can," added Oswald.
####