Congressman Tom Lantos announces bid
for re-election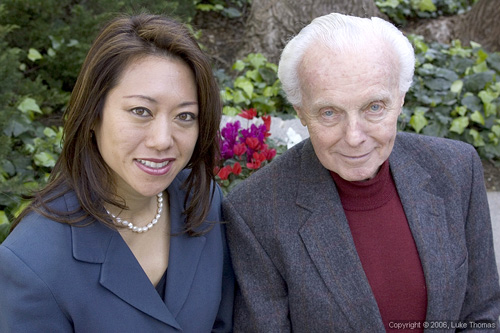 Congressman Tom Lantos, D-San Mateo, seated with Fiona Ma on 2/20/6,
announced he will seek re-election to Congress.
Photo(s) by Luke Thomas
By Anna Molin, Bay City News Service
February 25, 2006
SAN MATEO (BCN) - U.S. Rep. Tom Lantos, D-San Mateo, affirmed Friday that he is running for re-election to Congress.
"I am proud of all that I have been able to achieve on behalf of the people of the Peninsula and San Francisco," Lantos said in a statement.
"There is still much more to be done. And I look forward to being there for my constituents as they have always been there for me."
If elected, Lantos would serve his 14th term in the House of Representatives. A Holocaust survivor born in Hungary, Lantos moved to the United States in 1947 and became the first Holocaust survivor to serve in Congress when elected in 1981.
Lantos has fought against issues including privatizing Social Security and offshore drilling along the California coast. He is for stronger environmental protections and energy policy reform.
His latest efforts include trying to reverse the Medicare bill passed by the House through legislation.
He has supported local efforts to improve public transportation and improve public safety through fire department grants and funding for a crime lab in San Mateo County.
"I am delighted to have been able to do so much to improve life for my neighbors on the Peninsula and in San Francisco," Lantos said in a statement. "During my lifetime in public service, both in education and in government, this has been the most satisfying aspect of the work. I will be grateful for the opportunity to carry it forward in the years to come."
Lantos' spokeswoman Lynne Weil said today she had not heard of anyone running against Lantos in his bid for re-election so far.
Copyright © 2006 by Bay City News, Inc. -- Republication, Rebroadcast or any other Reuse without the express written consent of Bay City News, Inc. is prohibited.
####