San Francisco Considers
Homaging Elder Trees
Tuesday, September 20, 2005
In San Francisco realm where no poem is more beautiful than a tree, her denizens stand a good shot at vouchsafing elder elms and cousins.
Two variant versions of salvation yesterday were forwarded to the San Francisco Board of Supervisors for consideration, following testimony heard before the board's City Operations and Neighborhood Services Committee.
"We all love, indeed, to have the greenery around us," committee Chair Jake McGoldrick noted.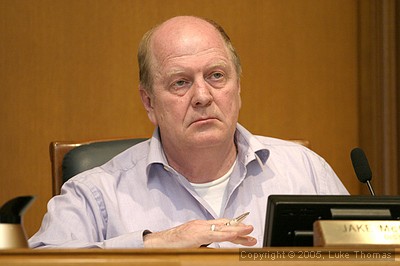 Supervisor Jake McGoldrick
Photo(s) by Luke Thomas
One proposal, authored by McGoldrick, would grant landmark status to valuable or rare trees on private property. The second measure, drafted by Supervisor Chris Daly, would require city permit to cut down trees based on tree size.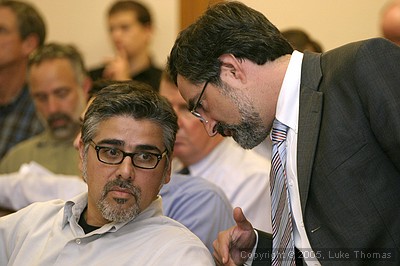 Daly legislative aide John Avalos, seated, receives thoughts of Board of Supervisors President Aaron prior to Avalos committee presentation of Daly proposal.

Daly is due Board consideration, committee member
Bevan Dufty prevailed on colleagues, with Daly measure
passed to the full board, but with "do not pass" recommendation.

"He doesn't feel we're a friendly panel," explained Dufty.
Daly did not attend the hearing.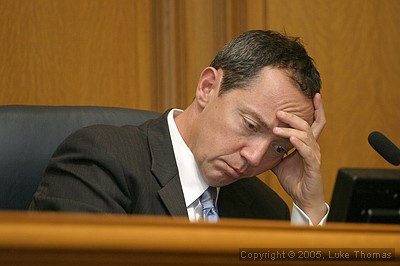 Supervisor Bevan Dufty
####