Peskin compromise aimed at stemming
difficulty for parrots to visit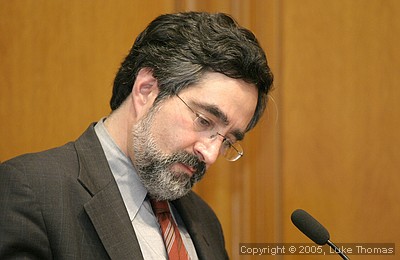 Supervisor Peskin represents the Telegraph Hill neighborhood
Photo(s) by Luke Thomas

December 20, 2005
Supervisor Aaron Peskin charted compromise legislation Monday aimed at stemming difficulty for the Wild Parrots of Telegraph Hill to visit.
More broadly, the proposed ordinance empowers the city to forestall chainsaws reaching any tree in San Francisco.
Birds are citizens of the world too, Mark Bittner impressed upon the City Operations and Neighborhood Services Committee.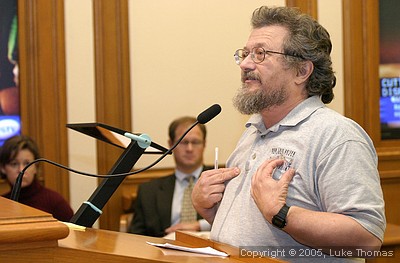 Parrots don't come to visit as easily since a Telegraph Hill tree was removed, Mark Bittner pointed out, who helped produce a film documentary on the creatures.

The legislation, authored by Supervisor Jake McGoldrick, would give the Board of Supervisors final authority over removal of trees. McGoldrick's measure is a less stringent proposal first drafted by Supervisor Chris Daly.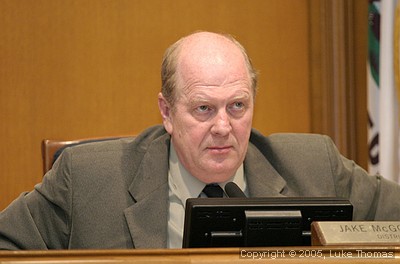 Supervisor Jake McGoldrick represents wooded Richmond District.
Supervisor Fiona Ma dissented from committee recommendation, citing alleged property rights violation.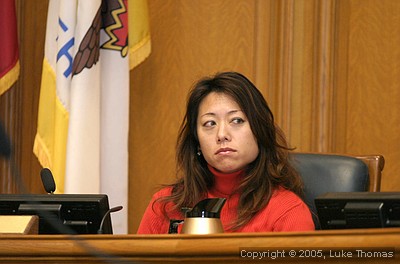 Supervisor Fiona Ma keeps an eye peeled for property owner rights

McGoldrick was joined on the three-member body by Supervisor Bevan Dufty in recommending approval.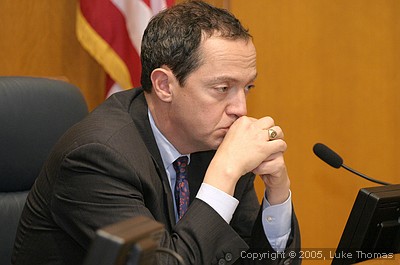 Supervisor Bevan Dufty balances tree, bird, and property rights

####