True democracy, parliamentary style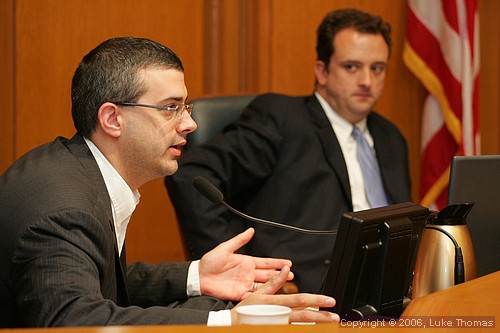 Supervisor Chris Daly explains the basic elements of his proposed charter amendment
to compel the Mayor of San Francisco to respond to questions
posed by Supervisors once a month.
Photo(s) by Luke Thomas
By Luke Thomas
June 28, 2006
Analysis
If you've ever watched C-SPAN's coverage of Prime Minister's Questions, you may have relished the possibility of incorporating such artful oratory into San Francisco's political discourse.
Such is the thought of Supervisor Chris Daly who is proposing a charter amendment to compel the Mayor of San Francisco to answer questions posed by Supervisors in open chambers once a month.
Political motivations aside, the ultimate benefits to San Francisco are increased accountability, sunshine, transparency, and increased public interest in the body politic.
In its present form, however, Daly's proposal lacks detail in specifics. Instead, the proposal "authorizes the Board of Supervisors, in consultation with the Mayor, to adopt ordinances governing the conduct of the question-and-answer sessions."
Such an approach leaves the door wide open for needed refinement to a procedure that is wholly parliamentary in structure and hands partisan Supervisors an unbalanced upper hand in dictating those refinements.
Although the spirit of Daly's proposal is good for open government and democracy as a whole, lacking specifics may be the proposal's most glaring weakness, and could be its undoing.
More to the point, Daly's model is based on a parliamentary procedure and structure but lacks the specifics to address the inherent differences between a parliamentary procedure and San Francisco's present form of government.
In England's parliament the rules for Prime Minister's Question Time include tabling oral questions in advance, thus providing lead-time for the Prime Minister to prepare for a response. Daly's proposal lacks this basic provision.
Moreover, England's parliament has a non-partisan Speaker of the House who acts as a referee and functions to maintain the rules of engagement agreed upon by the house. Daly's proposal fails to cite how and who will perform this important function.
As well intentioned as Daly's proposal may be, the proposal needs the refinements to be spelled out before Supervisors vote to place the proposal on the ballot..
And in the spirit of true democracy, voters also need to have the many questions raised by such a proposal answered.
The proposal will be considered Friday before the Rules Committee of the San Francisco Board of Supervisors at 1:00 p.m.
####