Caring for Kids at UCSF Children's Hospital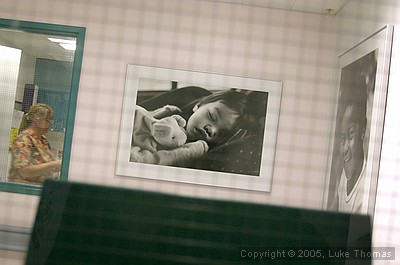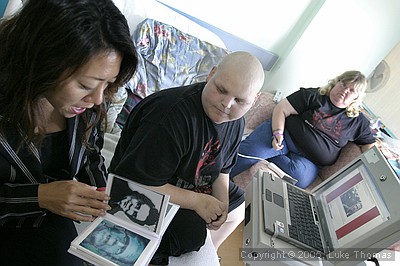 Jeremy Carson Holmes (center) with Mum, Debbie (right), shows visiting Supervisor Fiona Ma pictures of his masterful airbrush artwork. Jeremy, 17, was diagnosed with bone cancer in April and is undergoing chemotherapy treatment every three weeks. An amputee to arrest the spread of cancer, Jeremy's biggest wish is to have use of a $1200 silent airbrush compressor during his lengthy stays at UCSF Children's Hospital. Jeremy's compressor makes too much noise and can't be used at the hospital.
Photo(s) by Luke Thomas
September 8, 2005


UCSF Children's Hospital is a nationally recognized leader in children's health care, with a tradition of more than 85 years of pediatric research and care. Patients come from Northern California and around the world to be attended by one of the 150 pediatric specialists trained specifically to care for children and adolescents in the "Best Pediatric Program in California," as ranked by the U.S. News and World Report.
They tailor their medical care to children's developing minds and bodies and offer programs especially designed to support young patients and their families throughout their stay and recovery. Recently, their school program was accredited by the San Francisco Unified School District and designated School #39. This allows patients in grades K-12 to continue their education while receiving treatment at the hospital. Their teachers also provide Bedside Tutoring and School Re-entry curricula.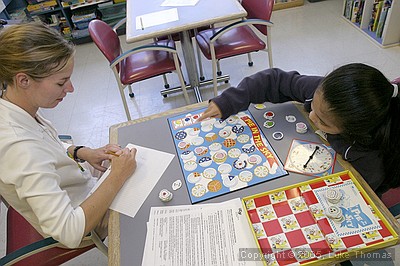 Christy Dubois (left) is a K-12 teacher working with patients and their siblings at UCSF Children's Hospital.
UCSF hopes to build a new, stand-alone Children's Hospital in Mission Bay to expand their 140-bed capacity, which consistently has a waiting list. Their 50-bed Intensive Care Nursery, is one of the birthplaces of neonatal intensive care, and for 40 years has provided leadership in caring for fragile newborns and infants in need of surgery.
On September 9, Supervisor Fiona Ma, representing the Board of Supervisors, recognized four outstanding individuals for their contributions to improving the lives of patients and their families.

Honorees:
Pediatric social worker Caroline Casey recognizing the need to have car seats available for children whose families, because of lack of means, don't have them on hand at the time of discharge, successfully secured grant funding for $2,500 worth of car seats suitable for newborns and children upon discharge.
When the Mayor's Office called, Shelley Diane stepped forward to be the point person on an immunization project at four schools in the Bay View Hunter's Point. The amount of coordination required to provide this service normally takes months, but Shelly was able to accomplish this project in a few short weeks to provide vital healthcare for children and teachers.
Pediatric Nurse Practitioner Robin Kramer developed a national model of Pediatric Palliative Care, called the Compass Care Program, which improves end of life care to children and their families. Macy's West was overwhelmed by Robin's dedication to children and their families so they agreed to have Robin's Compass Care Program be their first ever beneficiary of their Annual Tree Lighting Ceremony in Union Square.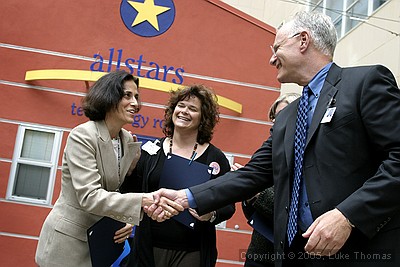 Mark Laret, CEO of UCSF Children's Hospital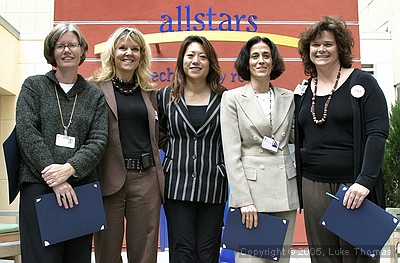 Caroline Casey, Kimberly Scurr, Fiona Ma, Robin Kramer, Shelly Diane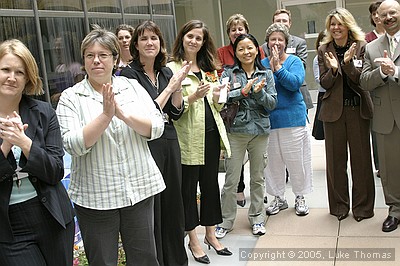 Each year, UCSF's Children's Hospital sells lights for the Tree. This year, San Francisco Fire Department's Local 798 will be a sponsor for this event, which will take place on Friday, November 25th in Union Square. Chief Hayes-White's son, Sean, is currently a patient at the hospital. If you're interested in being a sponsor, please contact Kelley O'Brien at 415-353-9394 or kelley.o'brien@ucsfmedctr.org.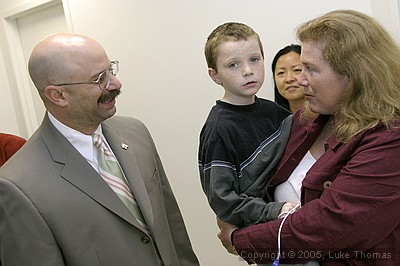 SFFD Chief Joanne Hayes-White with son, Sean, a patient at UCSF Children's Hospital, is greeted by Jim Vanucci, Director of San Francisco Firefighters Local 798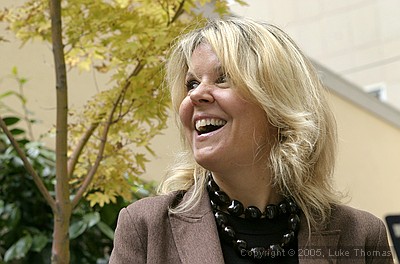 Director Kimberly Scurr, Director of Pediatric Heart Center-Perinatal Services was our final honoree. A registered nurse, she has worked hard to bring the Pediatric Unit to the esteemed level of national prominence it now enjoys.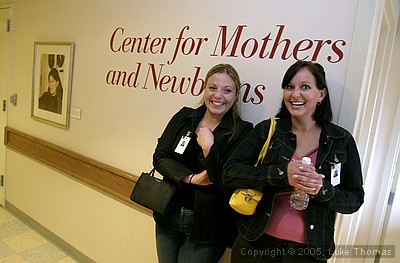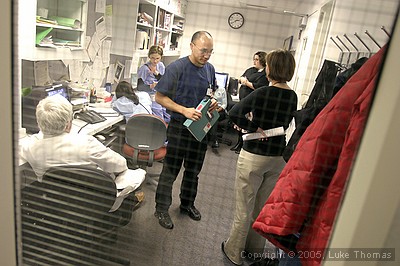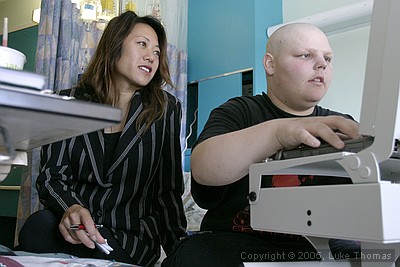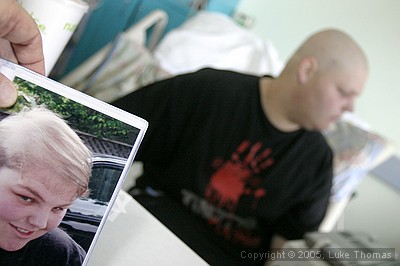 ####