School teacher contract negotiations reach impasse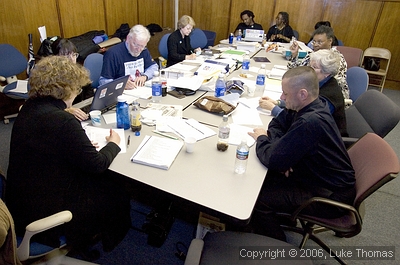 Susan Kitchell, school nurse; Susan Salomon, teacher at Swett Elementary School; Dick Hermann, California Federal of Teachers; Linda Plack, United Educators of San Francisco executive vice president; Bradley Reeves, United Educators of San Francisco vice president; Betty Robinson-Harris, Burnett Child Development Program; Janet Eberhardt, United Educators of San Francisco; Sandra Mack, United Educators of San Francisco; Jane Blanchard, Washington High School; and Larry Blake, Hoover Middle School.
Photo(s) by Luke Thomas
By Pat Murphy and Luke Thomas
February 2, 2006, 2:15 p.m.
Contract negotiations for San Francisco teachers ended today at noon, with the United Educators of San Francisco union officially declaring an impasse.
The union is now requesting State mediation which may begin "in a week or two," Union President Dennis Kelly told the Sentinel.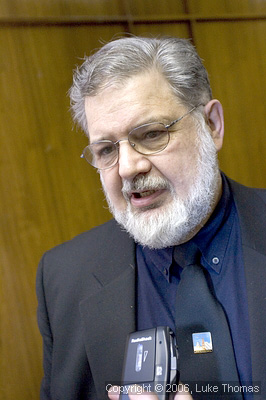 Dennis Kelly
Teachers will remain on the job during mediation, Kelly added.
Tom Ruiz, director of labor relations for the School District, plans a press conference at 3:00 p.m.
"We're disappointed," Ruiz told the Sentinel.
"This is our fourth enhanced offer now with a 7.4% proposal over 18 months," stated Ruiz.
Kelly explained teacher perspective.
"Our people have gone since Willie Brown was the mayor since the last time they had a raise," stated Kelly.
"They need retroactivity, and the retroactivity that's being offered at this point is back to January.
"We initially came in and tied our proposal to the percent which the superintendent had gotten, the 12% she had gotten.
"We since moved that down to ten percent. The district (administration staff) COLA over that period of time at 14.69%. If you factor in what they're expected to get next year, they're expected to get another six percent, and so we think that our proposal is reasonable in terms of what money the district has had.
"And what we can say is... they've consistently spent it on things other than employees."
####