Union Busting Tactics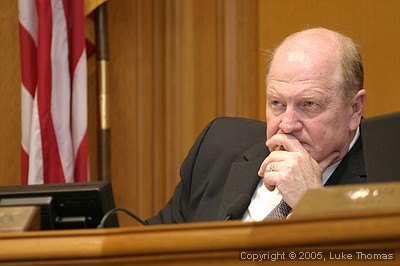 Supervisor Jake McGoldrick
Photo(s) by Luke Thomas
December 6, 2005
Horror stories of thugs in anonymous white vans intimidating strikers accompanied testimony yesterday in a hearing called by Supervisor Jake McGoldrick on alleged union busting tactics.
The City Operations and Neighborhood Services Committee took no action following the two-and-a-half hour hearing attended by union workers.
It was called on prompting of the San Francisco Labor Council as part of 100 nationwide labor actions leading up to International Human Rights Day set December 10.
"In an age of the Wal-Martization of the American workforce, workers need a voice on the job more than ever," said Labor Council executive director Tim Paulson.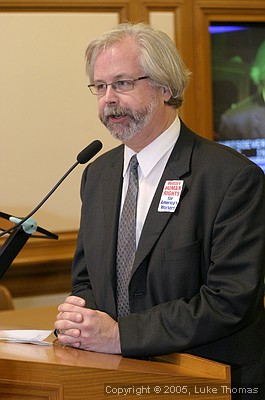 Tim Paulson
A City Hall steps rally preceded the hearing.

####